Business Succession Planning
If you own a family business, we will strategize with you to create both management and ownership succession plans to ensure its continuation. We can help your family business deliver maximum value to the senior generation while protecting assets and transferring wealth to future generations. We will also help you determine how and when your business might be passed on to the next generation or should be sold to key employees or third parties.
Learn more about this service >
ESG Reporting as a Service
Our ESG reports and disclosures provide actionable insights via our proprietary analytics platform. Assess your organization's ESG performance by tracking key metrics related to board compensation criteria, carbon neutrality benchmarks, gender pay equality standards, minority contracting and your own company specific ESG metrics.
Learn more about this service >
Risk Insurance Consulting
The increasing complexity and rising costs within the risk insurance marketplace add another dimension to an organization's need to better manage its business risk. CohnReznick UIC Consultants, LLC, a leading independent global insurance and risk management consulting firm, can help you protect your business assets by understanding your needs, optimizing your structure, and competitively acquiring your coverage.
Learn more about this service >
Workforce Enablement
As we settle into a new workplace culture, most organizations are adopting some level of remote work. CohnReznick's Workforce Enablement Advisory Services offers an end-to-end strategy that assesses your current and future needs, prioritizes your future-state processes and technologies, and helps you identify areas to improve and automate processes.
Learn more about this service >
Intelligent Space
When developing an Intelligent Space strategy, you need to know the current state of your digital assets and processes. Using CohnReznick's Intelligent Space Framework, we help determine how your smart assets would fare across a smart building spectrum — and then help transform your properties from smart to truly intelligent.
Learn more about this service >
Operations Transformation
How do you look at an existing physical corporate infrastructure and either reimagine it or enable it to adjust to constant market changes? It's a process that necessitates the alignment of individual departments along with executive management objectives. Pandemics, economic upheavals, and other ongoing business challenges have forced a dramatic rethink of traditional operating norms.
Learn more about this service >
Real Estate Portfolio Management
We understand clarity and visibility of business environments comes in and out of focus depending upon the zeitgeist of the economy. Thus, there are always times that outsourcing does and can make prudent financial sense. Our consultancy can assist as an outsourced partner with the associated burdens of managing a real estate and technology portfolio. As a business partner, we can manage critical ongoing initiatives like consolidation, hybridization, cloud migration, lease restructurings, and liability mitigation that can be time consuming and require a robust infrastructure.
Meet the team
Donald Stevens

CPA, Managing Partner - Private Client Services

Paul Ricci

CPA, Partner, Technology+

Close

Contact

Let's start a conversation about your company's strategic goals and vision for the future.

Please fill all required fields*

Please verify your information and check to see if all require fields have been filled in.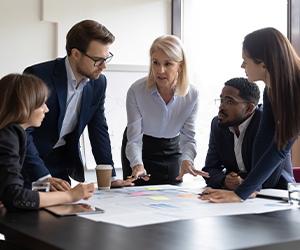 Managed Services & Outsourcing
Receive CohnReznick insights and event invitations on topics relevant to your business and role.
Subscribe