Trusted advisor
We are well-versed in the changing business and financial dynamics of the construction industry. Our long-standing service to contractors enables us to help you manage cash flow, capital requirements, bonding capacity, and job site integrity. We also help safeguard what you are building by implementing a long-term strategy to ensure success for you and future generations of ownership.
Our team serves hundreds of contractors ranging from multibillion-dollar construction management firms to local specialty contractors. We devise effective solutions to improve profitability, secure bonding capacity, develop lean operations, and, through our deep, national resources, provide value-added solutions when situations require.
Foundational expertise
Our construction practitioners have the bench strength, generational knowledge, and continuity that grow with our clients. CohnReznick's established team delivers on services closely aligned with each contractor's needs. Through our respected support and advice, we help address contractual challenges, navigate a complex technology landscape, strengthen back-office accounting, and help you build financial credibility. We:
- Minimize tax burdens and help avoid penalties through proactive tax planning.
- Provide timely, critical financial information to allow for strategic decision-making.
- Provide critical support for effective succession planning.
- Identify liquidity issues and mitigate risk.
- Help with bonding capacity.
- Satisfy bank and equity financing requirements.
- Support technology implementations and build cybersecurity protections.
Industry committed
CohnReznick's Construction Industry practice has been fully immersed in the industry for 100 years and continues to be an active leader in the communities we serve. Embedded in our approach and commitment to the construction industry, we support and participate in more than 40 different national, regional, and local construction and surety associations.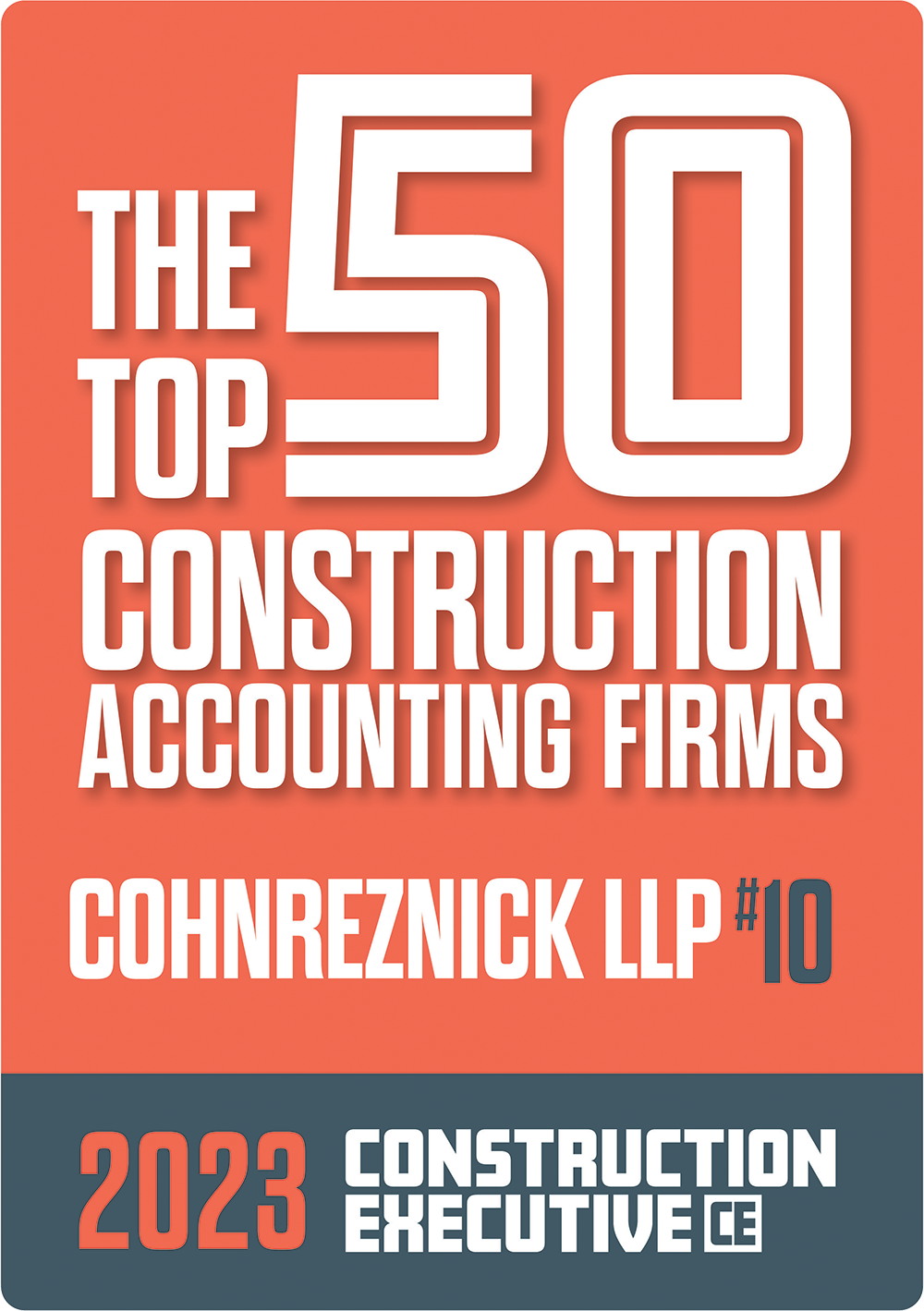 Leveraging Technology for Contractors
As a longtime, trusted advisor, CohnReznick can help contractors of all stripes fully leverage their investment in technology as well as help create an effective technology strategy. CohnReznick's
ERP solutions
helps create efficiencies in project delivery, improve project performance and streamline processes and workflow across your organization. Strengthen the foundation for your ERP investment with improved project management, visualization, reporting and planning, collaboration, and tracking.

Accounting Standards Update, Leases (ASC 842)
The private company deadline for implementing the new lease accounting standard is rapidly approaching. There are significant advantages to working with a firm having practical, proven experience in advising and assisting organizations in their efforts toward transitioning to Topic 842. Our team can advise and assist on all aspects of the new lease accounting standard, including implementation. Our detailed plan will focus on potential challenges and risks along the way.
Learn more about the Lease Accounting Standard
Infrastructure Advisory
Now is the time to start building your qualifications and capabilities to maximize your potential to be awarded work on infrastructure projects. We can help you identify and understand likely government award criteria and make the operational changes necessary to strengthen your bids.
Contact
Jack Callahan

CPA, Partner - Construction Industry Leader

Scott Damiecki

CPA, CCIFP, Partner

Close

Contact

Let's start a conversation about your company's strategic goals and vision for the future.

Please fill all required fields*

Please verify your information and check to see if all require fields have been filled in.
Related services
Our solutions are tailored to each client's strategic business drivers, technologies, corporate structure, and culture – addressing any industry-specific needs.
Receive CohnReznick insights and event invitations on topics relevant to your business and role.
Subscribe