To be a trusted employer of choice and advisor to our clients, CohnReznick remains committed to operating with a high level of responsibility. We believe that what we do and how we do it not only impacts our stakeholders but has the potential to impact society overall.
Our country's many economic and social challenges demand deliberate and immediate action. Based on the input from our people and our continuing legacy of community involvement, we put a stake in the ground and began the process of exploring and championing a continuum of ESG-focused solutions. This included a series of eight firmwide ESG focus groups with our people to help the firm develop a comprehensive ESG strategy as the road map for our efforts moving ahead.
In conjunction with our own ESG initiatives, the firm is also laying the groundwork to deliver strategies and services that can help our clients pursue their own ESG pathways. This includes the roll-out of an assessment process that helps clients develop a strategic framework for ESG decision-making.
Gamechangers in ESG Awards Program
Introduced in 2022, CohnReznick's Gamechangers in ESG Awards program salutes the inspiring journey that companies are undertaking in the ESG space. The awards program recognizes U.S.-based businesses that are "changing the game" through their commitment to ESG strategies and practices. Additionally, there is a NextGen Award program open to students who demonstrate leadership in ESG by providing creative solutions that address ESG challenges in their schools or communities.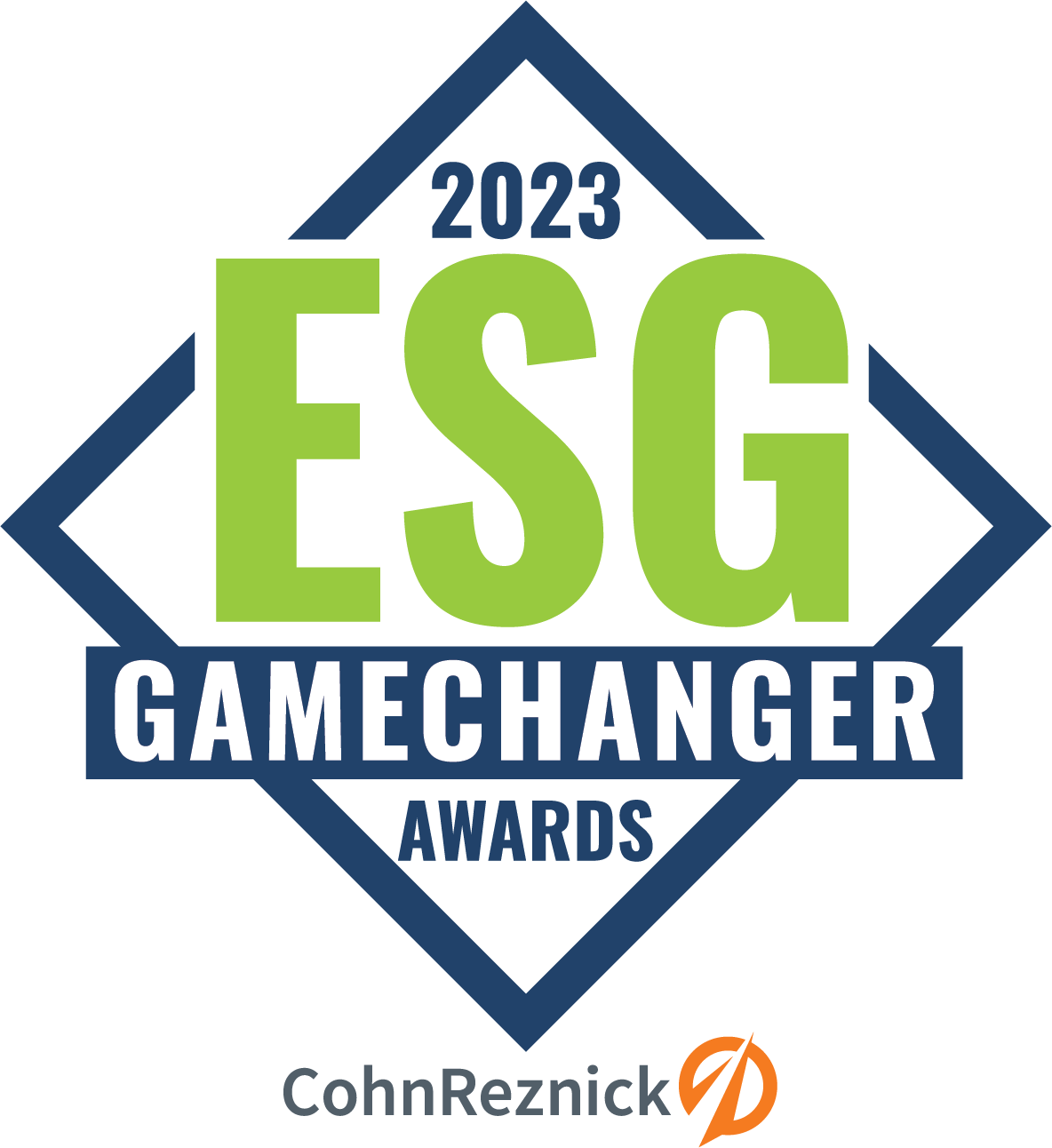 Sustainability in Our Offices
Beginning more than a decade ago, CohnReznick began taking steps to reduce our impact on the environment. Some were smaller steps, while others were much larger. They included the following:
Creating a paper-free, electronic document processing system covering most of our tax and audit work, our proposals for new engagements, and the brochures and sell sheets we provide to prospective clients
Ensuring that all retired technology equipment is e-wasted via a certified Green Recycler
Storing more data on the cloud, which results in smaller server rooms and HVAC systems and a reduction in energy consumption
Providing electric car charging stations in select offices
Donating furniture and other items that we no longer need to schools, not-for-profit organizations, and/or recycling them to minimize waste
Reducing the number of copiers by approximately 50% and the number of printers by approximately 30% when an office relocates
Only using recyclable products when single-use items are required
Recycling coffee grounds and K-Cups
Programming printers to print double sided to minimize paper usage
We continue to consolidate our offices where appropriate and centralize our people into larger urban centers that provide them with mass transit options and/or commutability from multiple locations. As examples, we combined three offices in the Hartford-Springfield metro area into one new office in downtown Hartford and consolidated two older New Jersey offices into one new office that is easily accessible using mass transit or personal transportation.
Other real estate-focused initiatives include:
Seeking LEED certified or Energy Star rated buildings, as well as working with architects and builders to use environmentally friendly and/or recycled products for our interior designs. LEED certification is a globally recognized symbol of sustainability achievement and leadership
Reducing our overall square footage and modifying configurations to create more collaborative, shared spaces. Within the past few years, we have reduced our overall square footage by more than 330,000 and intend to continue to reduce our square footage going forward
Requesting that landlords install new restroom fixtures designed to conserve water when flushing and performing hand hygiene
Developing workspace reservation programs to provide team members with flexible workspace to meet the needs of the day and reduce wasted space when employees' desire to work from home or a client location
Using LED lighting fixtures, daylight harvesting sensors, and light control systems to reduce energy consumption
Diversity + Equity + Inclusion = Belonging

CohnReznick understands that, to truly thrive as a firm, we must champion diversity, equity, inclusion, and belonging in all that we do – both inside and outside of our organization.
CohnReznick CEO David Kessler joined more than 1,000 CEOs nationwide in signing the CEO Action for Diversity & Inclusion™ – the largest CEO-driven business commitment to advancing diversity and inclusion in the workplace.

EMPLOYEE RESOURCE GROUPS (ERGS)
Creating and nurturing a community where team members reflect the diversity of the clients we serve elevates our mission to a much higher plane. We are proud to have successfully implemented firm-wide ERGs to advance and elevate the professional success of our people.

AAPI @ CR
CohnReznick's Asian American Pacific Islander (AAPI) Employee Resource Group is an employee-led group that aims to raise awareness about the AAPI culture and community, promote social events, foster professional development, and network and socialize within CohnReznick – across all practices, levels, and geographies.
CR BLAC
CohnReznick Black Action Council (CR BLAC) provides sponsorship, mentorship, support, and development activities for the firm's Black employees. Initiated and led by a firm-wide group of Black staff members, CR BLAC works with the Executive Board and firm leadership to drive fundamental change in how the firm recruits, retains, and develops Black professionals in all practice areas.


CR GREEN
We are all stakeholders in the wellness of the Earth and the surroundings we share. CR GREEN is committed to our communities, our environment, and cultivating a mutually beneficial relationship with the earth for generations to come.
PRIDE
CR Pride aims to foster a work environment where lesbian, gay, bisexual, transgender, and queer (LGBTQ+) employees can bring their authentic selves to work and feel a sense of belonging through mentoring and sharing information across our offices.
The National Pride Council and local office representatives organize Pride celebrations, community sponsorships, webinars, constructive conversations, and more.


VMA@CR
The mission of VMA@CR is to create a home for veterans, military, and affiliates (VMAs) within the firm and promote professional growth and development in an environment where everyone feels included and where everyone can thrive. We do this by supporting, guiding, and elevating their careers, increasing camaraderie through networking, and bridging the gap between civilian and military life.
Executive Women's Forum (EWF)
EWF provides a platform for women business executives to connect regularly, share meaningful experiences, and build mutually beneficial relationships through a range of local events and industry-related activities.

Gender Pronoun Guidelines
In 2020, CohnReznick introduced a firmwide guide to inclusive pronouns and identities to recognize that referring to an individual using their chosen name and pronoun demonstrates respect, acceptance, and inclusion.
With pronoun use embedded throughout our daily interactions, every CohnReznick employee can communicate their preferred gender pronoun through their email signature and in other places as well.
Inclusive Events Policy
In 2018, CohnReznick implemented an inclusive events policy to ensure that all events CohnReznick hosts, sponsors, or participates in include (a) at least one woman or BIPOC (Black, Indigenous, Person of Color) on each panel or as moderator of the panel, or (b) 25% of the presenting team for events that do not use a panel format. Our Inclusive Events Policy covers both CohnReznick hosted events (internal and external) and third-party hosted events.
GIVING BACK
To be a good corporate citizen, we must create opportunities for our communities and their people. This is not just a goal for CohnReznick, it's a core component of our mission statement. Whether it's conducting charitable giving programs in our neighborhoods or supporting national charities in fulfilling their missions, we actively find ways to help make a difference.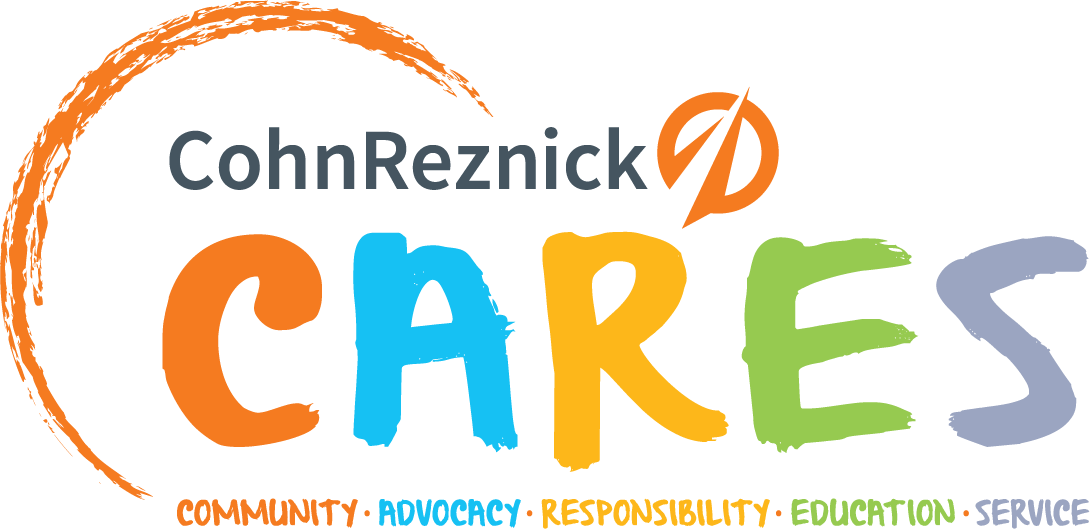 Governance
Providing accountability to our stakeholders is paramount to our operations and our success. To best serve the varied interests of our clients, partners, employees, and external business relationships, CohnReznick maintains a governance culture founded on comprehensive risk management and financial stewardship protocols. Building and retaining trust by protecting the interests of our stakeholders is foundational to our firm and to our strategic initiatives. Some of the governance practices we have implemented include:
Executive Board
CohnReznick's Executive Board, which includes the Chief Executive Officer, is responsible for oversight of the firm's business and growth strategy as well as firm policy. Our Management Committee oversees the day-to-day operations of the firm by implementing these policies. The board currently has one ex-officio member and Executive Board membership is rotated on an annual basis.
Chief Risk Officer
In 2018, CohnReznick created the role of Chief Risk Officer (CRO) to focus on enterprise risk issues across the firm. The CRO is responsible for ensuring the CEO and Executive Board are considering new and existing risks to the firm and CohnReznick brand, while assessing ways to mitigate those risks. The CRO also work closely with the firm's Advisory, Assurance, Tax, and Practice Management leaders to develop best practices, policies, and procedures, and to develop internal training programs to promote risk awareness among partners and staff.
Audit Quality and Transparency
CohnReznick understands the significance of our role in protecting the capital markets and serving our clients. It is therefore critical that we are transparent to these markets, investors, and regulators. Each year, CohnReznick issues its Audit Quality and Transparency Report which provides information on the firm's ongoing commitments, efforts, and vision; qualitative and measurable data points about our transparency; how our quality control system is designed to enable us to deliver high-quality services; and an idea as to where our firm is headed.
IT Security and Data Privacy
With much of the financial and other data we handle being transmitted electronically, CohnReznick is committed to maintaining the security of all information transmitted to and from the firm. To protect the confidentiality, integrity, and availability of this information, every employee or contractor must understand their roles and responsibilities related to security and strictly adhere to the firm's Security Awareness and Training Policy.
The firm's Information Security Officer (ISO) is responsible for the development and oversight of these policies and standards which include:
Dual-factor authentication system for access to internal websites and portals
Migration from physical servers to secure, Cloud-based applications for data access and storage
Annual mandatory firm-wide IT security training
Enhanced security features for all mobile devices used by employees for work purposes
State-of-the-art client portal for managing client projects and transmitting/receiving client financial information
Off-shore security policy for transmitting and accessing private and confidential information with India office
A Commitment to Our People and Planet
As a leader in our industry and steward of our planet, CohnReznick has pledged to use our voices and resources to drive needed change that will help ensure:
Safe, affordable housing for all regardless of income, ethnicity, and location
A reliable and sustainable clean energy grid that effectively powers our homes and businesses
Equal access to growth capital for all businesses – large and small, women and minority-owned, in both traditional and emerging industries
Access to modern technology infrastructure, data, analytics, and digital literacy
Equal access to essential, excellent healthcare no matter who you are, where you live, or what your healthcare needs entail
A fully coordinated and cohesive governmental system that can quickly and effectively respond to communities impacted by natural and human-made disaster
Equality for all people (while this is an overarching moral statement, it is foundational in driving the positive change to which we aspire)
Be Part of Something Greater
Receive CohnReznick insights and event invitations on topics relevant to your business and role.
Subscribe