Our processes support your vision for growth
CohnReznick delivers more than just traditional accounting services to venture capital clients. As your partner and trusted business advisor, we offer an integrated, strategically-driven process focused on value creation within each service area and for each engagement. Our proprietary approach and tools enable our industry and service line professionals to identify issues, risks, and opportunities for value enhancement across key functional areas of a fund or portfolio company.
FULL LIFE CYCLE APPROACH
Opportunities for value creation happen at each stage of a transaction's life cycle. Our services – from quality of earnings analysis through valuation and tax structuring – provide you with the critical knowledge you need to recognize and drive the value of an emerging company – from acquisition through exit.
EMERGING INDUSTRY EXPERTISE
Many VC funds focus their efforts in emerging industries like technology, life sciences, and renewable energy. With industry-specific emerging growth company teams supporting our VC practitioners, we understand these industry dynamics and potential risks and rewards for investors. From improving regulatory compliance at the fund level to executing strategic process and IT-driven solutions for portfolio companies, we deliver actionable, industry-specific insight to investors.
VALUE CREATION STARTS WITH INSIGHT AND INNOVATION
Whether connecting venture capitalists to founders and entrepreneurs as part of our "Capital Raising to Exits Academy," publishing thought leadership to address current valuation dynamics, creating our "Strategies to Accelerate Private Equity Growth" video series to examine future industry trends, or gathering investors and company leaders during our annual Liquidity and Capital Raising National Forum, bringing new, actionable ideas to the table is core to CohnReznick's value proposition. From major financial publications like the Wall Street Journal to leading industry media such as Pitchbook, our knowledge and ideas are sought by journalists, association leaders, and many others.
Specialized services for venture capital firms
CohnReznick delivers value to VC firms through comprehensive accounting, tax, and strategic advisory solutions at both the fund and portfolio company levels. Our focused service areas include:
FUND COMPLIANCE SERVICES
We help fund managers comply with regulatory requirements, build stronger relationships with stakeholders, and think more strategically throughout fund development, growth, and wind-down. Our VC fund compliance services are managed by professionals with longstanding industry knowledge.
PORTFOLIO COMPANY COMPLIANCE SERVICES
Emerging growth companies require accounting, tax, and advisory services in the context of their industry, life cycle stage, and capital stack. Our accounting and tax compliance professionals have specific knowledge of the challenges and opportunities in the industries they serve. By offering an array of services including outsourced CFO, financial reporting, auditing, accounting, valuation, and tax, our compliance services help portfolio company management teams and their investors improve financial and operational processes, effectively manage risk, and address marketplace issues.
STRATEGIC ADVISORY SERVICES
We provide a range of strategically focused services to improve business and financial operations and project management. We also offer digital and technology solutions to support the efforts of fund and portfolio company leaders.
INNOVATION STARTS HERE
By fast-tracking the decision-making process through the proprietary resources of CohnReznick's Innovation Lab, we can help you employ data analytics to analyze portfolio company performance, improve your financial and workflow processes, and leverage advanced cybersecurity processes to protect critical data.
Private Equity Wire names CohnReznick Best Tax Advisor in its 2023 U.S. Awards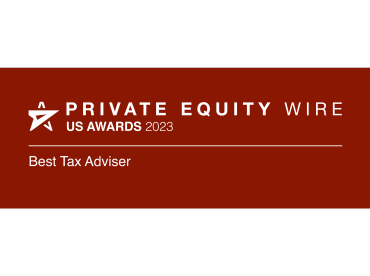 Meet the team
Christopher Aroh

CPA, Partner - Financial Sponsors Industry Leader

Claudine Cohen

Managing Principal, Value360 Practice

Close

Contact

Let's start a conversation about your company's strategic goals and vision for the future.

Please fill all required fields*

Please verify your information and check to see if all require fields have been filled in.
Related services
Our solutions are tailored to each client's strategic business drivers, technologies, corporate structure, and culture.
Receive CohnReznick insights and event invitations on topics relevant to your business and role.
Subscribe