Companies that pursue government contracts must prepare for rigorous bidding requirements and highly regulated oversight. Few are versed in all of the intricacies of the process. For over 40 years, CohnReznick has provided comprehensive services to assist contractors with a full life cycle approach to winning and managing contracts. Our offering ensures your processes and systems are in compliance with the latest standards — so you can focus on your agency relationships.
With a team of more than 70 specialists, CohnReznick's Government Contracting practice delivers:
DIRECT GOVERNMENT EXPERIENCE
Many of our dedicated industry professionals have first-hand government agency experience. They include these professionals:
DCAA resident supervisory auditor
Major contractor director of compliance
IRS specialists/directors
Former contracting officer technical representative
Purchasing system SMEs
GSA lawyer (non-practicing)
Deltek software implementers/users
Project management professionals (PMP)
Big 4 CPAs
Small to major contractor controllers
EXPERTISE IN REGULATIONS AND REQUIREMENTS
We are adept at compliance with Federal Acquisition Regulation (FAR) and Cost Accounting Standards (CAS), Defense Contract Audit Agency (DCAA) oversight, and indirect cost rate structures.
BROAD ARRAY OF BUSINESSES
We've worked with contractors nationwide across a spectrum of industries — including construction, real estate, security, and technology services.
PROPRIETARY GOVCON360.COM RESOURCES
In conjunction with our software affiliate WJ Technologies, CohnReznick maintains the GovCon360.com site to keep contractors up to date on regulations and best practices.
GOVCON ACADEMY AND TRAINING SERVICES
Onsite training is designed to deliver the curriculum your organization needs to stay current on accounting policies, CAS, and pricing strategies. Our popular Lunch and Learn Seminars offer CPE credit and cover a wide range of timely topics.
Successful contract bidding and management support leverages a set of services exclusive to our industry practice.
OMB A-133 and DOE316 AUDITS
CohnReznick has decades of experience conducting audits in accordance with U.S. government auditing standards including OMB A-133 (Yellow Book) and DOE316 audits.
FAR AND CAS SERVICES
Our insights into contract matters, rate structure, and commercial/federal service mix issues are informed by extensive knowledge of the Federal Acquisition Regulation (FAR) and Cost Accounting Standards (CAS).
INDIRECT COSTS AND RATES
Compliance with government regulations is non-negotiable and required to be competitive in the marketplace. We assist in areas that include indirect rate analysis and structure, multi-tiered rate structure and review, provisional rate/billing rate development, and executive compensation consulting.
GOVERNMENT CONTRACT COMPLIANCE
We proactively address federal regulations and avoid compliance issues through services that include DCAA and other cognizant audit agency liaison assistance, pre-award survey audits, business system consulting and audit, policy and procedure development, subcontract monitoring, and termination for convenience assistance.
GOVCON FINANCIAL PLANNING
We support individual contractors and contractors structured as tax S corps, C Corps, and LLCs with comprehensive financial planning and compliance related to 401Ks, employee benefit plans, and key transactions such as a merger or acquisition.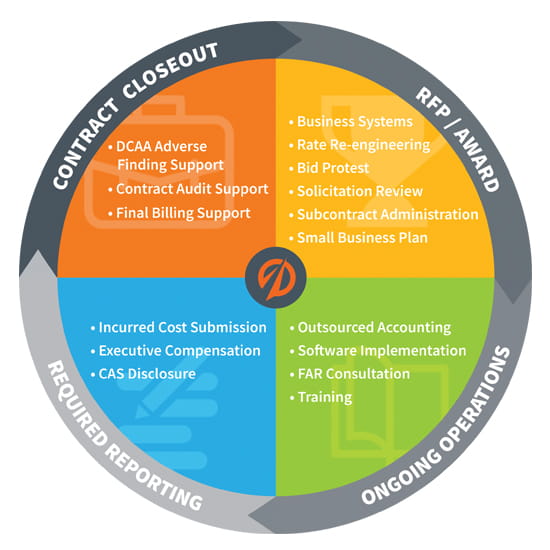 CohnReznick's full lifecycle approach
Related Services