More organizations are understanding how environmental, social, and governance (ESG) strategies can help put them at the forefront of their industries. From customers to employees to regulatory bodies, stakeholders want to know how entities are committing to communities, the environment, and to being a good corporate citizen. A strong strategic foundation will support leadership in designing and executing ESG initiatives that create value not just internally, but for the world at large.
Whether you're looking to start or advance your ESG journey, our team of experienced risk, advisory, and technology professionals can help. With a systematic and proven process, we'll act as program advisor and collaborator throughout the lifecycle of your ESG program.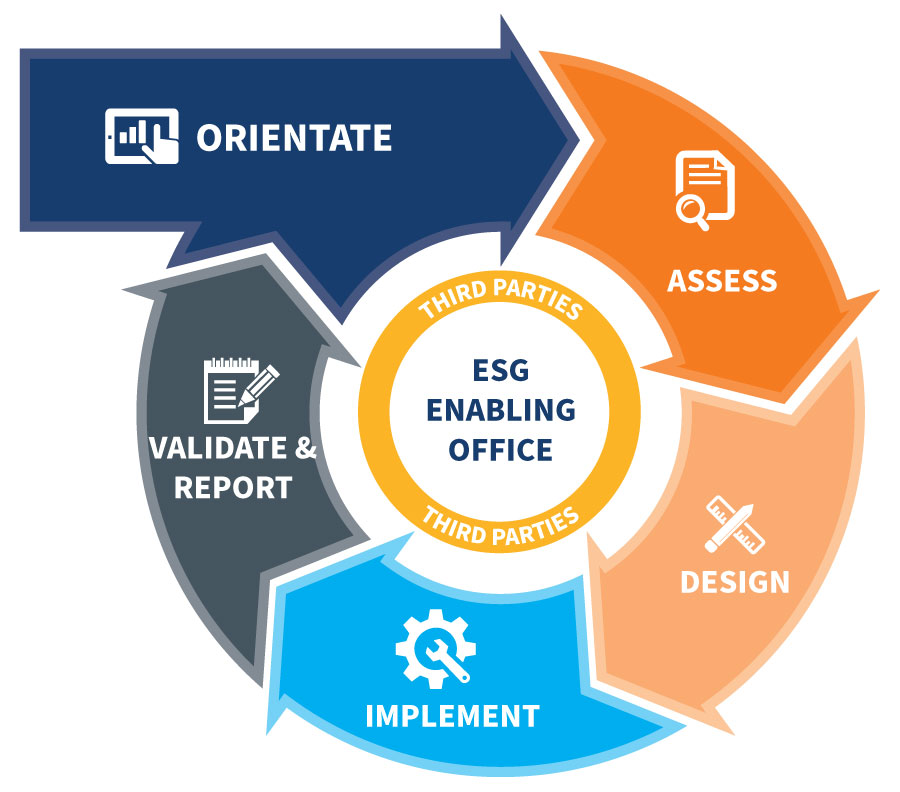 ESG enablement


Our team will serve as the main point of contact for ESG at your organization, managing your relevant third parties, assessments, budget, KPIs, and more.

ESG orientate activities


We'll help you launch your ESG journey by identifying and prioritizing motivations, issues, and objectives most aligned to your goals, then building a roadmap to reach them.

ESG program assessment


Using established and industry-relevant frameworks and standards, we'll evaluate the strength of the processes, programs, teams, and technologies you have now, and what you need to meet your goals.

ESG program design


Our team will design an issues-based ESG program tailored specifically for your organization's unique culture, stakeholders, objectives, and maturity, plus reporting, communication, and training plans.

ESG program implementation


We'll help implement procedures, controls, and data governance, along with training initiatives, to support technology selection and implementation.

ESG validation & reporting


Once your ESG program is up and running, we'll assist you in validating and cleansing data to allow for accurate, standardized ESG reporting to regulatory bodies and other important stakeholders.
Related Services