CohnReznick takes root in the Rocky Mountain region with new Denver office

New York, NY – September 19, 2023 – CohnReznick LLP, one of the leading advisory, assurance, and tax firms in the United States, today announced that it is opening an office in Denver, Colorado to house a growing team of professionals in the area. The Denver office, CohnReznick's 30th office in the U.S., will officially open in early October and is part of a continuing growth strategy for the firm that focuses on locations with dynamic business communities, expanding populations, and a diverse, highly skilled labor force. The office will be home to a team with robust experience in the broad array of industries that comprise the Denver market, including real estate (commercial, affordable), financial services, and hospitality.
The new office is in LoDo Towers, a prime office building located at 1331 17th Street in the heart of Denver's LoDo (Lower Downtown) area. The Denver office will be led by William Delsa. Other CohnReznick leaders serving the office include George Klenovich, South/West Regional Managing Partner, Justin Wenzelman, Partner, Al Lowry, Director, and Richard Wu, Director. CohnReznick has approximately 20 employees living and working in the Denver area and is currently recruiting both experienced and entry-level talent. With a strong base of existing clients in Denver, the firm intends to strengthen these relationships while also engaging new clients in the Rocky Mountain area.
"CohnReznick has been serving Colorado businesses across a variety of industries for years and currently serves nearly 1,000 clients in the Denver area," said CohnReznick CEO David Kessler. "This roster includes one of our largest clients in Mercy Housing, a national nonprofit and one of the nation's largest affordable housing organizations. Establishing an office in Denver is an extension of our overarching growth strategy, which prioritizes our ability to meet the growing needs of our clients and create opportunities for our people. As with our additional recent expansions to Dallas and South Florida, we're committed to delivering our full breadth of capabilities and building upon our national and local expertise."
"Denver is ripe with opportunities for our growth goals and for our people," noted Delsa. "This expansion will allow our teams to continue building upon the relationships and history that we've cultivated in the Denver market for many years, but will also reveal new opportunities for us to explore with a physical presence. I'm honored to lead our Denver office and look forward to CohnReznick serving as a trusted advisor to many Denver-based businesses."
Highlights of CohnReznick's reputation and capabilities include:
2024 Great Place to Work ® certified
2023 Newsweek's "Most Loved Workplaces" recognition
The Consulting Report Top 50 Consulting Firms (#8)
Private Equity Wire "Best Audit Firm – Middle Market" 2023
CohnReznick has leased 5,000 square feet in the LEED Gold Certified and Energy Star certified building, which features outstanding city views, a fitness center, a tenant amenity center, and easy access to mass transit and the freeways. The firm worked with its national broker Gregg Metcalf (JLL) and Denver-based broker Emily Ragan (JLL) in securing the space.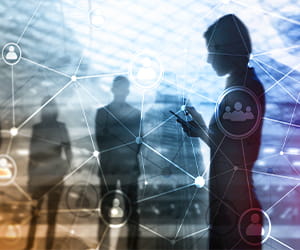 News Latest Media Commentary, Press Releases, & Industry Awards
Receive CohnReznick insights and event invitations on topics relevant to your business and role.
Subscribe