Services to ensure funds are used as intended and to mitigate fraud, waste, and abuse
When government entities are funding projects, whether to build infrastructure, support grant initiatives, or facilitate recovery from disasters and emergencies, our compliance, monitoring, and oversight professionals can help ensure that funds are used as intended and can help mitigate fraud, waste, and abuse.
From the 9/11 terror attacks, to Hurricane Harvey , to the COVID-19 pandemic, CohnReznick has firsthand experience working with evolving federal, state, and local regulations. We fully understand and work through the challenges of rapidly distributing funds while simultaneously maintaining a zero-tolerance stance against fraud, waste, and abuse.
To maintain accountability to citizens, government entities must comply with stringent regulations, manage risk, and deliver on-time, on-budget performance. Through our compliance, monitoring, and oversight services, we help clients maintain integrity and protect taxpayer dollars.
Oversight services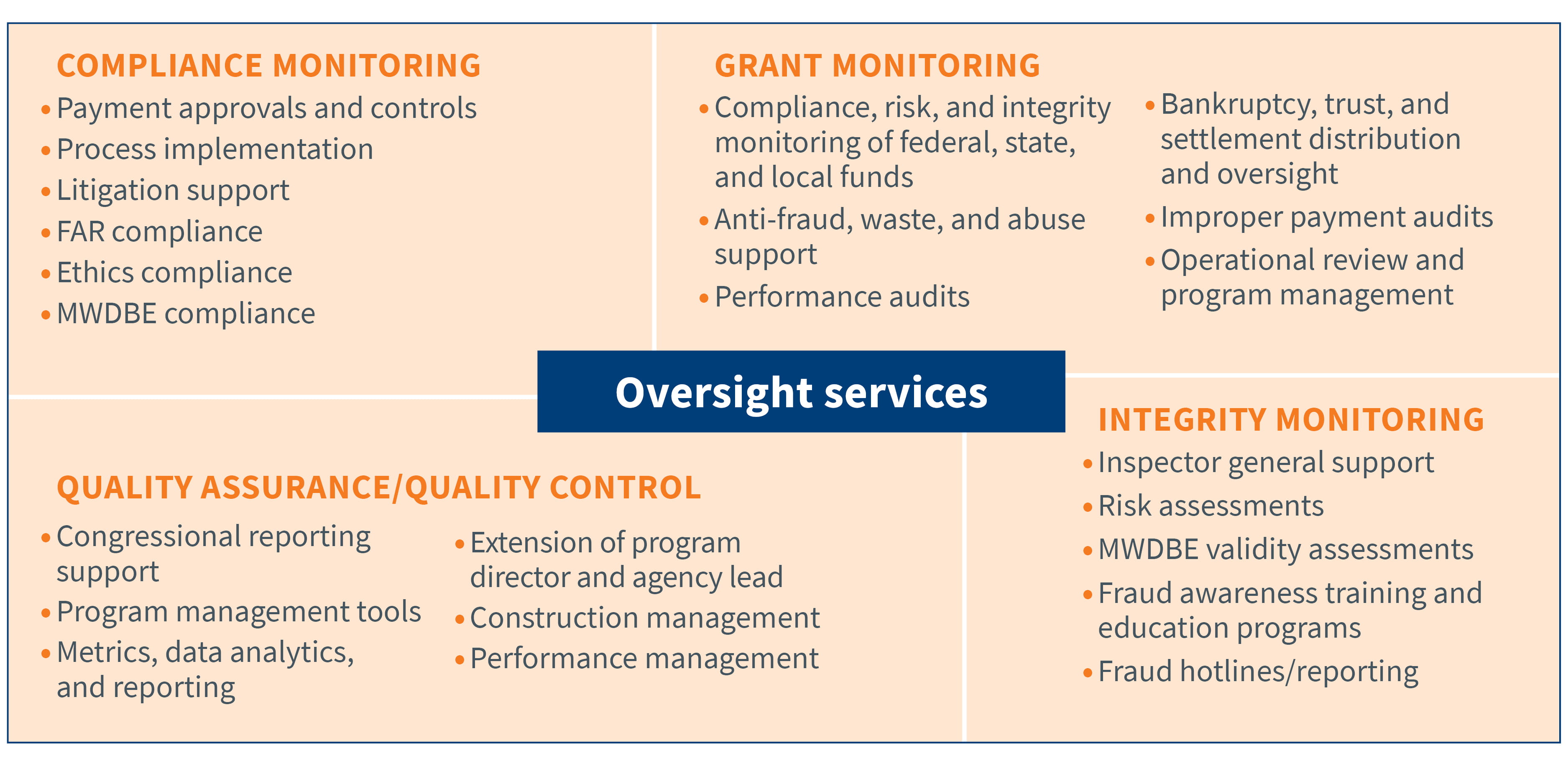 Experience in major financial and natural disasters

Compliance Monitoring Services
Our team has a broad range of experience providing compliance monitoring services in various disasters. Most recently, we have delivered services related to the COVID-19 pandemic and associated relief funding as a result of the CARES Act. We have helped states utilize this funding by providing assistance including implementation, quality assurance/quality control, and compliance monitoring.
Specific examples of our work include:
New Jersey – CARES Act Integrity Oversight Monitoring (IOM) $515 million for state agencies including:

NJ Department of Education
NJ Department of Health
NJ Department of Community Affairs

Connecticut Department of Housing ERAP $235 million
Louisiana OCD/DRU Emergency Rental Assistance Program (ERAP) $309 million
Massachusetts Emergency Management Agency CARES Act $350 million
Texas DHCA ERAP $1.3 billion
CohnReznick is a trusted advisor to not only expedite funding out the door quickly, but do so in a compliant and accountable manner.
Why choose us?
Industry leader – Renowned for expertise in integrity oversight of government funding for some of the nation's largest emergency and infrastructure projects.
Proven results – Successful management and distribution of over $50 billion in federal funds. Integrity monitoring oversight of over $4 billion in infrastructure funds.
Performance-driven – Our monitoring services do more than just help ensure compliance – they help drive performance.

Growth Begins with New Ideas: Explore articles, videos, & other subject matter expertise
Meet the team
Frank Banda

CPA, CFE, PMP, Managing Partner – Government and Public Sector Advisory

Close

Contact

Let's start a conversation about your company's strategic goals and vision for the future.

Please fill all required fields*

Please verify your information and check to see if all require fields have been filled in.
Related services
Our solutions are tailored to each client's strategic business drivers, technologies, corporate structure, and culture.
Receive CohnReznick insights and event invitations on topics relevant to your business and role.
Subscribe