When disaster strikes, state and local governments need to move quickly to help their communities – and to secure the funding they need to do so. There are often a number of relief options available, from FEMA Public Assistance (PA) funding to HUD's Community Development Block Grant programs (CDBG-MIT, CDBG-DR) to the Emergency Rental Assistance Program (ERAP) and all manner of coronavirus relief funds. But navigating how to apply, what expenditures are eligible, and even whether your situation qualifies in the first place can be difficult, especially amid the additional stressors and challenges presented by pandemics, hurricanes, floods, and other emergencies.
CohnReznick's emergency management team improves recovery outcomes for clients, subrecipients and communities by creating and delivering expedient, robust, and compliant disaster recovery programs. Through our proven solutions, communities can minimize infrastructure downtime, resume key services more quickly, and reduce loss of funding through non-compliance.
With more than 15 years of experience, we have earned the respect of government and commercial leaders by managing billion-dollar government programs as well as assisting numerous communities to prepare for, recover from, and mitigate against natural and manmade threats. CohnReznick is uniquely qualified and ready to help you prepare for and recover from disaster events.
Government and commercial leaders trust CohnReznick to prepare for, recover from, and mitigate against natural and manmade threats. Our top priority: manage and safeguard funding.
Our "same goals, separate roles" philosophy is an essential principle for how CohnReznick engagement teams operate. It is our intention to closely align with our clients' vision and use our proven ability, knowledge, and data-driven tools to ensure objectives are achieved. The result? Better and timelier assistance to communities.
By coordinating some of the most complex disaster recovery programs in our nation's history, CohnReznick has proven its ability, capacity, and knowledge to meet state and local disaster recovery and emergency management objectives with proactive, impactful, and effective solutions. Contact us for detailed information on for work with pandemics, hurricanes, coastal storms, floods, and explosions.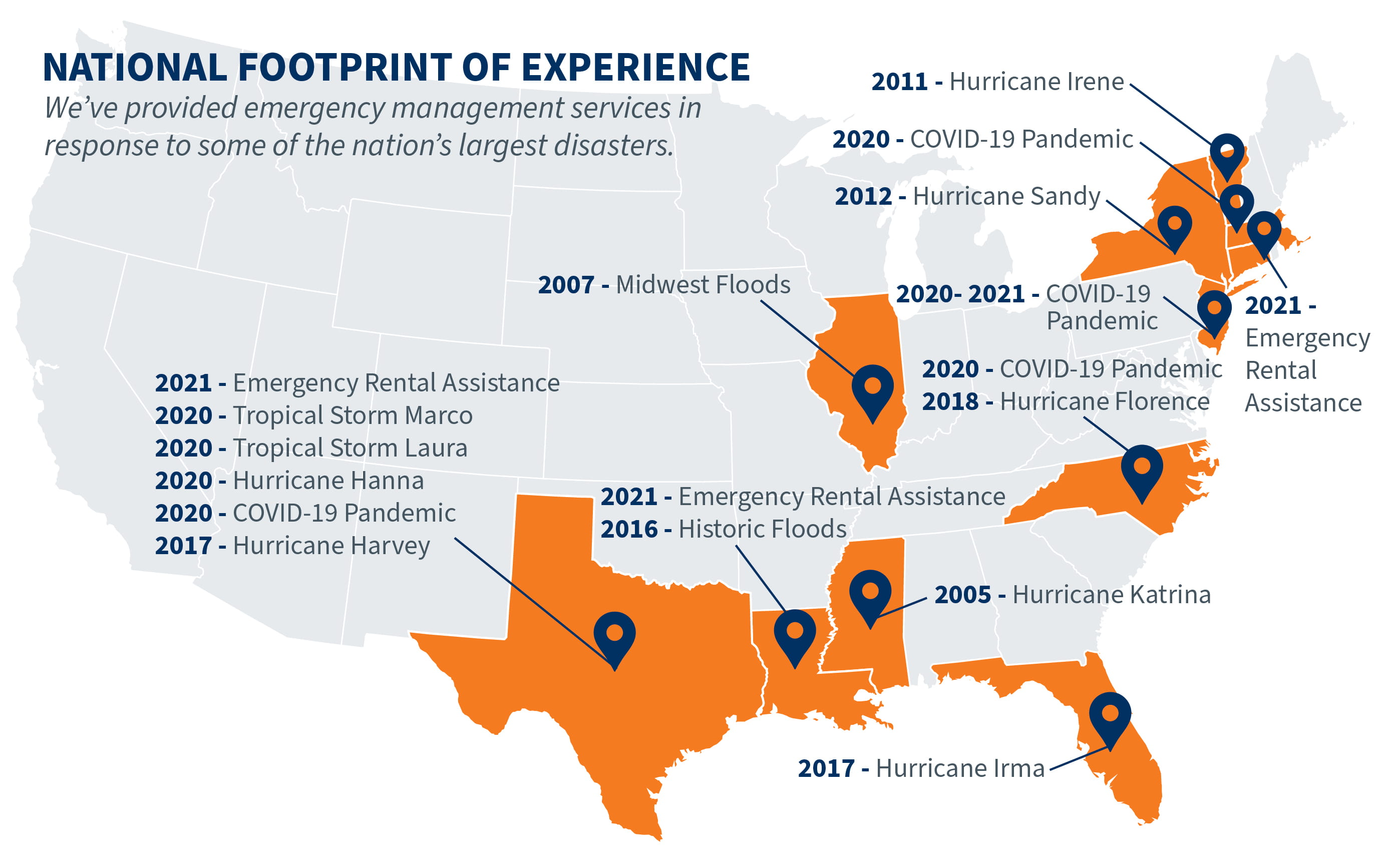 We offer a full suite of emergency management services to meet pre- and post-emergency needs.
Response/Preparedness
Crisis management
Executive level advisory
Rapid deployment 
Pre-disaster planning
Mitigation planning
Policy and procedure development
Emergency preparedness programs
mitigation
States Hazard Mitigation Plan and Vulnerability Assessment
Benefit-Cost Analysis
Application Development
FEMA Hazard Mitigation Assistance (HMA) Programs
CDBG-MIT Program Development
Economic impact analysis
Training and exercises
Project Accounting
Fast track funding 
Expenditure tracking 
Cost validation 
SOP development
2 CFR 200 Compliance
Multi-grant Funding Coordination
Match Program Consulting
Insurance apportionment and allocation
Indirect Cost Rate Development
Cash Flow Management
Audit readiness
Appeals/Arbitration Expert Testimony
Audit Findings Responses and Appeals
Identification of Alternative Funding Sources
Short and long-term recovery
Program Implementation
Global Match Implementation 
Program Management
Grants Management 
Compliance Monitoring
Program Administration
Training and Development
Systems Development
Action Plan Development
Mission scoping assessment
Project and Subrecipient Closeout
Related Services