With data becoming the new cyber currency, CohnReznick takes a strategic approach in protecting your data assets, intellectual property, and brand reputation. By combining established best in class risk management approaches with the latest  cybersecurity technologies, we assess cyber risks, conduct threat analysis and breach detection, develop cost-effective security architectures and governance procedures and, should a breach occur, respond quickly to mitigate damages.
Protection for Your Most Valued Assets
CohnReznick is at the forefront of cybersecurity. We'll take a strategic approach to protecting your organization – your data, intellectual property, assets, and reputation.
Let's Face It — It's the Information Age
We now live in a super-connected world, where increasingly complex networks are proliferating and the threat of cyber attack is ever-present. Every organization needs a well-defined yet agile program to address and respond to cybersecurity risks. CohnReznick's cybersecurity consulting team can help you:
Protect your data, systems, and services from intrusions, theft, and sabotage
Ensure that all your private information remains confidential and is protected from misuse
Achieve and maintain compliance with all relevant regulations
A Customized, Proactive Approach to Cybersecurity
Every organization is different, and our approach to safeguarding your business will be based on factors that define you, such as:
Industry
Compliance requirements
Drivers of business success and reputation
Risk tolerance
Current infrastructure
Putting better bolts on the doors is great, but some clients demand an even higher level of cybersecurity. Unlike other practitioners, CohnReznick has the capability to proactively scout the cyber environment on a continuous basis, identifying and protecting against malicious traffic before it targets client assets.
Reports Designed for the C-suite
Executives like to get to the heart of the matter. You don't want a lot of techno-speak or mountains of detail. While we certainly can provide all that, we prefer to deliver assessments and recommendations that are strategic, actionable, and easily digestible. The more focused the message, the quicker you can act on it to protect your business.
Cybersecurity services
Information Security Strategy and Governance
Cyber Risk Assessments
Penetration Testing and Vulnerability Scans
Compromise Assessments
Security Architecture Development
Threat Analysis and Detection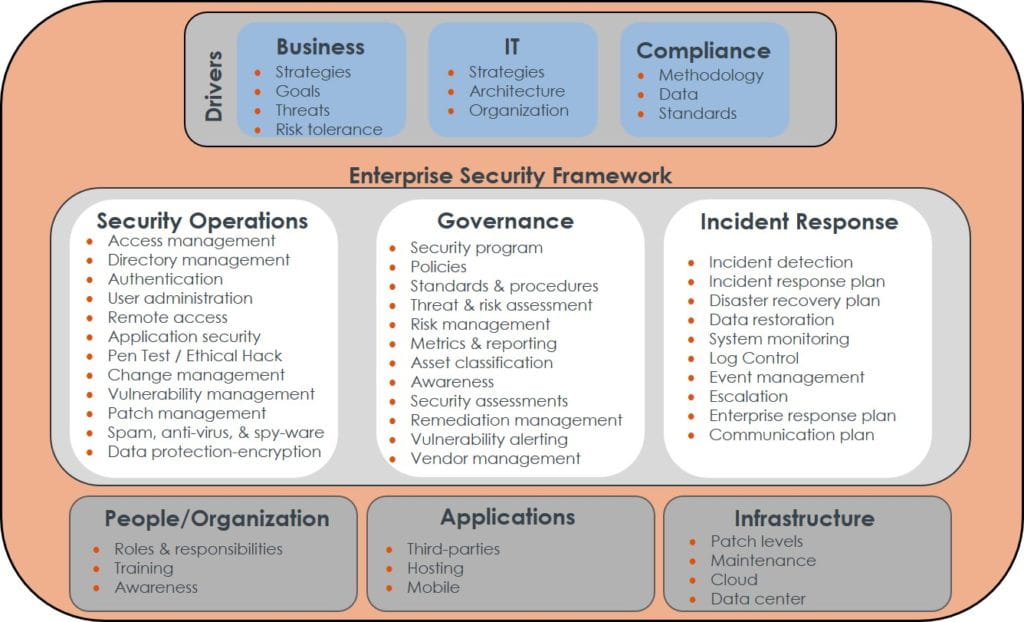 Enterprise Security Framework