Escalating property insurance costs call for greater due diligence

While not necessarily a new phenomenon, the travails of the homeowners' insurance market have escalated to become almost a daily news story. From the retreat of State Farm and Allstate from California, to the decision by Farmers Insurance to stop issuing new home and auto policies in Florida, to national trend pieces about mounting insurance losses triggering rising premiums and shrinking coverage, these challenges are undeniably part of the "new abnormal" for real estate business strategy.
And single-family residential is far from the only affected property type. Property insurance costs for multifamily projects have risen an average of 26% over the past year, according to a National Multifamily Housing Council (NMHC) survey of multifamily owners, operators, and developers published in June 2023. Commercial real estate is experiencing similar price increases.
"This is a house on fire, and insurance is one of the first things my members talk about," NMHC President Sharon Wilson Géno told Commercial Observer. "It's turning projects that were once viable upside-down."
Fire is, in fact, at the heart of the problem – along with hurricanes, tornadoes, heat waves, and all the other billion-dollar weather and climate disasters that have been happening more regularly across a wider swath of the country. As insurers seek to remain profitable in the new normal of frequent catastrophes, how will this impact the real estate markets at large? And what is the industry's role in addressing this challenge?
Real estate owners, operators, and investors can no longer ignore the impact of rising insurance costs (much like rising temperatures and spreading wildfires).
At some point, governmental intervention in the form of a federal policy is likely. As these conversations gather steam, consider getting involved with your financial advisor as well as your industry organization to better understand and participate in policy formation. For example, the National Leased Housing Association (NLHA) is in the process of surveying affordable housing owners to gather additional data to inform potential solutions, much like NMHC did earlier this year. (Responses to the NLHA's survey are due by Sept. 15.) Last week, representatives from the multifamily housing and insurance industries shared their perspectives at a Senate Banking Committee hearing on the challenges in the property insurance market and the impact on consumers.
In the meantime, real estate markets will continue to feel the effects of insurance premium increases on multiple fronts:
The inability to find commercially reasonable insurance is putting the brakes on new deals.
Higher insurance costs are eroding profit margins and debt-coverage ratios for the transactions that do move forward.
As insurers try to bring premiums into a more affordable range, their policies may cover less and require higher deductibles.
Faced with aggressive premium increases, many companies are likely to make decisions that will negatively impact their insurable value, such as forgoing elements of property and casualty (P&C) insurance.
The upshot is that the old standby caveat emptor has never been so apt. Real estate buyers bear the burden of scrutinizing whether their target properties are adequately insured and whether the financial statements properly reflect the actual costs, while trying to satisfy debt and equity requirements.
Critical insurance due diligence questions
To mitigate post-transaction liabilities, buyers must give insurance expenses a higher degree of due diligence. The following are some of the questions they should ask and answer before closing a transaction.
What are the risks for this property?
Ask for the property's three-year loss-run rate and applicable risk ratings (such as physical disasters, cyber risk, and societal disruptions). Core assets in urban areas, for example, have been burdened with additional costs from social uprisings and elevated crime since the pandemic.
Does the current P&C policy cover the risks? If not, what are the available coverage options?
It bears repeating: It's your responsibility as a buyer to understand the property's coverage and how that coverage might impact financing and cash flows in the future. While insurance terms are typically examined during diligence, it's increasingly important to scrutinize deductible and co-insurance amounts. In the event of a disaster, how would fulfilling those obligations affect the property's balance sheet? Or, more importantly, would it require a capital call?
Do past and projected expenses include realistic insurance expense increases?
A flat insurance premium growth rate is a red flag that requires more digging. Perhaps the property doesn't have full coverage, or the market is one of the few that has yet to be hit by premium rate increases.
Similarly, when reviewing comps, make sure you're comparing apples to apples. The cap rate on that comparable property might be artificially low because the operating expenses don't reflect actual insurance expense increases. Work with professional appraisers and audit teams with experience analyzing transactional data for the specific property type you're targeting.
What are lenders accepting in today's market?
Expect greater underwriting scrutiny of properties' insurance-to-value ratio, and be proactive about discussing the level of coverage your lender expects.
What are tenants willing to accept?
Given the push for insurers to increase premiums, we expect tenants in triple-net-lease properties to push some of the insurance expense back onto landlords. If that is the case for your property, how would that shift impact the property's value, financing proceeds, and equity returns?
After the deal closes
Beyond transactional due diligence, owners and operators should continue to look for ways to manage insurance costs on an ongoing basis. Ask your insurance broker to obtain multiple quotes in the months leading up to the policy renewal, and consider whether it's time to renegotiate your debt covenants. Many lenders are open to extending some covenant relief when approached correctly, especially when dealing with an industry-wide problem. Property improvements, such as updating the roof or adding renewable energy facilities, can pay off by unlocking premium discounts (along with the benefit of risk mitigation and operating expense reductions).
While there is no single answer to addressing this complex challenge, there are numerous efforts underway to effectuate change, and many ways for industry stakeholders to mitigate impacts to their tenants and businesses in the meantime. We will continue to provide updates on opportunities and considerations.
For more insights into real estate trends, subscribe to our Embrace the Movement series.
Contact
Andrew Lines, MAI, Principal
312.508.5892
Debra Morgan, Managing Director, Restructuring and Dispute Resolution
469.669.7520
Subject matter expertise
Andrew Lines

MAI, Principal, Valuation Advisory Services

Debra Morgan

Managing Director, Restructuring and Dispute Resolution Practice

Close

Contact

Let's start a conversation about your company's strategic goals and vision for the future.

Please fill all required fields*

Please verify your information and check to see if all require fields have been filled in.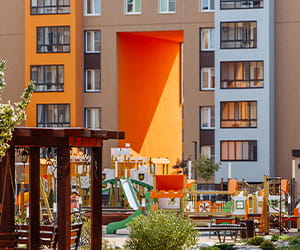 Affordable Housing News & Views

Receive CohnReznick insights and event invitations on topics relevant to your business and role.
Subscribe
This has been prepared for information purposes and general guidance only and does not constitute legal or professional advice. You should not act upon the information contained in this publication without obtaining specific professional advice. No representation or warranty (express or implied) is made as to the accuracy or completeness of the information contained in this publication, and CohnReznick LLP, its partners, employees and agents accept no liability, and disclaim all responsibility, for the consequences of you or anyone else acting, or refraining to act, in reliance on the information contained in this publication or for any decision based on it.