How data can help cannabis industry operators make better-informed business decisions

This article was first published by Benzinga.
As the cannabis industry continues to mature, both operators and investors feel an increased need to enable better decision-making to navigate a fast-evolving environment. To address this challenge head-on, companies should be taking a closer look at their data, with a focus on identifying ways to operate more effectively and create value. Taking a holistic approach and getting everyone across the organization on board will be key.
Anyone can be a data champion
The term "operations" covers a wide variety of functional areas within an organization, from the obvious areas like supply chain and production to back-office functions like finance, marketing, retail, and human resources. The common thread is the importance of data and its potential for driving enterprise value.
There are inevitably silos within every company, but comprehensive use of shared data can bring together members of different functional areas around the common purpose of the organization.
You don't need a dedicated team of data analysts to instill a data-driven culture. Anyone can own the role of being a data champion if given the right guidance, processes, and enabling technologies. Ultimately, having an established overarching business strategy that encompasses all aspects of operations lets every role within your organization "own" a piece of the data puzzle. Then, your data champions can bring together their unique perspectives, from their various roles, to provide context for your key performance metrics and help identify the strategies required to propel the organization forward.
For example, businesses in the sector can collect data on diverse factors such as raw material and overhead costs, what the supply network looks like, and what resources are needed from the cultivation standpoint. Within a connected and collaborative environment, these metrics give operators increased visibility across the value chain, which helps them determine how their products should be priced at retail; what strains and product lines are worth pursuing based on production capacity constraints; what markets are most profitable; and what levers can be pulled to create trusted brands in those markets.
Unlock the power of data in 3 steps
Amanda Goldston, a senior consultant with advisory firm CohnReznick, shared in a recent interview with Benzinga that there are three key components to unlocking the power of the data that teams are collecting:
Plan across all functions. Define what data is important to capture to inform business decisions and navigate strategic initiatives across the entire organization – sales, finance, procurement, cultivation, manufacturing, distribution, quality, and human resources. Historical sales are important, but make sure sales teams are not the only ones providing their perspective.
Define a common language and data management plan to ensure that data is captured in a way that is usable for the collective group of stakeholders it impacts. As part of this plan, determine what systems, tools, or processes need to be in place to support the collection and aggregation of key data points.
Standardize business processes and data. The more well-defined the process is, the more likely it will produce high-quality data, especially in the case of MSOs or organizations with multiple sites.
"When data is well-managed, it transforms simple reporting into valuable insights," according to an article featured in CohnReznick's CannaQuarterly newsletter. "When combined from rich internal and external sources, data can inform businesses on ways to respond to the market, optimize functions across the supply chain, and develop forward-thinking enterprise strategies."
Investing in cannabis companies
Data can also help inform investment decisions in the sector. Investors looking to profit from growth in the cannabis industry should use data to determine which companies have the best chance of succeeding. Goldston says they should consider whether a company has key performance indicators in place and at what level; if they have clear visibility into the supply chain; if they understand the cost of raw materials, labor, and what their overhead is; and, more importantly, if there is a strategy in place driving the capture and analysis of these KPIs.
"Are they producing flower just to produce flower, or is there a forward-thinking strategy in place connected to consumer demand and operations production capacity?" Goldston asked. It's questions like these that should be asked to determine whether operators are on the right path to succeed in the market, and if investors have found an opportunity worth pursuing.
In conclusion
Cannabis companies need to get to a state of maturity and sophistication like any other company, in any other industry. To that notion, within every single person's capacity across the organization, there is a need for data and a need to be analytical to enhance enterprise value. And not just analytical in the literal sense of the word, but also a willingness to be thoughtful and creative in how they approach their role. With the right tools and training, everyone can effectuate change by capturing and utilizing data appropriately.
For more insights from the CohnReznick Cannabis team, be sure to subscribe to their quarterly newsletter.
Subject matter expertise
Ira Weinstein

Managing Principal – Real Estate, Cannabis Industries

Close

Contact

Let's start a conversation about your company's strategic goals and vision for the future.

Please fill all required fields*

Please verify your information and check to see if all require fields have been filled in.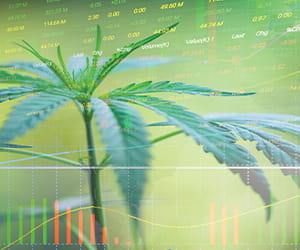 CannaQuarterly Q3: Tax, Talent, Investor Relations
Receive CohnReznick insights and event invitations on topics relevant to your business and role.
Subscribe
Any advice contained in this communication, including attachments and enclosures, is not intended as a thorough, in-depth analysis of specific issues. Nor is it sufficient to avoid tax-related penalties. This has been prepared for information purposes and general guidance only and does not constitute legal or professional advice. You should not act upon the information contained in this publication without obtaining specific professional advice specific to, among other things, your individual facts, circumstances and jurisdiction. No representation or warranty (express or implied) is made as to the accuracy or completeness of the information contained in this publication, and CohnReznick LLP, its partners, employees and agents accept no liability, and disclaim all responsibility, for the consequences of you or anyone else acting, or refraining to act, in reliance on the information contained in this publication or for any decision based on it.