Cannabis Quarterly insights, Q3 2022: Tax, talent, investor relations, and more

These articles are part of CannaQuarterly, our quarterly email newsletter for cannabis industry stakeholders, developed by a wide array of CohnReznick specialists plus contributors from around the industry. Subscribe now to make sure you receive future issues.
New cannabis licensees: Setting and managing investor expectations
Early and ongoing communication is critical to strong relationships between cannabis businesses and their investors. Read about top details to discuss during fundraising, strategy components to align on, and other factors key to keeping the relationship positive and productive for all involved.
Addressing economic factors outside of cannabis companies' control: Declining wholesale prices
Maintaining competitive pricing while generating the revenue you need to stay afloat is a delicate dance in any business. This article examines the key trends in play right now, and top considerations and solutions to help evolve the way you approach your pricing strategies.
Q&A: Navigating cannabis's talent complexities
Especially amid the current competition for talent, it takes time to build a thriving cannabis workforce. But careful attention right from the start will help set you up for abundant growth. Here, we explore current labor trends and their impacts on cannabis, plus practical tips on how to best approach them.
SALT Shaker: State and local developments and trends in tax and more
Cannabis businesses must keep careful track of the many state and local taxes they may be subject to. Catch up on recent state-specific developments in 280E, credits, and more, and what they could mean for your business.
From around the industry
MCBA announces partnership with Green Flower to provide members with free cannabis training courses
Four on-demand Certificate programs will be available to Minority Cannabis Business Association (MCBA) members, including retail, cultivation, manufacturing and cannabis business essentials. > Read More
Dartmouth engineering students conduct first-of-its-kind independent study on energy efficiency in cannabis cultivation
The study, which was sponsored by the Sustainable Cannabis Coalition (SCC) and also supported by Rocky Mountain Institute and building science engineers, will ultimately provide regulators and industry operators with key insights into how the industry can meet climate, grid, and energy goals while improving business operations and cost targets. > Read More
Canadian cannabis companies: Current challenges and potential solutions
The Canadian legal cannabis market is facing a number of headwinds, from labor unrest to illicit market competition. The good news is that many of these challenges are not new, so there are familiar solutions to employ. Read Davidson's overview >­
And for those in the U.S. market, consider: What can we learn from these events and trends north of the border? What should U.S. legislators take into account as they develop cannabis regulations? What considerations do they raise for working with labor unions and protecting supply chains?
Is ensuring compliance important for tamping down on illicit cannabis markets?
Complying with patchworks of state laws can be time-consuming and expensive, and one of the main reasons illicit markets continue to thrive. Simplifya explores the challenge and highlights two states that illustrate how legislation can hinder legal participation – or potentially help smooth the path. Read more >
Subject matter expertise
Ira Weinstein

Managing Principal – Real Estate, Cannabis Industries

Close

Contact

Let's start a conversation about your company's strategic goals and vision for the future.

Please fill all required fields*

Please verify your information and check to see if all require fields have been filled in.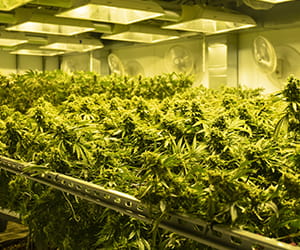 Raising Capital For The Cannabis Industry Toolkit
Receive CohnReznick insights and event invitations on topics relevant to your business and role.
Subscribe
Any advice contained in this communication, including attachments and enclosures, is not intended as a thorough, in-depth analysis of specific issues. Nor is it sufficient to avoid tax-related penalties. This has been prepared for information purposes and general guidance only and does not constitute legal or professional advice. You should not act upon the information contained in this publication without obtaining specific professional advice specific to, among other things, your individual facts, circumstances and jurisdiction. No representation or warranty (express or implied) is made as to the accuracy or completeness of the information contained in this publication, and CohnReznick LLP, its partners, employees and agents accept no liability, and disclaim all responsibility, for the consequences of you or anyone else acting, or refraining to act, in reliance on the information contained in this publication or for any decision based on it.