New Markets Tax Credit (NMTC) Summit 2023: 5 top takeaways

The theme we established for this year's New Markets Tax Credit (NMTC) Summit was "Looking back to move forward" – drawing lessons from our work and experiences to create a blueprint for what's ahead. Last month in Miami, our panelists and participants more than delivered on that theme, with three days of spirited discussions and generously shared insights. We are thankful to everyone who joined us, especially our speakers and sponsors.
Read on for five top takeaways from the event – some of our favorite or most recurring themes.
And whether as a returning or brand-new guest, we hope you'll join us next year, May 13-15, 2024, for Year 23.
1. Measuring impact vs. outcomes, beyond the numbers
Because of how the NMTC program works, many participants are used to thinking of projects in terms of number-based outcomes: Jobs created, children served, and other metrics they know will help boost an application to hopefully get more credit. But at the end of the day, it's not about the numbers: It's about the impacts that truly help and serve people in low-income communities. What did the investment provide for the community? Who are the people affected? What does the investment mean to them and their children?
As CohnReznick's Jenny Brusgul put it: Outcome is the number of people you touched. Impact is the improvement that you made.
It's important to think beyond spreadsheets here: Narratives are key to showing what this program really does to enrich real lives.
That's one reason why every year for our Summit, we develop a case study video: To show that the NMTC-funded expansion of the Miami Lighthouse for the Blind and Visually Impaired, for example, didn't just serve x number of children and families. This video vignette demonstrates how the NMTC program accelerated a critical organization's efforts to expand their education and rehabilitation services to blind second-graders, and provided not just classroom space, but also music rooms, therapy rooms, and an outdoor play area with edible gardens and a picnic area, for children and adults to gather, learn, and grow.
All of this doesn't mean that data isn't important; it's still critical to provide undeniable, trackable outcomes, focusing on the most relevant, specific, impactful metrics. But look for ways to supplement data with stories, and vice versa. For example:
Find the statistics inside the story that drive the business proposition. Say a new business creates a job for a community resident, and that resident is then able to get off SNAP, Medicaid, and unemployment. That's an impact you can monetize, by calculating the savings to the government.
Conduct a longitudinal study to paint a picture of impacts over time, e.g., illustrating improved outcomes for children who grew up under your improved circumstances.
2. Building trust
Every NMTC project needs a well-rounded team of leaders to get things done. A financing ecosystem: CDEs, CDFIs, OZ investors, the philanthropic community. Developers, architects, contractors. Consultants who can help connect the dots and facilitate compliance.
But to most fully achieve success – and, ultimately, impact – there need to be community stakeholders on the team, too. Make sure that the most invested part of the community has a seat at the table – and that leaders are willing to listen to them. This helps build the trust needed to not only get projects done, but to truly meet the community's needs, and make sure they thrive long after the final dollar is invested and brick is laid.
In the words of Thibault Manekin, one of our keynote speakers: "Show up as neighbors and not guests," and make sure that development happens with and for a community, not to a community. The role of the NMTC industry should not be to push agendas, but to be quietly behind the scenes listening, and letting communities and their diverse voices guide decisions.
3. Think outside the box
Competition for credits is stiff. Applications are demanding. Compliance is complex. How do you make your project stand out, while remaining within program guidelines? You get creative.
Some ideas from our speakers, with examples to illustrate:
Create a true anchor institution within a community by thinking about comprehensive, long-term impact.

Develop a healthcare center that provides not only physical or mental health services, but also day care, and a path to prosperity with clear roadmaps for career advancement. Meet residents where they are – offer telehealth and other mobile services, or partner with salons and churches for screenings.

If only one part of a project qualifies for the credit – due to geographic location, retail vs. office space, "sin businesses," etc. – carve it up.

Focus on a line within a manufacturing facility, or one new store within a grocery chain.

Conversely, to get smaller deals done, form a consortium and put a few together.

Consider a new renewable energy business, or a hub of not-for-profits.

Identify complementary credits, grants, and other opportunities to get more funding: American Rescue Plan Act dollars, infrastructure funds, state/local grants, historic tax credits, bridge loans. Plan carefully around the timing of each so that you have a steady pipeline of capital sources.

Does your target space have a roof for solar panels, a parking lot for electric vehicle charging stations, or rural land for wind energy generation? Explore the Greenhouse Gas Reduction Fund as a way to get more funding. Contact state agencies to have them connect you with other interested parties.
The blueprint for a standard NMTC deal has been there for years; a high percentage of transactions are similar in nature. Figure out a way to make yours different.
4. NMTC as a source of stability
Amid changes in the real estate market – from movement in the capital markets to debt maturity challenges – NMTC projects are being seen as a stable investment.
Politically: No matter what the administration, these types of projects are likely to have support. We saw it in the Trump administration's focus on the working class, and have seen it in the Biden administration's focus on social and economic justice.
Financially: The value of the credit may change over time, and types/size of transaction may change, but demand has never waned.
How can you help keep this going? Move your data-driven stories forward, from your application into advocacy. NMTC has seen stable, bipartisan support, but don't forget that Congress and other bodies see frequent turnover, and we need to keep re-educating new members. As we continue the push toward permanency, take every opportunity to shed light on these projects and the good they're doing.
5. Opening doors
While the NMTC industry, like real estate as a whole, has made progress, it's important to continue efforts to better support, serve, and open doors to and for underrepresented groups.
Throughout the industry ecosystem, work with more minority-led entities, from CDFIs to contractors, to help them grow their track records and, eventually, increase participation. Provide both technical assistance and sponsorship – proactive invitations to get involved and support in elevating their profile.
Within communities, provide services and institutions that position residents to build their own wealth – healthcare, housing, childcare, education.
One exciting update: After previewing their intentions at our 2022 Summit, the CDFI Fund provided updates on their efforts to better support projects in Tribal areas, currently consisting of both research and technical assistance. We plan to explore this topic further in a future article.
In conclusion
Earlier this year, CohnReznick's Movement content series kicked off with this thought:
"Progress is made through an infinite series of steps, leading not necessarily toward a final destination, but rather constantly forward. And while the real estate industry has seen firsthand that no one can fully predict where the future will lead, there are always opportunities to prepare today to be better positioned as we move forward to build a better tomorrow, together."
Throughout the Summit, in the stories shared and insights imparted, we heard proof that the NMTC industry is acting upon that ideal: Moving forward, together, by building a strong ecosystem where every player supports both their communities and one another.
We hope to see you in Miami next May 13-15, 2024, to catch up on another year of progress.
Subject matter expertise
Richard Davies

CPA, Partner, Project Finance & Consulting

Kayla Gross

Principal, Project Finance & Consulting

Scott Szeliga

CPA, Office Managing Partner – Baltimore

Close

Contact

Let's start a conversation about your company's strategic goals and vision for the future.

Please fill all required fields*

Please verify your information and check to see if all require fields have been filled in.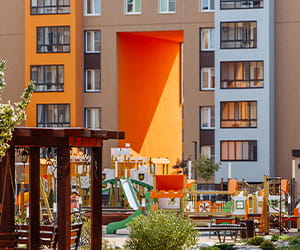 Affordable Housing News & Views
Receive CohnReznick insights and event invitations on topics relevant to your business and role.
Subscribe
Any advice contained in this communication, including attachments and enclosures, is not intended as a thorough, in-depth analysis of specific issues. Nor is it sufficient to avoid tax-related penalties. This has been prepared for information purposes and general guidance only and does not constitute legal or professional advice. You should not act upon the information contained in this publication without obtaining specific professional advice specific to, among other things, your individual facts, circumstances and jurisdiction. No representation or warranty (express or implied) is made as to the accuracy or completeness of the information contained in this publication, and CohnReznick LLP, its partners, employees and agents accept no liability, and disclaim all responsibility, for the consequences of you or anyone else acting, or refraining to act, in reliance on the information contained in this publication or for any decision based on it.