M&A and Capital Markets Resource Center
VIDEO SERIES: VALUE CREATION AND GROWTH STRATEGIES FOR PRIVATE EQUITY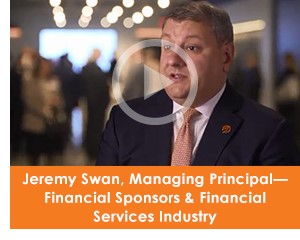 With an increasingly competitive M&A market, a collaborative effort between portfolio company management teams and their private equity parents can yield outstanding results. Today, financial sponsors need to rethink the transaction process to identify and close deals that will provide the desired return. Smart pre-acquisition planning and comprehensive post-close integration activities will drive value. In this video series, professionals from CohnReznick's Financial Sponsors and Financial Services Industry practice discuss:
Funds & Portfolios Change Mindset to Better Identify Growth Opportunities
Prepare for What's Ahead with the Right Mix of M&A and Organic Growth
Driving Value in Tornado-Like Market Conditions
Rethinking the Transaction Process to Complete Quality Deals
Cross Border Transactions Lift Private Equity Growth
More Weight Placed on Cybersecurity During Diligence
Innovative Analytics Drive Value Through Investment Lifecycle
View video series
VIDEO SERIES: INDUSTRY INSIGHT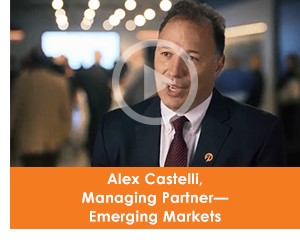 Market factors have a unique impact on business conditions and M&A activity within specific industries. Here, CohnReznick's industry practice leaders share their observations and insights about how today's opportunities and challenges are shaping growth strategies and mergers and acquisitions activity in: 
Technology
Life sciences
Hospitality
Manufacturing and distribution
Retail and consumer products
View video series
Tax Reform is Most Impactful to Private Equity
Bob Moss, National Director of Governmental Affairs at CohnReznick, addresses the very latest legislative issues for private equity.  He says that carried interest might end up being focused on hedge funds only, and not job creators. Additionally, it appears that carried interest is back in play and not being eliminated by the tax plan. As we approach the end of the year, he points out that there's "a long way to go in a very short time." In this video, Bob covers important issues to the private equity community, including the most impactful issue – tax reform.
Latest Survey Reveals 89% of Executives are Confident in the Strength of the U.S. Business Environment in 2018
A clear majority of companies and investors are exceedingly optimistic in the strength of the United States business environment, according to a survey of investors and middle market executives conducted by CohnReznick LLP, one of the leading accounting, tax, and advisory firms in the United States. Eighty-nine percent of those surveyed—compared to 80% last year—were very confident in the business environment, indicating a strong forecast for growth heading into 2018.
CohnReznick surveyed 120 executives and investors at its seventh annual Liquidity and Capital Raising National Forum, which was held in New York City on October 17 and included more than 200 attendees. 
Taking current market factors and economic conditions into consideration, a vast majority of participants (94%) believed the next 6-12 months will be a good time to borrow money. Within the same timeframe, 81% respondents considered it to be a good time to pursue a merger or acquisition, but only 44% (down from 51% last year) would consider acquiring a business whose headquarters were located outside of the United States. 
Read More
Liquidity and Capital Raising National Forums
Each year, business executives, private equity investors, capital providers and deal makers gather in New York to discuss the market factors and economic conditions impacting growth, value creation, risk and M&A transaction activity. Industry-leading speakers, panelists and presenters share actionable insights, ideas and observations. This national forum features Deal Connection meetings matching companies and investors, industry specific breakout session, interactive panels and presentations, and plenty of time to network.