CohnReznick Realty Capital Advisors principally focuses on the equity capital needs of multifamily owner/operators, with an emphasis on affordable and workforce housing, by serving as an equity placement agent and financial advisor. In a limited number of cases, we work for institutional investors to guide them in the deployment of equity capital for strategies typically targeting affordable and/or workforce housing. We also provide advisory services, typically involving capital formation, significant transactions (such as acquisitions), and/or entity or partner recapitalizations.
Investors are increasingly turning toward workforce and affordable housing as a more attractive risk-adjusted return profile for their equity investments. Owner/operators often struggle to find equity capital beyond the deal-by-deal approach, and thus may be open to programmatic joint venture (JV) or entity-level capital. Additionally, owners occasionally need equity for transformative growth opportunities, to reposition their business or portfolio, to buy out partners, and to address partial monetization to address estate and succession planning. However, both parties often have difficulties with finding the right partners and transactions to accomplish their respective strategies. CohnReznick Realty Capital Advisors can help.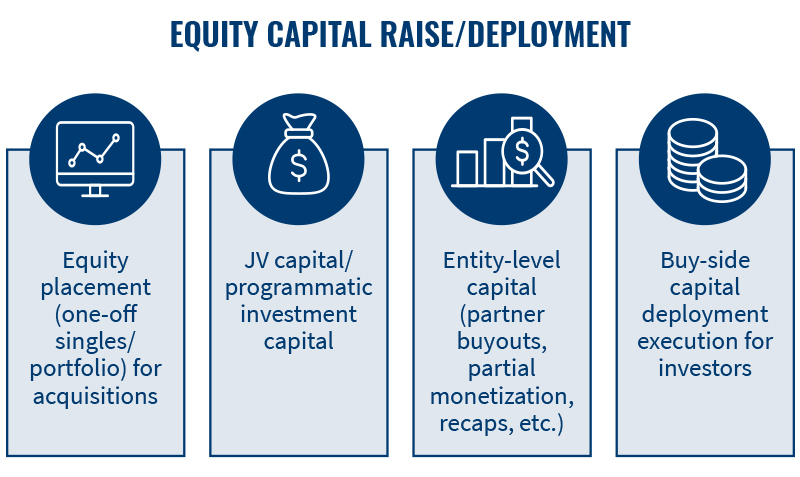 Driving better capital placement results for owners through active market making
By maintaining an active dialogue with a deep network of equity investors, CohnReznick Realty Capital Advisors brings market insight and efficiencies to help clients best position themselves for a significant capital partner relationship. We reduce the learning curve for owners, guiding them in the development and execution of optimal capital formation strategies by matching capital partner relationships and structuring deal terms to reflect institutional investors' needs and our clients' objectives.
Driving better capital deployment results for investors
We provide guidance on capital deployment strategies, identification and selection of operating partner relationships, and deal flow for investors looking to enter the affordable or workforce housing sector with significant equity capital. With direct access to CohnReznick clients and prospects, off-market deals may become available through direct negotiated transactions, resulting in better buy-in basis or better terms. 
Structuring best terms through market knowledge
By continuously canvassing investor equity preferences and owner/operator needs, we can help realize competitive market terms that reflect current market trends. Both parties benefit from greater deal flow and certainty of execution, leading to more efficiencies in closing and a deeper relationship and fit over time. 
Independent advising for transformative transactions
With our team focused on complicated transactions or capital stack/funding solutions, our clients can remain focused on running their core business. This helps mitigate risk, lower uncertainty, and realize the strategic and financial impacts of chosen strategies for key capital relationships or transactions.
Related Services