Building resilient communities: NMTC as a tool to fight the climate challenge

The impacts of climate change go far beyond rising temperatures, sea levels, and severe weather. They impact our food and water supply, our overall health, and the affordability of our communities. And while they affect all of us, it has been well established that the impacts are much greater on disadvantaged communities, which are often more vulnerable to disasters and take longer to rebuild from them.
So when it comes to protecting low-income communities from climate change, the New Markets Tax Credit (NMTC) industry needs to do more than check the boxes with green roofs and solar panels, and work instead toward building true resilience. The program's flexibility means that with enough creative thinking, it can be an invaluable tool in the climate resilience toolbox. There's room to incorporate green aspects into every deal, once you embrace the mindset that environmental, social, and economic health are all interrelated and interdependent.
And with the support of the Historic Tax Credit (HTC), renewable energy tax credits, and now additional tools included in the Inflation Reduction Act, that impact can stretch even further. For example, among the Act's many climate-related provisions are $3 billion in "Environmental and Climate Justice Block Grants," to be invested in "community-led projects in disadvantaged communities and community capacity building centers to address disproportionate environmental and public health harms related to pollution and climate change." Many of the Act's clean energy tax credits have bonuses or other components built in to incentivize investments in disadvantaged communities. (Learn more in this new CohnReznick video.)
At our 2022 NMTC Summit, representatives from environmentally minded community development entities (CDEs) and community development financial institutions (CDFIs) gathered on a panel to discuss their work and share insights toward harnessing the program to fight the climate challenge. Read on for a summary of top takeaways. (Want to hear the full conversation? Access all of our NMTC 2022 panels on demand now.)
Katie Frattaroli, AMCREF Community Capital, LLC
Kathleen Galvan, National Trust Community Investment Corporation
Sara Roeder Pietka, Ecotrust
Leah Rogan, Enterprise Community Partners
In conversation with CohnReznick's Scott Szeliga
What to build: Resilient communities
Communities aren't just housing. They also need operating businesses; infrastructure, from power and water to education and healthcare; and access, to fresh and healthy food, transit, commercial retail banking, and more. Projects that meet those needs, and create jobs and wealth around them, will help give residents a solid foundation to better withstand the challenges ahead.
Community-centric, from start to finish
Everything in an NMTC project should be informed by the end user, and every project will have a different kind (and different kinds) of end user. Looking at data or photos won't give the full picture; upfront, on-the-ground collaboration on all the minute levels of a project is critical.
Before committing to a project, hold community gatherings to discuss what they need most. What's important for the project, what's important for the community, and how can the two be aligned as best as possible? CDFIs want to see a project that isn't someone's siloed idea, but rather something that represents the voice of the community.
Later on in the project, if a promise to the community can't be kept, circle back to them for a next-best solution. If the plan was to provide a grocery store but a tenant can't be found, don't find just any replacement – ask, what else do you need? A healthcare provider, a daycare?
Long-term, holistic benefits
Projects should provide opportunities to build broadly shared, intergenerational wealth long after the final brick is laid. Is there a way to bring community members in as owners – maybe not right off the bat, but eventually or over time? What structures can help distribute more of the wealth to the people experiencing disparities? What jobs can you create – and provide training for?
Look for interesting, dynamic projects that have wide "tentacles of impact." A new recycling facility in a community that previously didn't have one will not only save them the financial and environmental cost of shipping their recycling to another location, but also create recycling jobs right there in the community.
Better care for natural resources
For areas that have long had economies based on extracting their natural resources, what projects can help shift them to be more complementary and self-sustaining? How can you tap into the people who have lived in those landscapes the longest, and rely on their traditional ecological knowledge to best manage their resources and incorporate conservation principles?
Especially when working in rural or tribal areas, advance stewardship of lands and waters in a way that's culturally restorative and racially and economically just. Center the community and their hopes and needs.
And again, think about how to leverage the natural resources of a region to create "green collar" jobs. The obvious examples are around forestry and timber, but the possibilities are broader – for example, South Carolina has excellent sand, and even seemingly barren, wide-open spaces might present opportunities for solar or wind farming. Focus on projects that leverage those natural resources and create quality jobs and outcomes.
How to build it
While green building isn't the only solution to climate and sustainability challenges, it's still important. And as our panelists demonstrated, it's another area to employ open minds and creative, critical thinking to reach the next level.
Materials
Look beyond what a supposedly green building component is, and further up the supply chain. Who's benefiting from the sale of this item? Where did it come from? Was it produced with ethical supply and labor?
Take timber, for example. It seems like a safe enough bet: Timber production emits less greenhouse gases than steel or other building materials, and its use actually traps CO2 that may otherwise end up in the atmosphere. But is your project's timber coming from a clear-cut supplier, or one that practices agroforestry and supports biodiversity? Is the company supporting intergenerational wealth building, and investing back in the areas it harvests from?
"Old" technology
Whether you're looking for a supplier to collaborate with or a startup to fund, keep in mind that innovation doesn't only come from Silicon Valley – the cheaper solar panel, the more efficient wind turbine.
Think about "old technology," and what we can learn from frontline communities themselves, especially from indigenous communities. Consider areas where cultures have long practiced forest management in ways that actually help prevent fires and other disasters.
Reduce, reuse, revitalize
If not reinforced/rehabilitated, cultural landmarks in low-income communities may be vulnerable to natural disasters. Using NMTCs, HTCs, and other credits to repurpose them is a win-win: You're not only preserving buildings that are important to communities, but also saving the energy and materials that would be required to demolish the building and rebuild it from scratch. After all, as the saying goes, the greenest building is the one that's already built.
There are extra challenges around implementing environmental measures within National Park Service preservation standards: Upgrades to electricity and window insulation will need to take historical design into consideration, for example, and rooftop solar panels may be denied if they change the way the building looks. But with the variety of programs available, there are opportunities to pull together solutions: New Markets allocations can help mitigate the cost of historically appropriate insulated windows, and community solar can provide cleaner energy in a less visible way.
Keep the momentum
Everyone in the NMTC industry has great stories to share around the work that has been done so far, and getting that word out there is critical to making sure it continues. Reach out to senators and other leadership to show them the game-changing projects happening in their districts, and make sure that they know those projects happened because of the New Markets and Historic tax credits, renewable energy incentives, and other public policy efforts. Advocate for climate policy to include reforms supporting that broader definition of resilience. As NMTC rules, regulations, and applications come up for review, voice your support for retaining the "environmentally sustainable features outcome" and implementing other components that keep these issues top-of-mind.
Conclusion
There are no easy answers to building climate resilience; these are complex challenges, and they require complex solutions. The outcomes may be slower and more difficult to quantify than others we're used to. But if applied correctly, the NMTC program can be a tremendous asset in the climate fight. A flexible, creative, dynamic approach that enables you to really address the challenges specific to each community – and enable their growth – will be key to success.
Subject matter expertise
Scott Szeliga

CPA, Office Managing Partner – Baltimore

Close

Contact

Let's start a conversation about your company's strategic goals and vision for the future.

Please fill all required fields*

Please verify your information and check to see if all require fields have been filled in.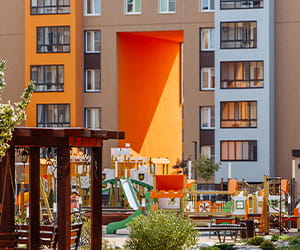 Affordable Housing News & Views
Receive CohnReznick insights and event invitations on topics relevant to your business and role.
Subscribe
This has been prepared for information purposes and general guidance only and does not constitute legal or professional advice. You should not act upon the information contained in this publication without obtaining specific professional advice. No representation or warranty (express or implied) is made as to the accuracy or completeness of the information contained in this publication, and CohnReznick LLP, its partners, employees and agents accept no liability, and disclaim all responsibility, for the consequences of you or anyone else acting, or refraining to act, in reliance on the information contained in this publication or for any decision based on it.