Navigating the state tax landscape: Three areas growing tech companies should focus on

This article was first published by Forbes.
As a tax partner working with growing technology companies, my main focus for clients is often more on mitigating risk than structuring business operations for income tax efficiency. On the journey from seed rounds and angel investors to liquidity events and public offerings, my clients' investors and stakeholders are focused on growing a customer base and adding recurring revenue as millions of dollars go into development and sales teams that are built to supercharge growth. The silver lining of all that spending is that income tax charges are usually not a part of the assessment—but this doesn't mean there aren't plenty of tax traps for the unwary technology company on the way to an IPO.
The largest of these tax traps is the sticky and growing web of state and local taxes. As recently as 10 years ago, a business could generally use a physical presence standard to determine where tax filing requirements were needed. This was generally protected by a law known as Public Law 86-272, which limited the ability of states to tax commerce of businesses residing and operating in other states. Challenges to this law began in 2012 when California introduced an "Economic Nexus" standard for "Doing Business in California." From that point forward, simply having customers in the state of California could result in the imposition of California income tax on an out-of-state business.
Fast forward 10 years, and U.S. Supreme Court case South Dakota v. Wayfair Inc. (Wayfair) and the explosion of remote workforces as a result of Covid-19 have made state taxes a growing burden for all companies, including SaaS, software and digital media companies. While it can feel overwhelming, there are three areas in particular that technology companies should be mindful of as they grow:
Sales tax and situs
Broadly speaking, the decision made in the Wayfair case led to all states with a sales tax implementing some form of an economic nexus threshold. While the thresholds set out in the Wayfair case were 200 transactions or $100,000 in sales, for B2B software and SaaS companies, having just one customer in a state could result in a need to register for and collect sales tax. But now that you are aware of the rules, determining the "situs" of the transaction (i.e., where it will be taxable) can be an even bigger challenge. Most companies have a billing address for their customers, but this may not be enough. New York, for instance, determines taxability
based solely on where a customer or user accesses the software
, regardless of whether it is accessed remotely or downloaded to a local computer. Planning with our clients to gather this data and properly address sales tax liabilities and exposures is a key area of focus as companies grow.
'Tangible' versus 'intangible' goods
The rules for state taxation are often very different depending on whether or not your company is selling a "tangible" item, or what is considered an "intangible" item. While sales tax laws have historically been targeted toward taxing tangible goods, more states are trying to define taxes that can capture revenue from the sale of intangible goods. Maryland, for instance, was the first to implement a
Digital Advertising Gross Revenues Tax (DAGRT)
. Digital products under their sales tax
now also include
subscriptions to online content, access to video or online games, and digital downloads of media. Digital media companies broadcasting podcasts and streaming video over the internet to users in every state are entering new territory as digital broadcasting is not contemplated in many standing laws on the subject. This is starting to change though, as
Oregon signed legislation in 2021
that included digital broadcasters in the broader definition of broadcasting.
The remote workforce
While certain technology companies may not have sales tax exposures to worry about, almost every business has been forced to consider the possibility of adding to a remote workforce, and the benefits and burdens of those decisions. Telecommuting employees can lead to nexus for sales tax, income tax, franchise tax, property taxes and withholding taxes in a state regardless of whether or not you hire with the help of a PEO or not. These filing requirements are even more complicated for companies with main offices in states that maintain a "Convenience of the Employer" rule. Without a bona fide office in that new state, New York could try to claim that an out-of-state employee owes payroll and withholding tax to New York. Even for companies trying to do the right thing, these rules and risks of double taxation lead to uncertainty.
For growing technology companies, the complex ecosystem of state taxes can feel challenging, to say the least; especially with the increase of remote work and the increased use of digital services. Keeping these three areas in mind as your company grows can help as you navigate the tax landscape.
Subject matter expertise
Shaune Scutellaro

CPA, Partner

Close

Contact

Let's start a conversation about your company's strategic goals and vision for the future.

Please fill all required fields*

Please verify your information and check to see if all require fields have been filled in.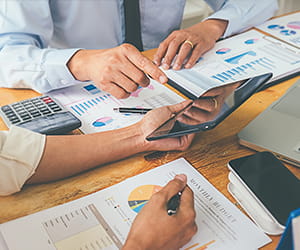 CohnReznick Tax: Alerts and Webinars

Building the Organization of the Future
Receive CohnReznick insights and event invitations on topics relevant to your business and role.
Subscribe
Any advice contained in this communication, including attachments and enclosures, is not intended as a thorough, in-depth analysis of specific issues. Nor is it sufficient to avoid tax-related penalties. This has been prepared for information purposes and general guidance only and does not constitute legal or professional advice. You should not act upon the information contained in this publication without obtaining specific professional advice specific to, among other things, your individual facts, circumstances and jurisdiction. No representation or warranty (express or implied) is made as to the accuracy or completeness of the information contained in this publication, and CohnReznick LLP, its partners, employees and agents accept no liability, and disclaim all responsibility, for the consequences of you or anyone else acting, or refraining to act, in reliance on the information contained in this publication or for any decision based on it.