For anyone dealing with a company that has a troubled balance sheet, maintaining cash flow is critical to determining an optimal go-forward approach. In many cases, the go-forward involves a transaction such as a merger or sale. But, to get to that point, a stressed or distressed company must maintain the liquidity it needs to continue running the business while positioning itself to satisfy its debts – often to a primary lender –and proceed with the intended transaction.
Enter non-traditional debt financing. This financing – which involves loans from Fincos, asset-based lenders, and even factors – is not for the faint of heart. It typically carries higher interest rates than traditional bank loans but offers some significant advantages such as:
Maintaining full control of the company throughout the process
Negotiable and flexible debt financing terms
The ability to work with, or even replace, the primary lender to structure the non-traditional debt financing loan
If your situation is such that non-traditional debt financing could be a favorable course of action, the next step is to consult with a financial advisor specializing in debt (re)financing. They can guide you in matching your specific needs and situation with the right lender. It's even better if that advisor has relationships with multiple lenders – you might find you have a choice in who you ultimately work with.
Finding Your Financial Mate
Preparing your company for non-traditional debt financing is a lot like online dating. You need to like what you see but, more importantly, the lender must like what they see. Therefore, you need to make yourself as attractive as possible to lenders to ultimately find the financial mate that can help you solidify your company prior to a transaction.
We see this as a five-step process. Completing each step as effectively as possible can help get you to the next step and, if you do each step properly, to the closing of a loan that best meets your needs.
Step 1: Consider a Performance Improvement or Restructuring Initiative
Before you begin to seek non-traditional debt financing, a performance improvement or restructuring plan may be the best way to start. A performance improvement advisor can look at your business holistically and recommend ways to enhance operational effectiveness, improve budget forecasting and reporting, leverage digital innovation for greater efficiency, and boost any cashflow you already have. In short, a performance improvement initiative could make your company much more attractive to prospective lenders at the onset.
While Step 1 may not be necessary for every situation, every stressed or distressed company seeking a transaction should at least consider this step before they go to Step 2.
Step 2: The Teaser
The teaser acts like a trailer promoting a movie. It gives you a taste of what you can expect but doesn't give away the whole plot. Like a movie trailer, the teaser is intended to generate interest in your company from your audience – in this case, prospective lenders. Because you will be operating in a highly competitive environment, with many companies like yours looking for the right lenders, crafting a compelling teaser is essential. Working with an advisor who is skilled at creating the type of teaser that will attract lenders will be critical to your success.
Note: The teaser is not intended to solicit definitive term sheets, but to gauge market interest in your company and its potential transaction.
Step 3: The CIM
If your teaser has generated interest from lenders, the CIM (Confidential Information Memorandum) provides the vital information on your company and its potential transaction. Like the teaser, developing an informative, accurate, and persuasive CIM requires expertise. While the CIM is intended to convey a positive outlook for the borrower, it must also be fair and balanced on the issues and risks associated with the business and/or transaction.
Your financial advisor can not only help you complete a CIM that best tells your story, they can also help target it to the lenders that best meet your needs. While a large distribution of the CIM might be required for some situations, it is inevitable that the rejection rate will be high. On the other hand, a highly targeted approach may miss lenders that are, at first, not thought of as a fit but could be interested in the deal. Finding the right balance of how many CIM's to distribute, and which lenders to send them to, is where an advisor can really help.
Your advisor should also have many relationships with commercial banks, bank-owned ABL, independent ABL, factors, and specialty and opportunistic lenders. Leveraging these relationships is often the key factor for a successful outcome.
Step 4: Due Diligence
If all goes well, you may be in a position to evaluate offers from multiple lenders. You and your advisor will work together to review and compare term sheets or letters of interest (LOI), select a lead lender and backup lender (if needed), and move forward with formal due diligence, underwriting, credit approval, documentation, and, finally, funding.
Although the work product burden now shifts to the lender, the role of the financial advisor is not diminished. They can act on your behalf to help ensure information and communication is maintained and updated, questions are answered, revisions to financial projections are made, and any issues and concerns on your part or the lender's are addressed. In this role, the financial advisor is focused on the final objective: bringing the financing to close.
Step 5: The Closing
While the closing may seem like the end of the process, inevitably there will be many post-closing items required by the lender and borrower alike. These items may be as simple as finalizing the new bank accounts in favor of the new lender or releasing old liens that may exist. Either way, the financial advisor can help clean up these open items and, if need be, maintain borrowing bases, update projections, model covenants, and perform any other task required by the lender and borrower to facilitate a successful transition to the new lender.
Food for Thought
As Shakespeare's Polonius so aptly said in Act 1, Scene 3, of Hamlet: "neither a borrower nor a lender be." In its simplest distillation, this is sound advice on how to conduct oneself when engaging in non-traditional debt financing.
Contact
David Weinstein, Southeast Practice Leader, Debt Advisory – Restructuring and Dispute Resolution practice
203.919.1959
Subject matter expertise
Close

Contact

Let's start a conversation about your company's strategic goals and vision for the future.

Please fill all required fields*

Please verify your information and check to see if all require fields have been filled in.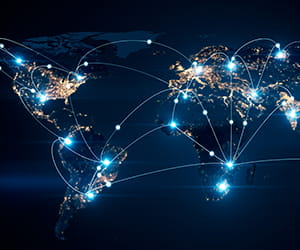 Pivot Points: Updates from CohnReznick's Restructuring and Dispute Resolution team
Receive CohnReznick insights and event invitations on topics relevant to your business and role.
Subscribe
This has been prepared for information purposes and general guidance only and does not constitute legal or professional advice. You should not act upon the information contained in this publication without obtaining specific professional advice. No representation or warranty (express or implied) is made as to the accuracy or completeness of the information contained in this publication, and CohnReznick LLP, its partners, employees and agents accept no liability, and disclaim all responsibility, for the consequences of you or anyone else acting, or refraining to act, in reliance on the information contained in this publication or for any decision based on it.