As a client, you benefit from our best ideas when CohnReznick maintains an inclusive, multi-dimensional firm culture. Our diverse viewpoints will help to drive growth, innovation, and value for your company. As an employee, the unique beliefs, backgrounds, ways of thinking, talents, and capabilities that make you who you are will be recognized and leveraged as strengths.
Diversity. Equity. Inclusion. Belonging. Each of these facets are central to how CohnReznick identifies as a firm and a community. DEIB goes far beyond statistics or events, individuals or departments. It is woven into everyday conversations. It elevates the work we do for our clients. It motivates us towards creating change in our communities.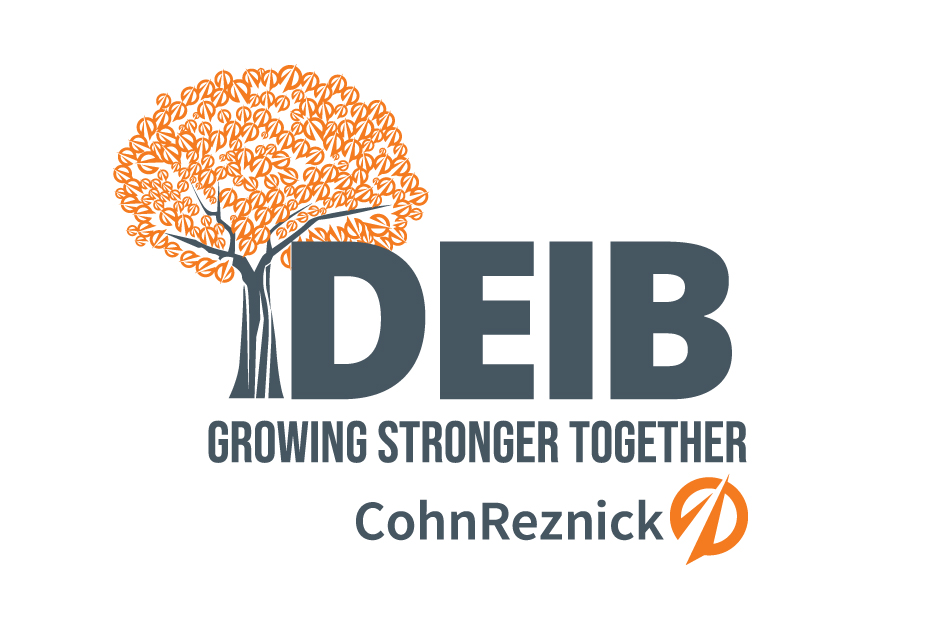 DIVERSITY: We find strength in our differences, and we affirm our similarities—including the visible and invisible dimensions of a person's background, beliefs, values, culture, and ideas.
EQUITY: Seeks to ensure everyone receives opportunities and access, regardless where they start. It's our responsibility to identify and eliminate barriers, redistribute power, and ensure everyone gets what they need to succeed, achieve, contribute, and belong.
INCLUSION: Invites and values the active participation and contributions of all people. We ensure equitable access to resources and opportunities for all, within our firm and within our broader communities.
BELONGING: An individual feels comfortable to bring their entire authentic self to work with their intersecting identities embraced, celebrated, and engaged. A strong sense of belonging emerges from the combination of successful diversity, equity, and inclusion efforts.
CohnReznick CEO David Kessler is proud to join more than 1,000 CEOs nationwide in signing the
CEO Action for Diversity & Inclusion™
– the largest CEO-driven business commitment to advancing diversity and inclusion in the workplace.

By joining with other likeminded businesses, CohnReznick is committed to four actions to catalyze further engagement and progress around diversity and inclusion:
Cultivating a workplace that supports open dialogue on complex, and sometimes difficult, conversations about diversity and inclusion.
Implementing and expanding unconscious bias education.
Sharing our best practices—and challenges.
Creating and sharing strategic diversity and inclusion plans
The CohnReznick D&I National Council helps turn our values into action. The Council is responsible for developing and implementing a national plan that advances D&I across all areas of the Firm including talent development, supplier relationships, leadership initiatives, and accountability at the corporate and local office level.
Building and strengthening communities is at the core of who we are and what we stand for. We are proud to have several firm-wide Employee Resource Groups (ERGs) that advance and elevate the professional success of women, caregivers, people of color, and the LGBTQ+ community. This year – 2022 – we are excited that three new ERGs are being formed for AAPI, Latinx, and veteran employees.
Ranking #9 in Vault's Top 25 Best Accounting Firms in North America
#13 for Culture
#13 Promotion Policies
#16 Vacation Policies
#11 Best Accounting Firm for Women
#7 Best Accounting Firm for Overall Diversity
#7 Best Accounting Firm for Racial & Ethnic Diversity
#8 for LGBTQ+ Diversity