Uncover your future potential
create your story
In today's environment, where startups are upending incumbents and market leaders are exploring new disruptive business models, companies are struggling with where to move next. They don't have the time or resources to chase every opportunity. The same approaches to new ideas and transformation have failed to yield results quickly. Challenges with disconnected people, disparate geographies, and resource restrictions are causing organizations to miss opportunities. create is a process that enables your business to discover breakthrough moments that can power your future.
move quickly to resolve a specific challenge
The create strategy construct harnesses the power of data and research, collaborative thinking, and innovation principles to solve your deepest challenges and build the story of the business you were meant to be. In a rapid sprint, we'll uncover the opportunities, actions, and strategy to enable your organization to respond to the larger shift in the market and make fundamental changes to sustain competitive advantage by building tangible outcomes.

How we work
THE CREATE PROCESS
Through create, strategy, design, and technology thinkers come together in a series of sessions with your team to tackle your critical issues, discover solutions, and accelerate results. We experiment on a hypothesis with the freedom to fail fast and fail early resulting in quicker, more transparent outcomes and a culture of continuous improvement. We'll work through three major areas, all directed at the focused problem we've developed our hypothesis on:
Discovery and action enablement – Our consulting professionals will work to discover the insights and backing to support data-driven decisions driven from your organization and the marketplace.
Collaboration and decision performance – Powered by our Innovation Lab, groups work together in facilitated sessions to understand current state and define immediate and future solution opportunities – including the products and services, business models, operating processes, and technologies that will power them.
Road map or prototype development –Setting up for delivery success, we'll build a road map of key steps or a prototype you can take to market and begin testing immediately to realize results.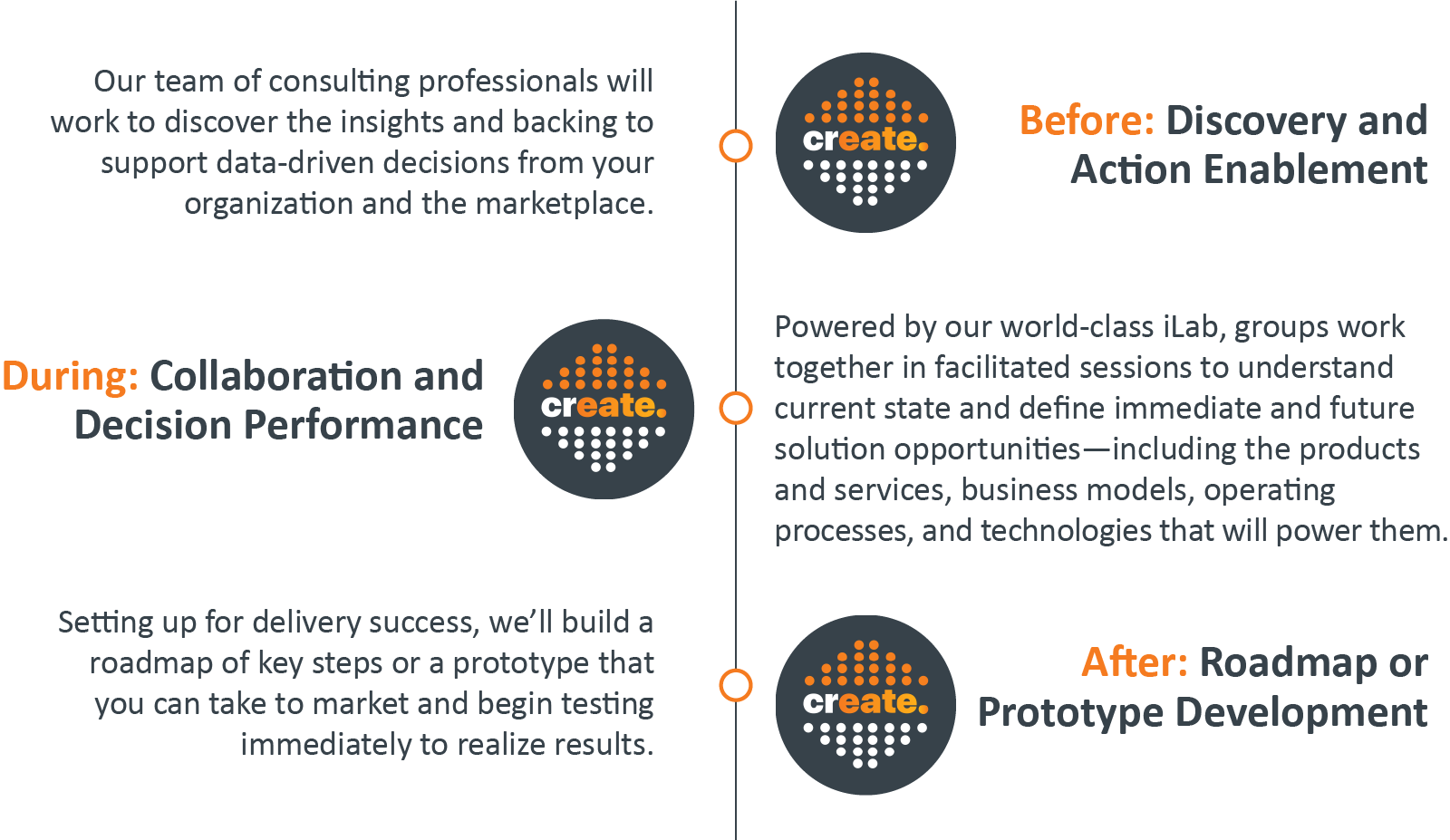 How create helps you win
You walk out with a tangible and actionable result. Unlike many traditional approaches, create gives you the ability to sustain the benefits of a strategy effort long beyond the confines of our engagement. You leave armed with a plan or tool that will allow you to get started immediately on creating the future story for your business.