Digital changes everything. CohnReznick's approach to digital transformation and innovation services delivers real change for your business in weeks, not months, resulting in a much faster return on your digital investment. By collaborating with clients in our state-of-the-art Innovation Lab —we generate the ideas that fuel new revenue streams, create deeper customer experiences, and drive business model transformation.
Innovate to Grow Revenue, Build Loyalty, and Block Disruptors
Digital changes everything. Every industry, every channel, every market. It's revolutionary and promising, but it's also challenging. You need to be able to respond to the ever-evolving digital environment quickly, getting out in front of your competitors and anticipating incursion by pesky disruptors.
CohnReznick can help. Our Digital and Innovation Services practice was built to serve high-growth and middle-market organizations with digital strategy development and execution. Our expertise in digital transformation is first-rate, and our methods are ideal for today's fast-changing world.
Opportunities Abound
Digital is revolutionizing all aspects of business. Companies are using digital technology to:
Fuel new revenue streams
Create deeper customer experiences
Reduce operating costs
Transform businesses models
Re-tool governance practices
How should you take advantage of digital technology for your business? What are the unique, game-changing opportunities you should pursue? How can you evolve and respond quickly?
Agile Digital Transformation
To help you answer these questions, our innovation consulting team takes you through our agile innovation process. Our approach is to quickly identify, test, and deploy high-potential opportunities for your business, adapting to feedback and changing circumstances along the way. And it's not a one-time exercise: to stay relevant, you need to embrace "continuous everything": innovation, design, integration, testing, and deployment. Our approach can deliver real change in weeks, not months, resulting in a much faster return on your investment. To learn more download our "Digital Changes Everything" white paper.
The CohnReznick Innovation Lab
To support our clients' need for speed and agility in digital innovation, we've recently unveiled a state-of-the-art Innovation Lab. The Lab's unique co-creation and collaboration tools are designed to maximize the effectiveness of our proprietary innovation process, driving results quickly and continuously. In the Lab, we work with clients in an agile and iterative fashion to deliver high-impact outcomes in days or weeks, rather than the typical months or years. Learn more about the Lab.

Let's see where digital can take your business.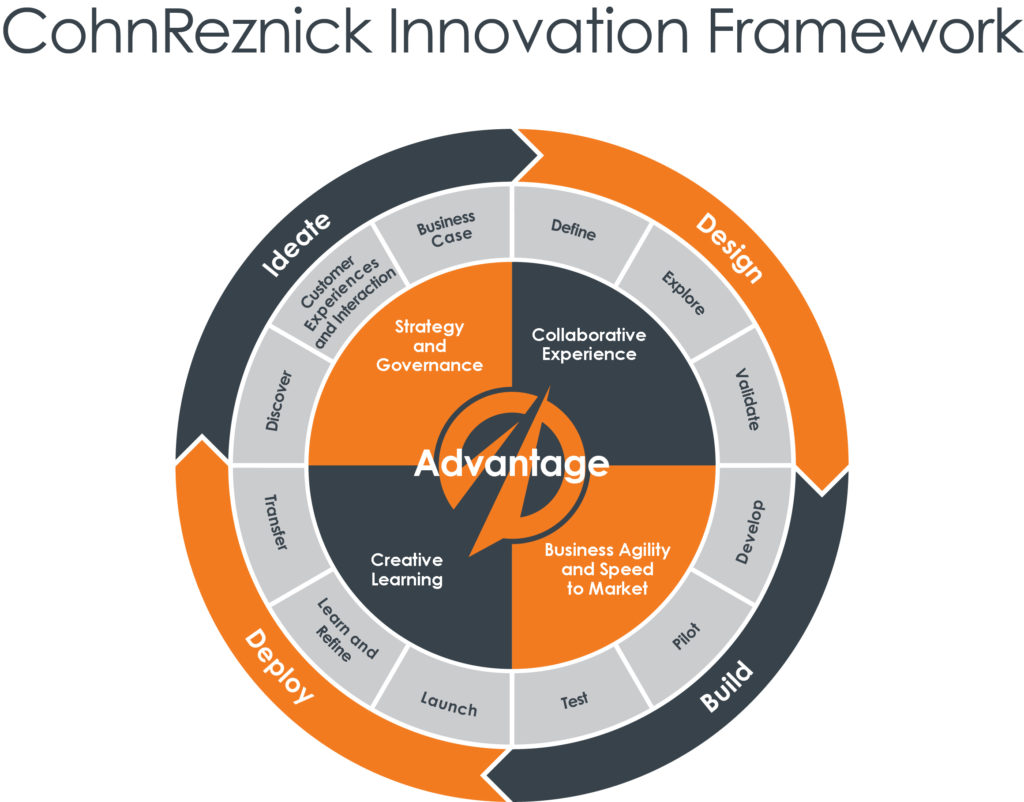 Digital and Innovation Services
Digital Strategy and Capabilities Assessment
Cloud Assessment and Roadmap
Omnichannel Strategy, Capabilities, and Readiness
Digital Customer Experience, Personas, and Journey Maps
Customer Identity and Access Management
Optimized Search
Mobile Rendering and Application Development
Website and Portal Application Development
Digital Marketing Cloud Deployment
Service Cloud Deployment
Sales Cloud Deployment
Digital Supply Chain and Digital Commerce Strategy