What You Need to Know to Grow in the Federal Marketplace
Perhaps the biggest challenge government contractors face is consistently developing business by winning new contracts. It is a challenge that trumps cash flow, the search for good talent, technical adeptness, and all other operating proficiencies. Businesses seek ways to grow rapidly, but struggle when pinpointing where to focus their resources. One strategy that government contractors should employ to jumpstart their business is to have a data-driven, detailed business development playbook.
Many small businesses think that they can simply respond to public solicitations and achieve growth. Successful government contractors indicate that this may result in a less than 10-percent win rate, which is not sustainable from a business perspective. Although responding to solicitations is one step in the process, it is critical that businesses understand the procurement marketplace to include:
WHICH agencies buy your products or services?
HOW they buy it (meaning which contract vehicles they typically use)?
WHOM are your competitors or potential partners?
Teaming in the federal-procurement market is the name of the game. The federal government is moving toward a category management procurement structure. Having a GSA schedule is no longer enough. Per the Us General Services Administrative (GSA) website, less than 10 percent of government acquisitions go through GSA schedules, and the bids are highly competitive.
Government-wide acquisition contracts (GWAC's) and agency-specific indefinite delivery/indefinite quantity (IDIQ's) are becoming increasingly popular. If contractors are not savvy about teaming, they will not grow. A good business development playbook identifies strategic contracting vehicles and upcoming opportunities, and describes when to be a prime contractor, when to be a subcontractor, and when to form a joint venture with others.
Businesses of all sizes should understand and leverage set-aside programs. Teaming or partnering with small and/or socioeconomic-certified companies to win larger contracts can be lucrative for all partners. Free and open contracts upon re-compete are moving to small business set-asides. Contracts as large as $100 million in total contract value are being set aside for small businesses. Teams of large and small businesses are competitive, and the government favors these arrangements.
Once a data-driven business development plan is established, businesses competing for government contracts should invest in relationships with prime contractors and government officials with knowledge of Federal Acquisition Regulations (FAR), and business-system infrastructures. All the necessary forms, certifications, and representation letters required by FAR are daunting to say the least. The prime contractor and the U.S. government, unlike commercial vendors, want confidence and proof that you have a deep understanding of the rules and regulations.
To build this confidence, it is important to develop competencies around the business operations expected within the federal government procurement environment. The diagram below illustrates the four core competencies or "semi-conceptual investments" that every business owner needs to know when operating a successful business in a highly regulated environment.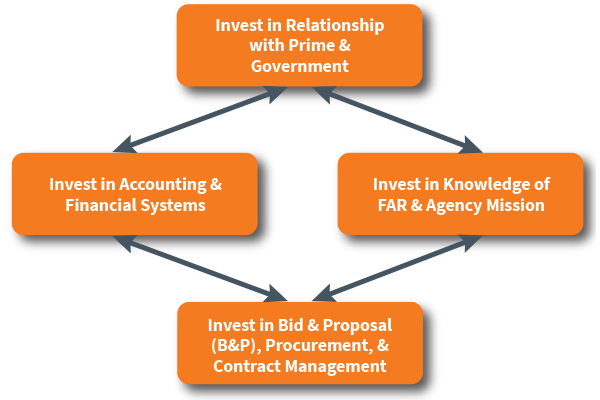 This diagram illustrates long-term investments, which means you may not realize an immediate reward. You will need to give these investments time to gain traction.
Along with the semi-conceptual investments, contractors must look to infusing the proper level of infrastructure support into business operations and project management. Depending on the type of contract financing arrangement, cost reimbursable, time and materials, or fixed-price contracts, your business would be wise to invest in accounting, contract management and procurement processes that meet contract obligation containing associated clauses. Careful consideration of the various intricacies of these systems will save you time, worry and resources. Small-to-midsize business often utilize consulting experts to substitute their knowledge of the FAR business systems while they develop talent internally.
Companies that are committed to growth have a data driven, detailed business development playbook, they have committed to an investment in their infrastructure, they understand and have mitigated risks, they have invested in the right people and they are prepared to pivot with the market.
Subject matter expertise
Kristen Soles

CPA, Partner - Managing Partner, Advisory - Global Consulting Solutions and Government Contracting Industry Leader

Close

Contact

Let's start a conversation about your company's strategic goals and vision for the future.

Please fill all required fields*

Please verify your information and check to see if all require fields have been filled in.
This has been prepared for information purposes and general guidance only and does not constitute legal or professional advice. You should not act upon the information contained in this publication without obtaining specific professional advice. No representation or warranty (express or implied) is made as to the accuracy or completeness of the information contained in this publication, and CohnReznick LLP, its partners, employees and agents accept no liability, and disclaim all responsibility, for the consequences of you or anyone else acting, or refraining to act, in reliance on the information contained in this publication or for any decision based on it.
Receive CohnReznick insights and event invitations on topics relevant to your business and role.
Subscribe