What to Do Before Disaster Strikes: Business Continuity Planning for Not-for-Profits
Through October 6, 2017, there were 15 weather and climate related disaster events in 2017 with losses exceeding $1 billion each across the United States. These events included one drought, two floods, one freeze, seven severe storms, three cyclones, and one wildfire.*
Disasters such as these can devastate the business and charitable operations of a not-for-profit organization. However, based on findings from CohnReznick's recently released 2017 Not-for-Profit Governance and Financial Management Survey, only 68% of survey respondents, comprising of not-for-profit industry professionals and board members across country, reported having a disaster recovery plan in place.
All not-for-profits should have a clear roadmap to enable them to minimize the impact of a disaster, resume operations, and recoup losses in the event of an unforeseen circumstance. Planning for these events can ensure that the organization survives and thrives.
Business Continuity Planning is Key to Recovery Following Natural Disasters
Planning for unexpected natural events and interruptions can be challenging, yet it is necessary, as the impact on business operations can be substantial, resulting in interruptions in programs, lost members, increased costs, and missed opportunities. In some cases, these losses may exceed those caused by physical damage to property and equipment. Not-for-profits need to be prepared for these issues. Below are recommended focus areas for not-for-profit leadership in order to best accomplish this.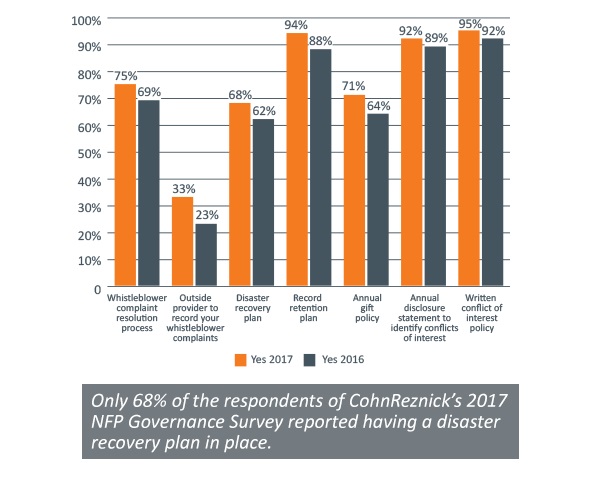 Access CohnReznick's 2017 Not-for-Profit Governance and Financial Management Survey
Resuming Operations
While it's impossible to plan for all eventualities, organizations must do what they can to analyze and prioritize business needs to determine which business processes must to be up and running during a natural disaster to sustain basic operations. During such times, it is vital to convey to stakeholders and key service providers that it's business as usual. To minimize the impact of a disruptive event and maintain efficient operations, we recommend:
Developing a disaster recovery plan to include:

A prioritized listing of mission critical programs, along with a plan to deploy resources in priority order
A people-management plan to identify who should do what in the event of an emergency. This plan should identify the names and contact information of recovery teams and personnel.
A plan to recover information technology systems and data
A communication strategy for staff, board members, media, key service providers, and other stakeholders

Once you have prepared a disaster recovery plan, you should test the plan at least annually to ensure, among other things, that your organization's personnel are adequately prepared and rehearsed.
Evaluate and modify your disaster recovery plan as necessary after each test.
Recouping Financial Losses
Business interruption losses are often covered under business property insurance policies, so there are some important preliminary steps that not-for-profits can take toward recovering these losses. The first step is to contact your insurance company to provide a notice of claims. Affected organizations may also need to consult their legal advisors to determine the scope of insurance coverage and the types of losses covered, before beginning the process of documenting and quantifying losses.
Partnering with experienced risk management professionals to develop loss recoupment strategies and carry out damage analyses to support claims will also enable not-for-profit executives to focus on the all-important task of restarting the business.
Providing Employee Assistance
In the event that a disaster strikes your workplace or community, you will likely want to assist your employees, or other members of your community, by providing, food, clothing, shelter, employee loans, etc. Ensure that you are aware of the tax guidelines associated with these efforts by consulting IRS publication 3833, Providing Assistance Through Charitable Organizations or a tax professional.
Employers may also want to refer employees to The Federal Emergency Management Agency's (FEMA) "Individuals and Households Program" which provides temporary economic relief to families displaced in a major natural disaster when private insurance isn't an option. Additionally, many employers have employee assistance programs (EAP) and providers who can help employees deal with the emotional impacts of a disaster, as well as many more services.
What Does CohnReznick Think?
As Benjamin Franklin said, "If you fail to plan, then you plan to fail." It is crucial to plan ahead and have processes in place to mitigate costly business interruptions in case of a disaster. Once you have a disaster recovery plan in place, it's just as important to rehearse it on a periodic basis to evaluate its effectiveness.
Each organization is different and will have different requirements for business continuity/disaster recovery planning. The important thing is to perform a needs assessment and determine which operations are vital in order to keep your organization running in the event of a natural disaster.

About CohnReznick's Not-for-Profit and Education Industry Practice
CohnReznick has a dedicated Not-for-Profit and Education Industry Practice that works closely with the boards, management, and financial leaders for not-for-profit and educational organizations. Our clients include membership based organizations, foundations, educational institutions, not-for-profit affordable housing developers, religious and cultural organizations, and social service agencies.

About CohnReznick's Disaster Response and Recovery
The recovery and rebuilding that follows natural disasters like Hurricanes Harvey and Irma is arduous. Affected communities, and the government agencies supporting them, benefit most from a complex coordination of boots on the ground assistance, scrupulous financial oversight, and across-the-board project management. From 9/11 through Superstorm Sandy and many other natural and man-made disasters, CohnReznick has supported federal and state agencies in managing major recovery programs, overseeing grant distribution, reducing fraud, waste, and abuse, and bringing relief to those in need.

About CohnReznick's Restructuring and Litigation Advisory Practice
Quick and decisive action can resuscitate a financially distressed company, improve creditor confidence, and
provide a foundation to move forward. CohnReznick brings together a multidisciplinary team that works alongside management. With a focus on running the business, we concentrate on restructuring operations, preserving asset value, and rebuilding stakeholder confidence. Our turnaround specialists immediately work to reduce costs, negotiate with creditors, and identify potential capital sources. And, if bankruptcy proceedings are required, we maximize value for all constituencies.

About CohnReznick
CohnReznick LLP is one of the top accounting, tax, and advisory firms in the United States, combining the deep resources of a national firm with the hands-on, agile approach that today's dynamic business environment demands. With diverse industry expertise, the Firm provides companies with the insight and experience to help them break through and seize growth opportunities. The Firm, with origins dating back to 1919, is headquartered in New York, NY with 2,700 employees in offices nationwide. CohnReznick is a member of Nexia International, a global network of independent accountancy, tax, and business advisors. For more information, visit www.cohnreznick.com.
Contact
John Alfonso, CPA, CGMA
Partner, Not-For-Profit and Education Industry Leader
646.254.7415/ john.alfonso@cohnreznick.com

Frank Banda, CPA, CFE, CGMA, PMP
Managing Partner – Government and Public Sector Advisory
301.280.1856 / frank.banda@cohnreznick.com

Kevin Clancy, CPA, JD, CIRA, CFF
Partner, CohnReznick Advisory - Restructuring and Litigation Advisory Practice
973.228.3500 / kevin.clancy@cohnreznick.com

* National Centers for Environmental Information
Subject matter expertise
John Alfonso

CPA, CGMA, Partner - Not-for-Profit & Education Industry Leader

Close

Contact

Let's start a conversation about your company's strategic goals and vision for the future.

Please fill all required fields*

Please verify your information and check to see if all require fields have been filled in.

CohnReznick 2017 Not-for-Profit Governance and Financial Management Survey
Receive CohnReznick insights and event invitations on topics relevant to your business and role.
Subscribe