While revenue integrity has increasingly been a priority for healthcare organizations, it has gained even more importance during the coronavirus pandemic. 
Some organizations hope to go back to the pre-pandemic mix of payers, services, and needs. Yet the crisis is changing what goes into that mixture, with a complex list of contributing factors such as: 
Canceled elective procedures
Pent-up demand for elective procedures and outpatient clinical services, including preventive care
Increased use of telehealth
A shift of services outside of hospital walls to off-campus sites of services (e.g., hospital services now taking place in ambulatory surgery centers (ASCs))
Changes in the payer mix as unemployment leads to changes in insurance coverage
Increasing amounts not being collected as changes in employment leave patients unable to meet cost-sharing requirements of high-deductible plans
Because of the shifting dynamics in healthcare, pre-COVID-19 levels of revenue are not yet possible, and they may not be for some time. 
For providers, the keys to achieving revenue goals while still maintaining integrity will be to 1) become more efficient, 2) increase productivity, 3) adjust future strategies to look for new markets, and 4) minimize risks. Read on for a look at some of the ways you can align your organization to contribute to future revenue integrity.
Revisit processes and controls to drive efficiencies
To prioritize efforts for more immediate cash, your organization should strive to make sure data is complete, track timely filing, look to high-volume and high-balance encounters, and consider payer response and expected days to pay. Identify and address any processes and systems that lead to lost revenue opportunities, developing internal controls and corrective action plans where needed.
Check for complete data and keep up with reporting changes
Re-evaluate charge capture processes to make sure they are current with payer requirements for coverage and payment.
Review that all items, services, and procedures have been captured.
Check that patient demographic and insurance information is complete and accurate.
Make sure coding is inclusive and reflects current requirements.
Review timeliness
Check for approaching timely filing limits.
Ask payers for claim submission extensions or for exceptions to time limits for appeals or other reviews.
Keep balances in check
Watch for a population of single large-balance encounters. 
Review compilations of the same type of claim at smaller balances that represent together a large balance.
Assess payer compliance
Review payer requirements for proper claim submission, especially for those where coverage and benefit waivers and exceptions exist due to the pandemic.
Adjust claim logic and edits to align with payer exceptions.
Track not only payer compliance in processing but also payment after the claim is submitted for consideration. 
If your organization does not have a way to track compliance, develop a payer matrix to make it more trackable in the future. 
Enable remote workforce engagement, productivity, and collaboration
While some organizations already had select revenue cycle staff and other support positions working outside of the office, the pandemic pushed many other non-patient-facing staff members off-site. Productivity and quality issues became apparent as organizations relied on measures that were no longer applicable. For example, using a 9 a.m. to 5 p.m. productivity measure might not work for someone who is taking care of children or an older parent during the day and completing work at night. 
The future challenge will be developing appropriate measures and maintaining collaboration as many staff members continue to work from home due to the uncertainty of public transit, child care, workplace safety, government guidelines, and other issues. Internal controls will become even more important as fewer people work in the office every day, and effective communication and collaboration will continue to be crucial in keeping teams engaged. Without adequate trust, tools, governance, and preparation, revenue integrity can be pushed aside, to the detriment of the organization's bottom line.
Assess security measures and infrastructure
Continuing working with your HR and IT teams to establish a work from anywhere policy and checklist for employees.
Educate employees on safe work-from-home practices.
Set up secure environments, and provide approved software and devices, if possible.
Check VPN security access levels and more robust cybersecurity practices.
Read more in our overview of cybersecurity risk and responses for remote workforces.
Review productivity measures
 

Set productivity expectations, understanding that regular work hours may not be met.

Anticipate shifts in productivity, but not to the detriment of expectations and measures that still need to be met.

Provide cross-training so that processes will still run smoothly in the event of personnel absences. 

Integrate quality measures into expectations for productivity to reduce the potential for claim touches that do not result in claim release.

Establish updated productivity expectations and tools and policies to measure productivity.
Keep communication open and transparent
Be honest and open with staff about the uncertainty in the current environment, to encourage your team to ask questions and help build trust. 

Set up frequent times to meet with and update teams, leaving time for questions and distributing notes to those who cannot make the scheduled meeting. 

Provide direction on whom to contact and how to reach them for issues that may arise.

Make sure communication about upcoming changes is complete and timely. (This is one of the best ways to keep the rumor mill from churning out false information.)

Share your metrics and applaud staff members' efforts; you want staff to know that they are integral to the front line and the overall organization. 
Capitalize on new opportunities
Federal relief measures, changing consumer trends and behaviors, and other potential new sources of funding present opportunities to strengthen providers and prepare them for the future. Keep in mind the following points. 
Review coronavirus-related funding options and opportunities
The Coronavirus Aid, Relief, and Economic Security (CARES) Act and other relief measures made billions in new funding available to providers. Learn where you might still be eligible to apply.
Assess shifts in payer reimbursement
Opportunities in funding and changes in benefits and coverage will ultimately tie to an organization's reimbursement. Shifts in these areas may not tie to projected revenue based on historical measures and benchmarks, so change is to be expected.  
Strategize long-term 
It is expected that the pandemic will drive behavioral changes in those seeking care, including an increased reliance on telehealth, which may result in changing performance measures.
Delayed treatments and diagnoses may bring pockets and waves of revenue, but those bumps in volume won't fix larger-scale breakdowns. Look for opportunities to grow your market share in the areas where you excel.
Assess provider pricing and charging methodologies, considering the shift in payer mix, contractual requirements, and an increasing population of uninsured and under-insured patients.
Maintain a grasp on the evolving risk and compliance landscape
In addition to the usual risks of revenue leakage, the COVID-19 pandemic and the response to it have brought new risks related to compliance, restrictions on funding, and more. Learn which ones will be shifting over the months ahead and which are here to stay, and develop controls accordingly.
Review coronavirus-related funding options and opportunities (again)
New funding related to the coronavirus means new strings attached to the use of those funds. The operational details of how to use and apply the funds were not always provided at the outset, so keeping up to date is of utmost importance for revenue integrity. 
Review funding received, and make sure that you have controls built around those funds (and that the controls can be validated). Have you ensured that there is no "double-dipping"? Can you withstand an audit on where and how your funds were used?
Check benefits and coverage
Payer benefits pertaining to the coronavirus crisis vary at state and local levels, so organizations need to understand their payers and the state and local requirements.
Determine waiver use. At the beginning of the pandemic, the Centers for Medicare & Medicaid Services (CMS) quickly put into place waivers to provide access to care through the use of remote technology, increase availability of caregivers in lifting restrictions for licensure across state lines, and decrease administrative burdens in the transfer of patients to other care sites. Such waivers are expected to continue, which could be an area of opportunity for providers, but  make sure your organization has internal controls to guard against risk moving forward.
Pay special attention to charges incurred in the earliest days of the pandemic, when governmental guidance was changing almost daily. The risk of inaccuracies in payment, both over and under, are the highest when the rules around the identification, capture and reporting of chargeable services were not clear. 
Remain transparent
Amid the coronavirus-related changes in the revenue cycle, hospitals must watch for a new, unrelated one: New hospital pricing transparency requirements, set to take effect Jan. 1, 2021, following a federal judge's recent decision to uphold the CMS rule that established them. Most notable are new disclosure rules related to third-party payer negotiated changes. Read our overview for more information.
Transparency won't apply just to pricing, but also to care access, mode of delivery, and other areas. The public now sees the challenges our healthcare system faces while balancing high-quality clinical care with the pressure to lower expenses in a managed system. This will lead to more change in the future as patients demand increased access to high-quality care at lower costs.
Key takeaways
Revenue integrity and a stabilized strategy will be crucial for organizations to prosper in the new healthcare environment. While adapting to a new way of doing business will take time and a concerted effort, it can result in increased market share, a better payer and patient experience, and increased efficiency for your organization. As your organization proceeds through the pandemic and its eventual aftermath, keep in mind the following points.  
Traditional performance measures will change.
Priorities and processes will shift.
Communication needs will increase.
Change is imminent.
Once implemented, change can also lead to new strategies, new markets, and new revenue. Those who adapt the fastest will most likely become the most successful.
Subject matter expertise
Close

Contact

Let's start a conversation about your company's strategic goals and vision for the future.

Please fill all required fields*

Please verify your information and check to see if all require fields have been filled in.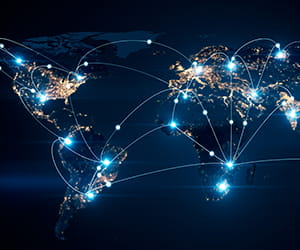 Coronavirus Resource Center
Receive CohnReznick insights and event invitations on topics relevant to your business and role.
Subscribe
This has been prepared for information purposes and general guidance only and does not constitute legal or professional advice. You should not act upon the information contained in this publication without obtaining specific professional advice. No representation or warranty (express or implied) is made as to the accuracy or completeness of the information contained in this publication, and CohnReznick LLP, its partners, employees and agents accept no liability, and disclaim all responsibility, for the consequences of you or anyone else acting, or refraining to act, in reliance on the information contained in this publication or for any decision based on it.