Is your personal financial plan hinging on hope?

Work, sleep, repeat. The simple instructions of life. Get up, go to work, and put in a fuller than full day. After that, go home, find a few minutes to relax and sleep and then do it all over again the next day. Why? Because that's what you think you must do. You simply tell yourself it will all change once you retire and can enjoy more of life's pleasures – at least that's what you hope.
Hope is not a strategy
Many individuals have wonderful spreadsheets detailing their investments. They know the exact value of what they own. When asked if those assets will take them through their retirement, they can only muster up a soft, "I'm really not sure" response. But isn't running out of money during retirement one of our greatest worries?
Planning takes time. It requires you to address some things in life that you don't enjoy talking about, like death and taxes. Making decisions and going through various scenarios is much easier when you proactively address them as part of a plan rather than reactively in crisis mode. There are just too many life events you don't have control over. Will there be a health scare in your future or that of your significant other? Are your assets properly protected with the right life, disability, or long-term care insurance? Where will your children, or possibly grandchildren, go to college – private school or public university? What happens if your job situation changes? Who's getting what when you're no longer around and how much? And this does not take into consideration what you want to do with your life before and after retirement.
It's surprising how many successful individuals have not yet sought out the help of a knowledgeable wealth advisor.
Make it a point to talk through your long-term goals and risk tolerance with a professional advisor. Someone that can help you understand the nuances of the changing financial markets and help you build a unique plan that makes sense for your specific situation.
We've all heard the expression that cash is king. Even if "cash" is just a placeholder for the currency of the future, that statement still holds true. It's so important to know what you have today, what you will need for tomorrow, and how you intend to get there. Developing a cash flow projection that extends out 40+ years and details the sources and use of your assets should be a high priority of yours. It should take into account some of your most important decisions and assumptions, and allow you to make more informed decisions about your financial future. No plan is fixed for life. Once you've built your plan with an advisor, make sure that you revisit periodically to ensure that it remains consistent with your goals. Ask yourself, what's happening with the markets? Has my personal situation substantively changed? If so, how? Do I anticipate a liquidity event (e.g. the sale of a business or the receipt of a large inheritance) happening in my favor any time soon? Have my goals changed and why? Talk it through. Run the various scenarios again with your advisor and revise your projections accordingly. It will take only a few minutes to do, yet save you many sleepless nights wondering, "what if?"
Sure, you could go it alone; keep building your fancy spreadsheets
;
doing the math on the back of a napkin
;
and continuing to say to yourself that you "hope" or "wish" you'll have enough to carry you through. If you do, ask yourself one final question, and then let us help.
Contact
Joseph F. Scutellaro, CPA, Partner, Managing Director, CohnReznick Wealth Management
732.460.4060
John Dugan, Jr., Director of Financial Planning
973-403-7980
Subject matter expertise
Joseph Scutellaro

CPA, Partner, Managing Director, CohnReznick Wealth Management

John Dugan Jr.

Director of Financial Planning

Close

Contact

Let's start a conversation about your company's strategic goals and vision for the future.

Please fill all required fields*

Please verify your information and check to see if all require fields have been filled in.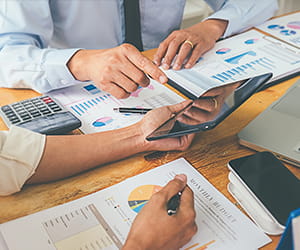 CohnReznick Tax: Alerts and Webinars
Receive CohnReznick insights and event invitations on topics relevant to your business and role.
Subscribe
This has been prepared for information purposes and general guidance only and does not constitute legal or professional advice. You should not act upon the information contained in this publication without obtaining specific professional advice. No representation or warranty (express or implied) is made as to the accuracy or completeness of the information contained in this publication, and CohnReznick LLP, its partners, employees and agents accept no liability, and disclaim all responsibility, for the consequences of you or anyone else acting, or refraining to act, in reliance on the information contained in this publication or for any decision based on it.