How digital due diligence can help private equity firms achieve profit and growth

As digital technology becomes integral to every company, private equity (PE) firms understand that a target company's technology assets have become elemental to the calculus of business value, success, and growth. A digitally focused assessment of technology assets is critical to the profitability of every acquisition, in large part because technology plays a crucial role in future growth and innovation.
Yet, understanding the value-creation potential of another company's technology assets is a considerable challenge. What's needed is a due diligence process founded on digitization to understand the suitability, maturity, and potential synergies of the target's technology – and how these factors can help the PE fund scale and grow. 
As interest in mid-market companies grows, deal-making also continues to evolve. In 2018, the value of PE-backed middle-market deals climbed to $427.9 billion across 2,971 transactions, an increase of 15% over the year before, according to PitchBook. It's a robust environment that, for now, shows no signs of slowing. PE investor confidence in the U.S. economy remains steady, and funds are armed with record amounts of cash – and they're ready to do deals. 
Historically, PE firms have typically held acquisitions for a period of three to four years. That's increasing, however. Median hold times for middle-market companies were 5.3 years in 2018, compared with approximately three years in 2008, according to PitchBook. Based on market signals, CohnReznick anticipates median hold times to continue to increase over the coming years.
Creating value with digital assets 
As technology becomes less costly and more robust, PE firms are putting digital assets – and the people who run them – at the center of their acquisition strategies. To understand the capabilities and potential synergies of a target's assets, PE firms will need to perform disciplined due diligence that examines current and future capabilities across people, processes, and technologies.
A careful assessment of operations is particularly critical, given that PE firms often create value by improving processes and understand that digitization typically enhances operational efficiencies. Correctly implemented, digital technologies like enterprise resource planning (ERP) and customer relationship management (CRM) can help dramatically enhance processes and ultimately boost profits. 
In fact, PE funds today may buy a company primarily because of its superior technology and IT operating team, which, when integrated across the firm's existing portfolio, can help improve its overall technology infrastructure. Digitally focused PE funds see technology assets as a powerful way to modernize systems across holdings, meet customer needs, and help drive revenues.
An insider's view of digital assets
To understand the value of a target's ecosystem, the PE fund will need to gain an insider view of its controls, policies, and processes. This includes IT architecture, business applications, operational systems, customer service technologies, and cybersecurity capabilities. Funds will also need to forecast the future state of digital assets, as well as perform a gap analysis assessment to remediate weaknesses.
Digitally skilled people can be equally essential to business success, which is why thorough due diligence of the target company's personnel is essential. Doing so often requires that firms meet with the target's executives and mid-level managers to evaluate its organizational structure, operations, and culture. The assessment should measure the skills and core competencies of key people, as well as project optimal staffing needs for the future. 
Based on these assessments, the PE firm should understand the potential synergies to be gained by integrating the digital assets across its portfolio. Digitally skilled leadership teams and staff can be tapped to help funds roll out the target's digital systems. 
Due diligence primarily delves into the financial state of the target. Data gathered during target assessments can be used to create individualized projections for profit and growth based on a variety of scenarios and actions taken. Doing so will help PE funds prioritize technology initiatives and spending, as well as determine how to invest in people and processes to run and grow the business. 
The hard work of integrating the acquired company's assets begins after the deal closes. A thorough integration strategy should be informed by insights gleaned from due diligence, as well as one-on-one conversations and observations with the target's leaders. The result should be a roadmap toward integration of people, processes, and technologies that can help create lasting operational efficiencies and growth.
How CohnReznick can help 
As part of the due diligence process, a digital assessment is becoming increasingly pivotal to the success of a transaction. To complete the acquisition or post-merger integration, buyers not only need financial diligence, but also an approach that examines the target's specific technology, its related people, processes, and the cost of change.
As trusted advisors, CohnReznick can help private equity firms plan and conduct due diligence that includes a comprehensive assessment of the digital maturity and future performance potential of a target company. Our approach combines intricate expertise across deal types and industries with in-depth knowledge in business processes, digital transformation, and IT technology. Our goal is to help you stay ahead of constant change and complete fast-paced acquisitions while capitalizing on opportunities to maximize and realize value across the deal lifecycle.
Subject matter expertise
Reed Dailey

Client Relationship Executive

Margaret Shanley

Principal, Transaction Advisory Services Practice Leader

Close

Contact

Let's start a conversation about your company's strategic goals and vision for the future.

Please fill all required fields*

Please verify your information and check to see if all require fields have been filled in.
Winning Companies Embrace Digital Transformation Now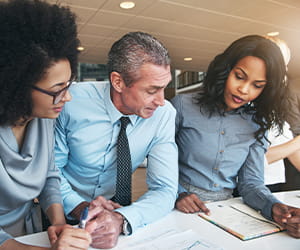 Receive CohnReznick insights and event invitations on topics relevant to your business and role.
Subscribe
This has been prepared for information purposes and general guidance only and does not constitute legal or professional advice. You should not act upon the information contained in this publication without obtaining specific professional advice. No representation or warranty (express or implied) is made as to the accuracy or completeness of the information contained in this publication, and CohnReznick LLP, its partners, employees and agents accept no liability, and disclaim all responsibility, for the consequences of you or anyone else acting, or refraining to act, in reliance on the information contained in this publication or for any decision based on it.