Introducing Hospitality Quarterly: Strategic insights for transforming your business
Business agility is top of mind for operators who had to pivot constantly this past year, and the investment in new technology can be a pathway to success. In our Restaurant Technology survey, an overwhelming majority of participants, 95%, did not believe that they were operating an agile business model, and 90% said they were slow to pivot in response to COVID-19. Herein the opportunity lies… 
Our Hospitality Quarterly report seeks to provide an introduction to successful business strategies, strategic insights, and transformational solutions to help you optimize your business operations and generate new revenue.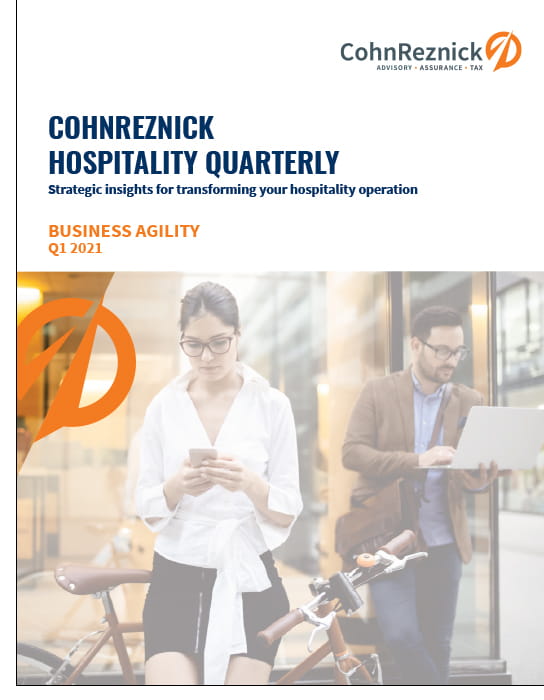 Hospitality Quarterly - Business Agility
In this inaugural issue, we discuss: 
Industry benchmarking related to restaurant technology adoption 
Business agility as a competitive advantage
A robust FP&A strategy and correlating operational value creation
Building resiliency with our Business Blueprint
Transaction and SPAC activity on the rise
Hospitality Quarterly was developed by Cindy McLoughlin, Managing Partner of CohnReznick's Consumer, Hospitality, and Manufacturing Industries and Stephen Mancini, Hospitality Advisory Industry Leader.
Access full report
As part of our 2020 CohnReznick Restaurant Technology webinar series, we surveyed over 500 restaurant groups operating all over the U.S. to gain an understanding of their technology adoption behaviors, priorities, usage, and benefits. Data was gathered from participants through in-session polling questions as well as through a registration survey. To obtain a copy of the full report, please reach out to Victoria Roger.
Cindy McLoughlin, CPA, Managing Partner, Consumer, Hospitality, and Manufacturing Industries
516.336.5510
Stephen Mancini, Hospitality Industry Leader - CohnReznick Advisory
646.762.3410
Related Services
This has been prepared for information purposes and general guidance only and does not constitute legal or professional advice. You should not act upon the information contained in this publication without obtaining specific professional advice. No representation or warranty (express or implied) is made as to the accuracy or completeness of the information contained in this publication, and CohnReznick LLP, its members, employees and agents accept no liability, and disclaim all responsibility, for the consequences of you or anyone else acting, or refraining to act, in reliance on the information contained in this publication or for any decision based on it.