Healthcare industry prognosis: The outlook for investors and M&A activity

Given the size and importance of the healthcare industry within the U.S. economy, it's not surprising that healthcare has demonstrated resilience throughout the COVID-19 pandemic. That's not to say that healthcare was unaffected. But, from those bleak early days of the pandemic – when most states were in lockdown – through the end of 2020, the ramp-up and recovery of healthcare has been a welcome surprise and a relief to investors. Patient volumes across all specialties have continued to increase, and while some of this increase may be pent-up demand, it appears that growth trends will continue. 
A continued focus on technology
For healthcare technology and digital health platforms, the pandemic has led to far earlier adoption, along with a rapid acceleration of products and services, than one might have expected. Industry players expect this trend to continue. The next phase for healthcare technologies, with telehealth being the most notable, is for them to fully integrate into the overall continuum of care. Telehealth has already expanded across multiple specialties, as many patients find these technologies to be an appropriate substitute to a doctor's visit, eliminating the stress of waiting in the reception area during an appointment. The shift from acute to non-acute settings, which began pre-pandemic, continues to accelerate, with a lot of attention being paid to home health, in-home hospice, and other outpatient services, further driving the use of technology. 
Government policy and programs will slowly evolve
Government assistance, including Medicare waivers and advances, Paycheck Protection Program (PPP) loans, payroll deferrals, and concessions for the deployment and reimbursement of telehealth, is expected to dissipate over the coming months. The new administration is not expected to cause any major disruptions from either a regulatory or reimbursement perspective and intends to expand overall access to and affordability of healthcare. However, given the history, we don't anticipate any radical changes to healthcare policy anytime soon. 
Expect a ramp-up in investment activity
During the first six months of the pandemic, private equity adopted an inward focus. Firms had time to review operational areas and focus on improvements and efficiencies. A "COVID Playbook" did not exist, and many PE firms had to learn as they went along. Entering the third and fourth quarters of 2020, M&A activity rebounded and valuation multiples held up. In some instances, valuations were higher than pre-COVID-19 levels. Those investment firms with diversified healthcare portfolios – those that included healthcare services, healthcare IT, and digital health – generally finished the year strong. 
We expect healthcare M&A activity to remain strong in 2021, with competition for quality assets driving up valuations. In the PPM (physician practice management) sector, with many small practices and larger, scalable practices hard to come by, valuation multiples could set new records. The SPAC (special purpose acquisition company) frenzy has added an entirely new investor group into the mix, with several transactions already announced. It remains to be seen if private equity firms turn their attention to opportunistic exits to take advantage of the industry headwinds. 
The ongoing debate is whether the current M&A environment for healthcare businesses will continue into 2022, giving investors the opportunity to build high-growth businesses and exit at much higher valuations. Many smaller practices are looking to sell as owners are worn down and becoming part of a larger organization is attractive, even if they lose control. This factor should enable consolidation trends to continue and maintain robust deal activity. 
Watch-outs for the year ahead
Human capital remains an operational challenge for the healthcare industry. Staffing shortages still exist. The disincentive for staff to return to work, driven by the increased unemployment benefits, which are expected to continue amid the ongoing pandemic, has caused a significant shortage of qualified job candidates. Another contributing factor to staff shortages is that when employees do fall ill (even because of a common cold), they tend to stay away from work longer and practice greater caution. Until the vaccine is broadly available, these trends will continue despite frontline workers being first in line to be vaccinated. 
Compensation levels have increased, with more bonuses and incentives being paid to motivate employees to work longer hours and multitask. The need for healthcare businesses to maintain a "safe work" environment has also driven up the cost of doing business. 
For investors in healthcare looking to succeed in a post-COVID-19 environment, the worst appears to be behind them. But that doesn't mean the go-forward will be easy. Competition is strong – and may be increasing. 
Look for those management teams and businesses that adapted to the pandemic well. This is a sure sign of how they will perform in the future. Build the right infrastructure to achieve operating efficiencies and integrate technology into the business model. Healthcare companies that differentiate themselves while doing more for their staff can go a long way. And last, be nimble and flexible in dealing with any curveballs in an ever-changing healthcare industry. 
Subject matter expertise
Claudine Cohen

Managing Principal, Value360 Practice

Close

Contact

Let's start a conversation about your company's strategic goals and vision for the future.

Please fill all required fields*

Please verify your information and check to see if all require fields have been filled in.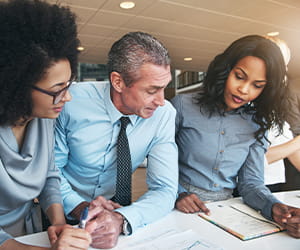 Receive CohnReznick insights and event invitations on topics relevant to your business and role.
Subscribe
This has been prepared for information purposes and general guidance only and does not constitute legal or professional advice. You should not act upon the information contained in this publication without obtaining specific professional advice. No representation or warranty (express or implied) is made as to the accuracy or completeness of the information contained in this publication, and CohnReznick LLP, its partners, employees and agents accept no liability, and disclaim all responsibility, for the consequences of you or anyone else acting, or refraining to act, in reliance on the information contained in this publication or for any decision based on it.