PUBLIC SECTOR: FEMA Public Assistance expedited funding – What you need to know for COVID-19 aid
To address the need for quicker funding in extraordinary circumstances, like the COVID-19 pandemic, FEMA allows applicants to apply for expedited funding for "Emergency Work" projects, defined as "work which must be done immediately to save lives and to protect improved property and public health and safety, or to avert or lessen the threat of a major disaster." These "expedited" projects are designed to advance funding to applicants earlier in the Public Assistance lifecycle as compared to standard, non-expedited projects.

To request an expedited project, applicants must provide FEMA with detailed lists containing high-level descriptions of activities the applicant has performed, or will perform. PA activity descriptions must include:
- How the activities were or will be performed;
- How the threat created a necessity for action;
- Locations where activities were or will be performed; and
- Dates emergency work was or will be performed.

FEMA is required to disallow all ineligible or unsupported costs. To avoid de-obligation of PA funding, it's critical that applicants sufficiently document costs by type. Knowing which information to capture during emergency work implementation is key.
- Number of personnel; hours per day; days per week
- Pay rates
- Type of equipment; operator names; hours per day; days per week; and hourly rates for all applicant-owned equipment
- Rental agreement with pricing for rental or leased equipment
- Purchase price, if equipment is purchased
- Amount of materials, by type
- Costs to purchase or replenish stock
- Copy of request for proposals or bid documents; signed contracts, if available. If contracts are not available, provide unit price estimates with their basis/justification (e.g., historical pricing, vendor quotes).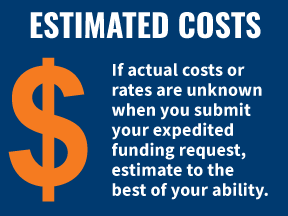 CohnReznick has reviewed hundreds of millions of dollars in expedited project costs. Below are our recommendations to ensure that you receive and keep the maximum amount of expedited funding.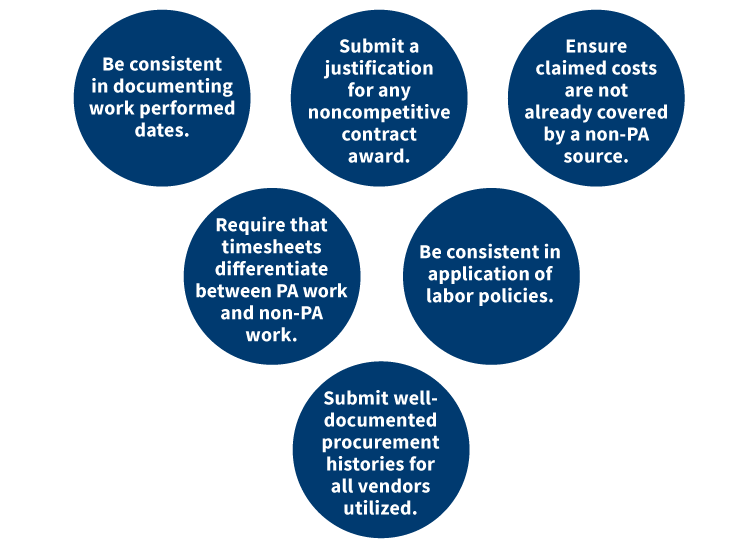 CohnReznick is an industry leader in 2 CFR 200 compliance monitoring and Public Assistance cost accounting. Contact us for assistance with your expedited projects.
Frank Banda, CPA, CFE, CGMA, PMP, Managing Partner – Government and Public Sector Advisory
301.280.1856
Related Services
This has been prepared for information purposes and general guidance only and does not constitute legal or professional advice. You should not act upon the information contained in this publication without obtaining specific professional advice. No representation or warranty (express or implied) is made as to the accuracy or completeness of the information contained in this publication, and CohnReznick LLP, its partners, employees and agents accept no liability, and disclaim all responsibility, for the consequences of you or anyone else acting, or refraining to act, in reliance on the information contained in this publication or for any decision based on it.