Partnership tax concerns to think through in 2022

On July 28, the Senate announced an agreement on a massive federal deal designed to rebuild and reinforce critical components of America's infrastructure. While the $550 billion bipartisan deal is just a fraction of the over $2 trillion that President Biden had initially proposed, it nevertheless contains significant investment in key areas including transportation, utilities, pollution remediation, and broadband. Final language and details are still being discussed, and some changes are likely before the bill gets to the president's desk.
Politics aside, this is a historic effort to improve resources intended to have a lasting impact across industries. Many investments are touted in a White House fact sheet as the largest in history. And there appears to be a true focus on equity and supporting underserved communities, from measures intended to boost the affordability of high-speed internet and accessibility of public transit to "a first-ever program to reconnect communities divided by transportation infrastructure."
Below is a summary of the core components of the plan as it now stands, according to the White House fact sheet and Bloomberg:
Core Component

Summary

Roads, bridges, and "major projects" - $110B

According to the White House fact sheet, 1 in 5 miles of our nation's highways and major roads is in poor condition. The coming bill would provide $110 billion in funding for roads, bridges and other projects, including $40 billion for bridge rehabilitation and replacement. It also reauthorizes the surface transportation program for five years.

Safety - $11B

"America has one of the highest road fatality rates in the industrialized world," the White House fact sheet states. The plan allocates $11 billion for transportation safety programs, including addressing highway, truck, and hazardous material safety, as well as a "Safe Streets for All" program aimed at helping reduce crashes and fatalities, particularly for cyclists and pedestrians.

Public

transit - $39B

Called "the largest federal investment in public transit in history" by the White House fact sheet, the plan includes $39 billion to repair and upgrade transit infrastructure, modernize buses and rail cars (including providing zero emission vehicles), and boost accessibility, in terms of both station accessibility and providing service to new communities.

Passenger and freight rail - $66B

The agreed-upon plan includes $66 billion for rail projects, including modernizing the Northeast Corridor, Amtrak maintenance programs, high-speed rail grants, and new rail construction to expand access.

Airports, ports, and

waterways - $42B

The forthcoming bill will deliver $25 billion to upgrade America's airports and $17 billion for port infrastructure, with the aim of reducing congestion and emissions, funding much-needed repairs, and driving the use of electric and other low-carbon technologies.

Resilience - $50B

The deal includes over $50 billion to help protect communities and infrastructure against cyber-attacks, extreme weather, and the effects of climate change, including funding to address droughts and floods.

Clean drinking water - $55B

The plan directs $55 billion in funding to replace lead pipes and service lines still in use across the nation and remove dangerous chemicals.

High-speed

internet - $65B

The COVID-19 pandemic showed the importance of reliable nationwide broadband. The plan includes a $65 billion investment in broadband infrastructure to help ensure that every household has reliable, high-speed internet service. It also includes measures to support affordability.

Environmental remediation - $21B

Proximity to Superfund sites can create long-term health risks. The package allocates $21 billion for environmental remediation to clean up Superfund and brownfield locations, as well as "reclaim abandoned mine land and cap orphaned gas wells."

Power infrastructure - $73B

The deal includes $73 billion for power infrastructure, which the fact sheet calls "the single largest investment in clean energy transmission in American history." It creates a Grid Deployment Authority, invests in power transmission and distribution R&D and "smart grid" technologies, and builds thousands of miles of new transmission lines.

Electric transportation

Alongside the electric components included in other investment areas, the White House fact sheet also mentions "delivering thousands of electric school buses nationwide" as part of funding zero- and low-emission buses and ferries, and a $7.5 billion investment in building "a national network" of electric vehicle (EV) chargers.
Funding the plan
Part of the delay in bringing the plan to the Senate was the negotiation of the offsets defining how it would be financed. The chart below shows the current proposed sources of the needed funds.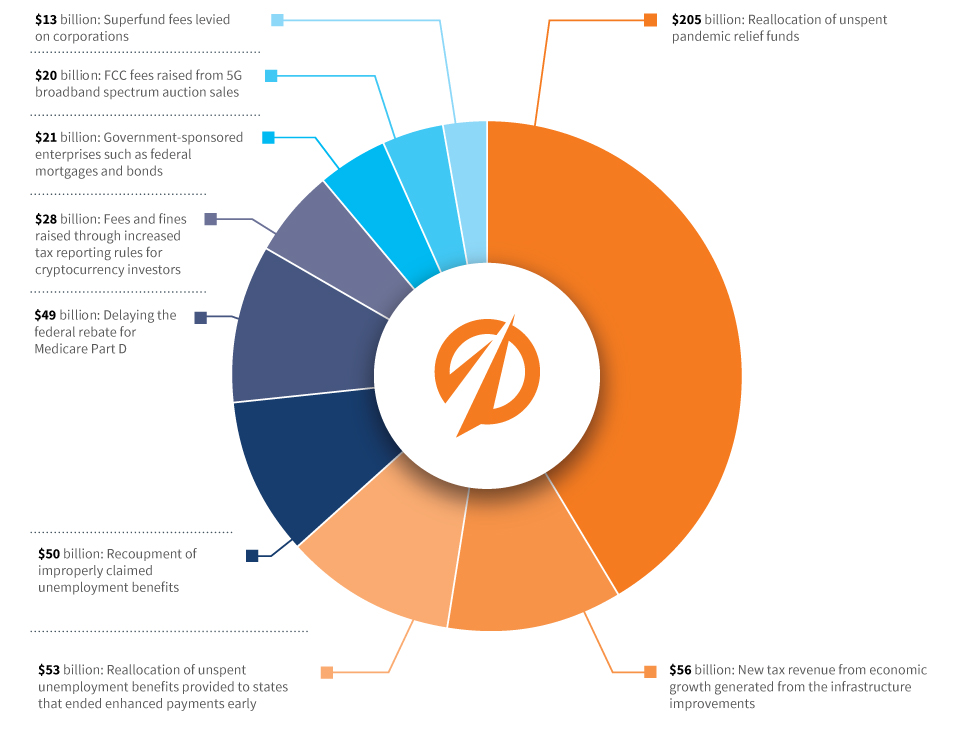 Where do we go from here?
It is important to note that while the Senate discussions and forthcoming bill represent a critical step in the process of modernizing our nation's infrastructure, much remains to be done before this plan becomes law. The House of Representatives has its own to-do list and priorities, and may not choose to move on an infrastructure bill until the $3.5 billion reconciliation bill is approved. The resulting negotiations could take months, with 2022 budget approvals further complicating matters. While there is always a possibility that the legislation will take an unexpected turn, at this point, we're not expecting President Biden to be signing an infrastructure bill into law until the November or December timeframe.
The CohnReznick Infrastructure Team will remain on top of the discussions and negotiations in Washington as this rapidly moving situation develops.
As always, feel free to reach out at any time to discuss potential risks and opportunities inherent in any legislative change of this magnitude.
Subject matter expertise
Lee Peterson

JD, Senior Manager

Close

Contact

Let's start a conversation about your company's strategic goals and vision for the future.

Please fill all required fields*

Please verify your information and check to see if all require fields have been filled in.
Inside Infrastructure: U.S. Infrastructure Plan Resource Center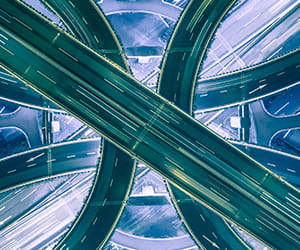 Bipartisan Infrastructure Bill: Where Do We Go From Here?
Inside Infrastructure: Legislative Video Series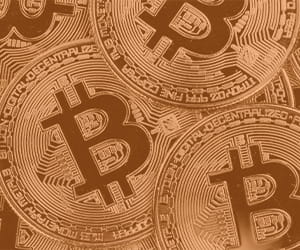 Infrastructure Bill Contains New Reporting Requirements For Cryptocurrency 'Brokers'
Receive CohnReznick insights and event invitations on topics relevant to your business and role.
Subscribe
This has been prepared for information purposes and general guidance only and does not constitute legal or professional advice. You should not act upon the information contained in this publication without obtaining specific professional advice. No representation or warranty (express or implied) is made as to the accuracy or completeness of the information contained in this publication, and CohnReznick LLP, its partners, employees and agents accept no liability, and disclaim all responsibility, for the consequences of you or anyone else acting, or refraining to act, in reliance on the information contained in this publication or for any decision based on it.