Eliminating Organizational and Process Chaos
As companies grow, they can frequently evolve into a culture of departments, functions, or individuals. Similar work is performed using dissimilar methods, in many cases resulting in differing results and inefficiency. Individuals develop their own tools and reports as well. Attempts are made to carry out the work of the company with disparate technology systems and complicated manual and/or undocumented business processes. This causes strain in supporting the work flow, data analysis, decision making, and compliance requirements of the company. Because there are insufficient "standard work methods," communication, collaboration, compliance, and control become more difficult, adding costs and risk—but no value.
Achieving optimized process performance is difficult and, even in the best performing organizations, a never ending quest. Shifting priorities and workloads, lack of access to critical instructions and policies, and an inability to focus often result in expedient measures that circumvent good practices and result in lost productivity and greater risk. Without the appropriate discipline to ensure consistency in a company's work approach and control over information, a form of organizational frustration can result. We call that frustration "process chaos."
Defining Process Chaos
Process chaos occurs when a company o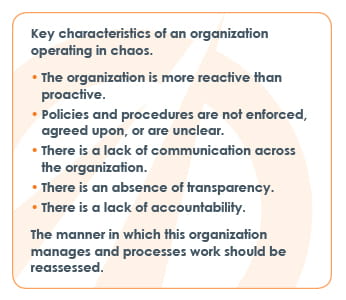 perates in a manner that is unstructured, siloed, or disorganized. The result of this is suboptimal performance. Unfortunately, most organizations think they operate in a structured and controlled fashion because they deploy an ERP system. Or perhaps they have defined financial controls or "point" or "silo" systems to perform key tasks. They may also believe their process is working because they minimize the use of unstructured systems such as emails, spreadsheets, and manual processes.
While most companies have established defined processes and controls for their most critical functions, few have successfully transformed their entire organization into a process driven culture. In fact, they continue to rely on a multitude of ad-hoc work flows to support the organization.
Ready to eliminate your organizational chaos?
For more information, please contact Joseph DeGennaro, Senior Manager, CohnReznick Advisory, at Joseph.DeGennaro@CohnReznick.com or 973-871-4038.
Contact Now