How ACOs Can Improve Performance and Reduce Costs With Data Analytics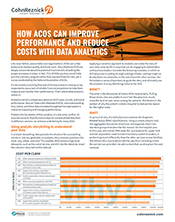 Accountable care organizations (ACOs) receive thousands of claims a day. With that comes pressure to improve quality and lower costs. Deep concern about financial risks of putting proper processes in place, and a lack of reliable financial projections to help measure and monitor performance creates an uptick in stress levels.
Enter data analytics, which tell a unique story about an ACO's past, current, and future performance. Data is the lifeblood of ACOs, and understanding how, where, and when data circulates throughout the organization is critical to measuring and managing performance.
CohnReznick's Digital Advisory team has put together commentary with a use case on using analytic storytelling to understand your data.
Learn more by downloading full report.
Download