HEALTHCARE Q&A: COVID-19 revenue cycle response and strategies

Caroline Znaniec, CohnReznick's Healthcare Advisory managing director, recently presented a national webinar with the American Association of Healthcare Administrative Management (AAHAM) titled "COVID-19 Revenue Cycle Response and Strategies." 
The webinar provided for an understanding of the disruptions in the healthcare revenue cycle due to the coronavirus pandemic. Znaniec discussed strategies for prioritizing work efforts, managing remote capabilities and staffing, communicating opportunities, and identifying new risks and opportunities.
As a recap, Znaniec provides these key strategies for performing optimally in times of crisis:
Employ an interdependent strategy within the revenue cycle.
Adjust (and re-adjust) benchmarks for performance to align with current volume and patient and payer mix.
Maintain open, transparent, and regular communication with all stakeholders and levels of staff.
Understand that change is imminent.
Know that you are not alone, and reach out to others for support (internally and externally).
The session ended with a live Q&A. Read on for a complete listing of all questions presented, including those sent by email following the webinar. Some questions have been edited for length or clarity.
Q: Do you think that many of the Medicare waivers will remain after the health emergency is over? If so, which ones?
A: Yes, I do believe that many of the Medicare waivers will remain. Or at least I am hopeful that they do. Specifically I hold hope for the continuation of the expansion of telehealth, virtual and e-visits, elimination of the skilled nursing facility (SNF) required three-day hospital stay, elimination of the need for face-to-face visits for services meeting care plans (e.g. home care), and expansion of provider capabilities to work in multiple states without having to obtain additional licensing.
Q: Where can we access a list of the waivers?
A: A listing of the waivers can be found on the Centers for Medicare & Medicaid Services (CMS) website; click here to view it. They have done a great job in pulling all of the COVID-19 information together, and they update on a single page. 
Q: Are private payers upholding the same waivers as Medicare? Are they required to?
A: No. And there is not a requirement that they do so. I recommend for each organization that they develop a payer matrix specific to coverage and exceptions for COVID-19 diagnosis and related treatment, and including other exceptions made to treat those without COVID-19 concerns that conform to meeting social distancing requirements.
Q: What do you see as the highest financial risk to hospitals coming out of this pandemic?
A: I see a high financial risk for provider organizations related to the proper identification, capture, processing, and payment of services during this time. Changes are almost daily. Organization and payer systems are likely not keeping pace with the rate of changes. This can lead to delays in processing, improper processing, and overall increased accounts receivable.
Q: Is this the right time to train staff on time-of-service collections and other aspects of the business, as this will act as a sort of cross-training and would be helpful when the business normalcy returns? //  Is this a good time to review all current medical policies and update the electronic health record (EHR) templates or send 50% of your staff on leave as the overall business has reduced by 50% or less?
A: Provider organizations can take this time to re-evaluate their current polices and processes to improve upon their revenue cycle. This definitely can include cross-training. Other activities may be tied to optimization efforts placed on the "parking lot" from recent EHR implementation or upgrades, response to internal audit efforts or staying current on internal audit, revenue integrity, or compliance work plans. Some example opportunities for improvement may include charge description master (CDM) maintenance to clean up line items not utilized, compare orderable to chargeable mapping logic, re-evaluate claim edits and payer logic tables, review/upload payer contract tables, and consolidate surgical preference cards.
Q: In the past, our execs refused staff working at home. Now getting them to come back into the office is a concern. How? Suggestions? // Do you think the remote work will/should remain permanently (beyond the disaster)? // When staff is working from home, should expectation be higher in terms of productivity and quality because they should have fewer distractions? That has been staff argument for working from home; do you agree?
A: This is a common concern. There are different schools of thought out there. If your staff is pushing to work remotely, be sure they can demonstrate a strong work ethic and meet productivity and quality expectations to support their argument. Managers can support the request of staff by demonstrating how staff will be managed and measured to ensure that expectations are met. If all requirements for security can be met alongside expectations for productivity and quality, I support remote work efforts.
Q: With so many opportunities to ensure gaps are closed to collect every penny, why are we seeing more furloughs vs. cross-training, especially within RCM space (in-house and vendor)?
A: This has been varying across types of provider organizations, their affiliations, and geographical locations. Some organizations simply do not have the cash on hand to support a workforce, or part of one, that is not directly attributed to generating revenue. While there are loan and funding options available, the organization may not qualify or the options may not meet the level of need.
Q: Is it your understanding that if we received a CARES stimulus payment, we are assumed covered under the CARES Act, and therefore if we apply for the Accelerated and Advance Payment program, we have 365 days before the payback through claims adjustments begins?
A: My understanding is that receipt of funds under the CARES Act would not disqualify you from Accelerated and Advance Payment options from CMS. The CARES Act monies have terms and conditions for use, but do not require repayment. Payment from the Accelerated and Advance options from CMS do have recoupment requirements. Provider organizations receiving CARES money and considering Accelerated and Advance Payment options should be prepared to closely monitor the use of the monies to ensure compliance and the ability to pay back CMS in the timeline provided.
Q: From a security perspective, do you have any suggestions on what data should be reviewed daily?  As an example, knowing what HIPAA-type information is queried from a remote employee? // When you were talking about staff working from home and keeping work separate from computer access for personal use such as Zoom ... does this mean once you're away from your work or logged out of work, you can't use the computer for personal use? 
A: IT security requirements should be addressed within your internal IT department. Remote employee set-ups are varying across provider organizations based on their readiness before COVID-19. Variations are seen in the ability to provide approved equipment, virus protection, VPN capabilities, and more. I suggest consulting with your IT leadership to provide their requirements, verification of security and monitoring for compliance, and expectations for personal use of organization equipment.
Q: Can you expand on how you think the back-end KPIs will be affected, specifically what we can expect for the clean claim rate or bill holds moving forward through this crisis?
A: During a business disruption, such as one brought about by crisis, it is anticipated that KPIs may differ. This is due to changes in volume and patient and payer mix. The clean claim rate may not be a great indicator of the successful and accurate processing of your claim by the payer. This can be due to the inability of the various systems, edits, and associated logic to maintain pace with the changes in coverage, benefits, and coding requirements. In cases where the organization has kept pace with changes, for example, in condition codes, modifiers, and diagnoses, but the payer has not, and vice versa, the clean claim rate will decrease. If both the organization and payer are not maintaining pace with changes, the rate may stay unchanged. The rate is highly dependent on the diligence of both. 
I do anticipate bill holds to increase due to the holding of claims for final COVID-19 laboratory testing results, reconciliation of charges due to manual workarounds in charge capture, decreased physician query response rates, delays in provider credentialing, and even the ask by payers to hold on claim submission to allow for their systems to be updated for claims processing.
Q: What is the impact of this emergency on offshore billing offices?
A: The impact to offshore billing offices has been that they have not been able in some circumstances to support continuous billing operations in the U.S. That they too have had levels of quarantine required, and may not have had a contingency plan in place for the length of time needed under quarantine measures. For some U.S. providers, this brought coding and/or billing to a halt. The lesson learned from this crisis is to ensure that if offshore operations are needed to support your organization, a contingency plan is in place to address longer-term needs.
Q: Few of the healthcare organizations have started using new technology. While uncertainties around reimbursement have made providers reluctant to adopt telehealth on a large scale, this crisis has given an opportunity to providers to explore their telemedical capabilities. Is this okay with HIPAA and other compliance requirements?
A: Currently, waivers are in place to expand telehealth and for CMS to waive HIPAA enforcement under the Office of Civil Rights (OCR). As the public health emergency comes to an end, provider organizations will likely push to have the telehealth capabilities remain. HIPAA requirements will most likely go hand in hand with the decision to maintain the benefit and coverage or not. Should the waiver(s) remain, the demand for telehealth will increase and could create greater competition for telehealth technology. Often with greater competition and supply, costs will be reduced.
Q: Will the Medicare Sequestration Payment reduction suspension have a good impact on providers?
A: The reduction suspension will provide minor relief for providers due to its application to a subset of patients. Providers are losing revenue at a greater rate than the 2% reduction would offset.
Q: Would you be willing to share the full Interdependence to Other Metrics report that you talked about? 
A: To obtain access to the CohnReznick Interdependence Revenue Cycle Matrix tool, please contact me. (See information below.) 
Find more CohnReznick insights related to the COVID-19 emergency, including insights for the healthcare industry, in our Coronavirus Resource Center.
Subject matter expertise
Close

Contact

Let's start a conversation about your company's strategic goals and vision for the future.

Please fill all required fields*

Please verify your information and check to see if all require fields have been filled in.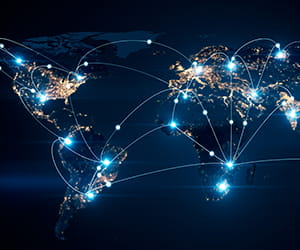 Coronavirus Resource Center
Receive CohnReznick insights and event invitations on topics relevant to your business and role.
Subscribe
This has been prepared for information purposes and general guidance only and does not constitute legal or professional advice. You should not act upon the information contained in this publication without obtaining specific professional advice. No representation or warranty (express or implied) is made as to the accuracy or completeness of the information contained in this publication, and CohnReznick LLP, its partners, employees and agents accept no liability, and disclaim all responsibility, for the consequences of you or anyone else acting, or refraining to act, in reliance on the information contained in this publication or for any decision based on it.