Contractors: Execute a Structured Selection Process to Embrace New Technology
While technology is rapidly altering the landscape of many industries, the construction industry has historically been a slow adopter of technological change. It is clear to us that embracing change and technological advancement has great potential to offer a competitive advantage for those contractors who choose to adopt early. 
What is the most important feature of construction software? Several answers may come to mind; however, all answers can be tied to several core business objectives: increasing income, creating operational efficiencies, managing general and administrative expenses, and mitigating risk. If an organization is relying on an outdated system, or heavy, Excel-based, disconnected manual processes, it can be extremely difficult to not only support decision making, but also manage change, mitigate risk, or maintain competitiveness in today's business environment.
The following provides a framework for understanding the business need for technology and selecting the appropriate solutions for your business.
Understand Objectives, Technology Landscape, Scope & Gaps
Before beginning the vendor selection process, a contractor must strategically prepare. It is important to understand the overall business strategy and objectives. A strategy provides the team with guiding principles to scope the effort and understand potential gaps in the technology landscape. It is important for the business objectives and processes to define software requirements. Without this analysis, the software will likely either be duplicative of products already implemented, or will include functionality that is not required to support business objectives.
Create the Overall Approach
As depicted in the graphic below, it is important to have a structured, full-service approach that creates an inclusionary process.  For your project, the main components would be tailored to your needs.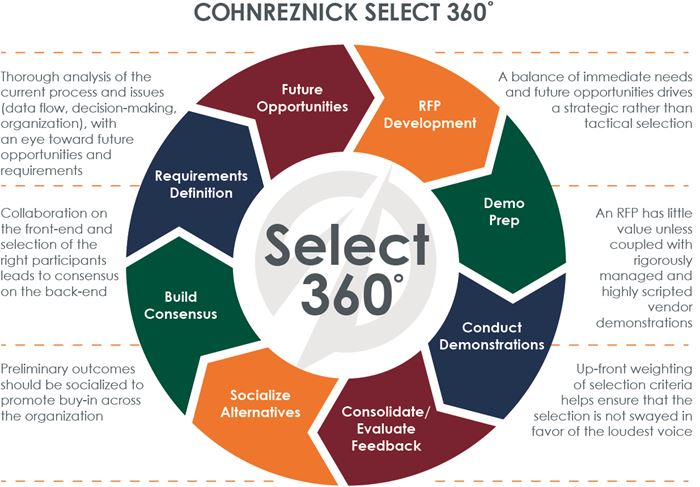 Assemble a Knowledgeable Team
After gaining an accurate scope that defines the project approach, you are in a good position to determine the primary users and nominate individuals to join a cross-functional team. These individuals should be considered top performers in their areas – generally within finance, accounting, and operations and including field representatives – and have the ability to contribute valid opinions on future processes and software requirements. A team member from the IT department is a valuable contributor to the group, as having a resource that is well-versed in infrastructure related issues is very beneficial.
Develop Requirements & Scorecard
Develop Requirements
Once a team is established, determine what is needed in a new system. Categorizing a list into "must have" and "nice to have" business requirements is extremely important to maintain a focus on the product scope.
Develop a Scorecard
A scorecard will incorporate scoring for the RFP response, requirements fit, pilot demonstration scripts (scored by each team member), and cost. Completing a scorecard will prove invaluable when the time comes to discuss vendors in greater detail.
How should an organization compare and contrast software solutions and vendors? Here are some items to consider:
Specialty – Does the vendor have a particular specialty within the construction industry, or in the specific scope defined?
Functionality – Does the software meet the high-level functional needs? If not, these vendors will not make a short list. For example, can the product scale? Is it mobile? Does it support my industry or functional contractor needs?
Financial Stability – Is the company financially stable, and does it have a track record in the industry?
Research & Development – How many staff are dedicated to software design and coding vs. marketing and administrative?
Integration – How well does the software integrate with existing systems?
Infrastructure – What type of infrastructure is required to run the solution?
Implementation – What kind of data conversion will be necessary, and who will manage that? How will your employees be trained?
Support – What support is available from the vendor after going live? How are upgrades or updates (bug fixes) managed?
References – Request a list of similar companies that you can call to understand how the product fits within their organization and how they support it.
Develop a scorecard – What will this process cost, and what will be the potential downtime as employees are trained?
Conduct a Script Based Pilot
Take a deep dive into the functionality, utilizing process-based scripts that incorporate the "must have" business requirements. These scripts will help to identify product gaps and open a discussion with the vendor centered on work-arounds and / or customizations required to close those gaps. Most importantly, remain focused on the requirements list. Many products will offer "shiny" features that have the potential to distract your team. The "must have" and "nice to have" lists will help keep everyone on task.
Complete Selection
After the short-listed vendors complete the scripted meetings, the team can now consolidate the scoring for each component and discuss the outcomes among the team, as well as with the wider stakeholder community. Based on feedback from the stakeholders and the team, it may be appropriate to follow up with vendors for specific items to ensure that the scoring is accurate and that team members feel that they have all of the information to make the best decision.
Contact
For more information on selecting a software system, please contact:
Jack Callahan
, Partner and Construction Industry Practice Leader, CohnReznick LLP
jack.callahan@cohnreznick.com
732-380-8685
Subject matter expertise
Jack Callahan

CPA, Partner - Construction Industry Leader

Close

Contact

Let's start a conversation about your company's strategic goals and vision for the future.

Please fill all required fields*

Please verify your information and check to see if all require fields have been filled in.
This has been prepared for information purposes and general guidance only and does not constitute legal or professional advice. You should not act upon the information contained in this publication without obtaining specific professional advice. No representation or warranty (express or implied) is made as to the accuracy or completeness of the information contained in this publication, and CohnReznick LLP, its partners, employees and agents accept no liability, and disclaim all responsibility, for the consequences of you or anyone else acting, or refraining to act, in reliance on the information contained in this publication or for any decision based on it.
Receive CohnReznick insights and event invitations on topics relevant to your business and role.
Subscribe