09/20/2022
Consumer sector investment report: Trends and data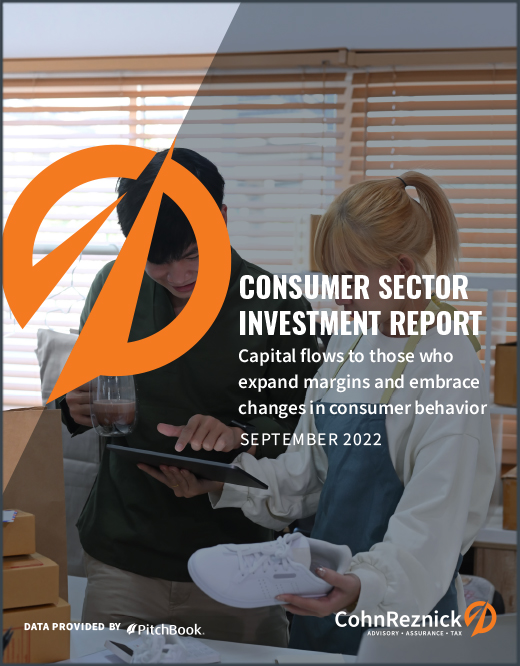 Consumer habits and preferences have changed significantly in recent years, and more shifts are underway. To best adapt, brands must place the customer experience at a premium while juggling logistical headwinds and shifting market trends.
Private equity (PE) investors are paying close attention to the companies that are succeeding in this environment.
This new report, produced in collaboration with PitchBook, gives an in-depth look at PE investment trends in the consumer space, with topics including:
Trends impacting deal activity
M&A and add-on activity
A breakdown of deal activity by sector: e-commerce, apparel and footwear, food and beverage, and more
Valuations and exit trends
Plus, a Q&A with CohnReznick's Margaret Shanley, Transaction Advisory Services Practice Leader, and Stephen M. Wyss, Consumer Industry Leader
This has been prepared for information purposes and general guidance only and does not constitute legal or professional advice. You should not act upon the information contained in this publication without obtaining specific professional advice. No representation or warranty (express or implied) is made as to the accuracy or completeness of the information contained in this publication, and CohnReznick LLP, and their respective partners, members, employees and agents accept no liability, and disclaim all responsibility, for the consequences of you or anyone else acting, or refraining to act, in reliance on the information contained in this publication or for any decision based on it. CohnReznick LLP and our affiliated entities operating under the CohnReznick brand are separate legal entities that are independently operated.