Construction companies: Pay close attention to compliance amid federal opportunities

Adapted from a CohnReznick article first published by the Utility & Transportation Contractors Association (UTCA)
While the crystal ball has been very cloudy over the past three years, there are some things that are becoming very clear when it comes to issues and trends in the construction industry. No matter what the coming year may hold, well-prepared accounting, technology, tax, and compliance teams will be critical to facing its challenges – and opportunities.
The past three years have certainly been unprecedented. The pandemic brought challenges no one had faced or prepared for. Not surprisingly, the results have been very uneven across the construction industry, with certain segments and contractors doing very well while others struggle with consistent backlog and reliable workflow.
Here at the beginning of 2023, the construction industry as a whole is seeing the largest backlog ever recorded. As ABC (Associated Builders and Contractors), AGC (Assorted General Contractors of America), and other advocacy groups continue to report, all agencies have increased funding, and the commitment is to award larger work programs than ever. Many states still retain substantial unspent CARES Act and American Rescue Plan funds that have now been supported with funding from the Infrastructure Investment and Jobs Act (IIJA) and Inflation Reduction Act (IRA). How effectively and efficiently those funds turn into construction starts will be the key to a successful 2023.
Tempering the positives of large funding mechanisms are the inflationary concerns that continue to drive up construction costs. These are further exacerbated by supply chain challenges that will likely worsen with increasing Buy America requirements. As labor shortages continue to be reported throughout the industry, and workers show an unprecedented willingness to change jobs, companies must take extra care to retain their workforces, such as by expanding their use of technology to remain an employer of choice. Contractors will need to be very aware of where the work programs will be focused and make sure that their organization is aligned with the opportunities that will be funded. This will include traditional road, bridge, and sewer work, but will also encompass broadband, airports, alternative energy, and waterfront resiliency projects.
Maintain careful compliance: 3 areas to watch
As a whole, the construction industry is becoming more complex to navigate, given the compounding regulations and opportunities legislation is creating. Contractors must be their own advocate in terms of keeping on top of what is available to them and what they must do to remain compliant.
Since March of 2020, contractors have been the recipients of some of the largest public assistance programs ever endeavored:
Paycheck Protection Program (PPP) Loans
Employee Retention Credit (ERC)
CARES Act
American Rescue Plan Act
IIJA
IRA
While all these programs have provided direct or indirect benefits, they all come with an increased level of risk in federal and state oversight that contractors must be aware of and build a system of compliance measures to address. Read on for an overview of some top observations and concerns to watch (not by any means an exhaustive list).
Paycheck Protection Program (PPP) loans
Many construction businesses benefited from Paycheck Protection Program (PPP) loans and have received subsequent forgiveness from the Small Business Administration (SBA). While there is an inclination to deem these loans as closed, there remains a growing possibility of audit concerns around them. On Aug. 5, President Biden signed the PPP and Bank Fraud Enforcement Harmonization Act of 2022, which established a 10-year statute of limitations for criminal charges and civil enforcement against a borrower who engages in fraud with respect to a PPP loan. The headlines are full of reported fraud, and the title of this Act makes clear that a great deal of fraud occurred. Conversations with multiple bankers over the holidays made clear that the SBA is beginning to expand audits of these previously forgiven loans.
While loans have conditionally been forgiven by the banks, we have experienced the SBA coming back to loan recipients to have them validate their Maximum Loan Amount that they received. The Paycheck Protection Program implementation was fast and furious, with very little guidance given to both the banks and the recipients on how to properly compute the Maximum Loan Amounts. Many unintentional mistakes were made during the application and disbursement phases, leading to some recipients receiving excess loan funds. This has resulted in either unintended loans or recipients choosing to return the excess funds.
With all this in mind, it would be wise to think carefully about document retention when it comes to all the supporting documents for a PPP claim. Records of how these funds were utilized and what impacts the company was subject to will be critical to retain. We have seen federal agencies come back 8-10 years after a loan, requesting specific information provided for the original loan. Given the fact that construction was one of the top industries to receive PPP loans, a share of audits is to be expected.
Employee Retention Credit (ERC)
It's difficult today to get into a car without hearing multiple ads for employee retention credit (ERC) refunds. Just as drivers can't avoid the ads, neither will the IRS and other enforcement agencies. While the receipt of PPP loans required an application with a bank and review by the SBA, contractors were able to claim the ERC up front without approval. However, they are subject to audit, and the American Rescue Plan Act extended that audit period to five years. So, especially with the massive increase in funding provided for the IRS in the Inflation Reduction Act, there is always the possibility of an IRS audit of an employer's ERCs. Claiming the ERC and supporting the legitimacy later involves far more than just number-crunching. Employers must navigate a complex web of guidelines including qualified wages, employer size, partial suspension of work, "more than nominal impact," and more, plus meet documentation requirements. There is an element of subjectivity. Be sure to maintain clear and detailed documentation and retain it for five years.
Impact of federal grants funding large state construction contracts
The federal government has allocated a great deal of funding through the various impetus packages, including the CARES Act, American Rescue Plan Act, IIJA, and IRA. These federal funds will be distributed to the states by way of federal grants. The IIJA alone was slated to invest the following, per a White House fact sheet:
$110 billion in federal funding for roads and bridges
$65 billion for power infrastructure
$55 billion to provide clean and safe drinking water
$89.9 billion to improve public transportation
$66 billion invested in passenger rail
$7.5 billion to build out the first-ever national network of EV chargers in the United States
$17 billion in port infrastructure and waterways
$25 billion in airports
The amounts set forth in these programs are a tremendous increase over existing work programs. With the opportunities created will come large responsibilities that require a great deal of compliance oversight.
Federal and state agencies awarding contracts and grants will subject awardees to a long list of federal compliance requirements. Federal awardees are subject to Davis-Bacon provisions, Buy America requirements, federal diversity and inclusion requirements, and certain compliance issues such as cybersecurity. The time is now to become familiar with federal compliance provisions and terms like FAR (Federal Acquisition Regulation) and CAS (Cost Accounting Standards). It may not be clear in the bid documents, but contractors can be assured that when the government auditors come out to the project, they will be looking to confirm that compliance measures are in place. Business leaders should review the contract and grant compliance requirements now and assess how they will apply to the awards they will look to pursue.
A colleague in CohnReznick's Government Contracting practice added that while awards with federal money will have federal compliance provisions, the type of provisions will vary depending on the type of award received – another wrinkle for contractors to make sure they understand.
Grant awards and sub-awards (distinct from contracts) will have the applicable regulations for federal assistance and will utilize rules around cost management, reporting, and government property. The biggest example of these is the Uniform grants guidance at 2 CFR Part 200.
If it's a contract or subcontract that comes either as an award to a vendor under a grant (not a subrecipient), or through a federal contract or subcontract under a federal prime contract, that's when federal contract requirements will apply, such as FAR or agency supplements like DEAR (Department of Energy Acquisition Regulation) or TAR (Department of Transportation Acquisition Regulation). Federal prime contracts are profit-bearing awards, which are distinct from grants, which do not include profit and often are cost-share arrangements.
If the government is relying on the company's cost data – common in construction – they'll be applying the cost regulations in addition to contracting regulations.
In conclusion
2023 should prove to be another year of challenges and opportunities. Take some time now to revisit where your company has been – the people, processes, and products you have put in place to weather the last three years – and assess what you will need as we move forward.
All the best for a successful 2023.
Subject matter expertise
Jack Callahan

CPA, Partner - Construction Industry Leader

Close

Contact

Let's start a conversation about your company's strategic goals and vision for the future.

Please fill all required fields*

Please verify your information and check to see if all require fields have been filled in.
Inside Infrastructure: U.S. Infrastructure Plan Resource Center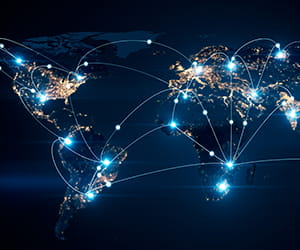 Coronavirus Resource Center
Receive CohnReznick insights and event invitations on topics relevant to your business and role.
Subscribe
This has been prepared for information purposes and general guidance only and does not constitute legal or professional advice. You should not act upon the information contained in this publication without obtaining specific professional advice. No representation or warranty (express or implied) is made as to the accuracy or completeness of the information contained in this publication, and CohnReznick LLP, its partners, employees and agents accept no liability, and disclaim all responsibility, for the consequences of you or anyone else acting, or refraining to act, in reliance on the information contained in this publication or for any decision based on it.