In May 2014, President Obama signed the Digital Accountability and Transparency Act (DATA Act) into law. The DATA Act requires government agencies to publish procurement and financial assistance spending at the transaction level on USAspending.gov.
Prior to the DATA Act, agencies had published some spending information, but it had not been linked to official financial system records. The DATA Act also standardized the way reporting should occur across 57 data elements.
Today, the federal government faces a new and related data challenge. Since early March, President Trump has signed three COVID-19 relief packages into law, with well over $2 trillion in new spending associated with the third, the Coronavirus Aid, Relief, and Economic Security (CARES) Act. The foundation of transparency established through the DATA Act provides a great mechanism for stakeholders and the public to monitor the influx of new spending spurred by COVID-19.
Benefits of COVID-19 data
The Office of Management and Budget (OMB) is already looking for ways to amend DATA Act submissions to ensure COVID-19 spending is reported transparently. We support this effort and present several great opportunities below for using the existing DATA Act infrastructure for COVID-19 transparency.
1. Program activity: USAspending.gov groups common spending across categories together, and users can further dig into the data to see how similar categories of spending are used in different agencies.
2. Location data: USAspending.gov allows users to search for government awards down to the level of zip code. Users will be able to see which states and local communities receive the most COVID-19 funding, as represented by the businesses and entities receiving awards.
3. Congressional district: If the right codes are used when preparing the data, users would be able to see which Congressional districts benefited the most from the emergency spending.
4. Amounts yet to be obligated: Government spending data is granular enough to let people see the velocity of spending. If money is being held up, users will see a difference between the dollars available and those that have been obligated.
5. Cross-agency comparisons: USAspending.gov data allows easy comparisons between government agencies. Users can determine if certain agencies are exemplars in releasing CARES spending, and those exemplars can drive better practices at other agencies.
6. Daily updates: USAspending.gov is updated with new procurement spending daily, and new financial assistance (e.g., grants and loans) must be uploaded within 30 days. Accordingly, the public will have very quick indicators in place for how well agencies are using public money.
What is needed 
The six benefits listed above are an enormous step forward for the transparency of government spending. However, the DATA Act infrastructure isn't turnkey for the COVID-19 challenge. Quick changes need to be made to the way agencies report data to ensure the maximum benefit to users. DATA Act implementation has been an immense effort that took years of careful planning to achieve high levels of accuracy and overall quality. Changing quickly has drawbacks (e.g., the risk of some bad data entering the public sphere). However, the benefits outweigh those drawbacks, and bad data can easily be replaced when it is identified.
The goal with transparency should not be to get it perfect every time, but rather to make the available data "perfect enough" for understanding the state of important government functions and interventions. The current emergency calls for quick changes and quickly fixing issues with the data if and when they arise. With expedient action to modify USAspending.gov, the public will be able to follow along and understand how their money is being spent.
Call to action
With the large increase in government spending, it is not an option to make no changes. The government must let citizens see the efficiency and completeness of spending information. A huge boost in usefulness would also arise from linking spending with outcome and performance data. The data available on USAspending.gov cannot meet this need currently. However, when innovative statisticians and data scientists have access to transparent information, they will likely be able to link the spending to outcomes in innovative ways. The time is now to make this spending transparent and begin writing the next chapter in open government.
This article was produced in collaboration between CohnReznick and The Center for Organizational Excellence, Inc.
Contact
Bill Hughes, Partner, Federal Market Leader, CohnReznick
703.744.6750
Paul Eder, Lead Consultant, The Center for Organizational Excellence, Inc.
443.637.2850
Steve Goodrich, President and CEO, The Center for Organizational Excellence, Inc.
240.361.9230
Subject matter expertise
Bill Hughes

CPA, CDFM, CGFM, CGMA, CICA, Partner - Federal Market Leader

Close

Contact

Let's start a conversation about your company's strategic goals and vision for the future.

Please fill all required fields*

Please verify your information and check to see if all require fields have been filled in.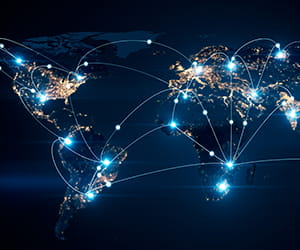 Coronavirus Resource Center
Receive CohnReznick insights and event invitations on topics relevant to your business and role.
Subscribe
This has been prepared for information purposes and general guidance only and does not constitute legal or professional advice. You should not act upon the information contained in this publication without obtaining specific professional advice. No representation or warranty (express or implied) is made as to the accuracy or completeness of the information contained in this publication, and CohnReznick LLP, its partners, employees and agents accept no liability, and disclaim all responsibility, for the consequences of you or anyone else acting, or refraining to act, in reliance on the information contained in this publication or for any decision based on it.