GOVERNMENT CONTRACTING: A business survival guide for government contractors for the COVID-19 pandemic
During this unprecedented time for our country, government contracting business leaders and owners should take steps to meet an action plan to manage the future of their businesses and contracts. The news surrounding the new coronavirus, COVID-19, is fluid, and the changes the disease has brought to our daily lives are shaping a new world. 
To assist you in getting through this period of disruption, we have developed this "survival guide" for government contractors. We hope it will help you navigate the right course for your business in the weeks ahead. We encourage you to also visit our Coronavirus Resource Center for updates on tax law, stimulus packages, and memorandums and regulations that federal and state governments are issuing to help the U.S. economy.
Survival Guide Tip #1: Delays on your contracts – what protection do you have?
While the current orders to work remotely may feel like a government shutdown, there are some important differences. First, the government is not shut down, so any disruptions to your business are not necessarily caused by the government. While there is no force majeure clause in government contracts, there is a provision in federal contracts called FAR 52.249-14 - Excusable Delays. This stipulates that a federal contractor will not be in default of a contract if failure toward timely completion "arises from causes beyond the control and without the fault or negligence of the contractor." Listed examples of these causes include epidemics and quarantine restrictions. 
The federal contractor is responsible for documenting any mitigation measures and the nexus between any contractual delay or default and the COVID-19 pandemic and/or quarantine. 
- Mitigation measures can include:
o Restriction of non-essential employee travel (both work-related and non-work-related)
o Notifications to and from subcontractors of work stoppages or delays
o Stabilization of the supply chain through advanced orders, storage costs, transportation costs, etc.
o Shuttering of offices or sites and use of remote work tools
- Documentation of nexus can include:
o Establishment of separate charge codes for COVID-19 impacts
o Documentation of sick or other leave due to COVID-19
o Documentation of reduced productivity 
o Documentation of issues with delivery of goods or services from quarantined countries and/or U.S. states
Engage with your Contracting Officer and advise them of any issues you are facing because of the coronavirus, as well as the documentation you are keeping. Assist your clients in determining whether it would be cost-effective to issue temporary stop work orders for all or parts of your contract.  If you are issued a stop work order and/or can't get to your facility, refer to the flowchart below to help you determine next steps.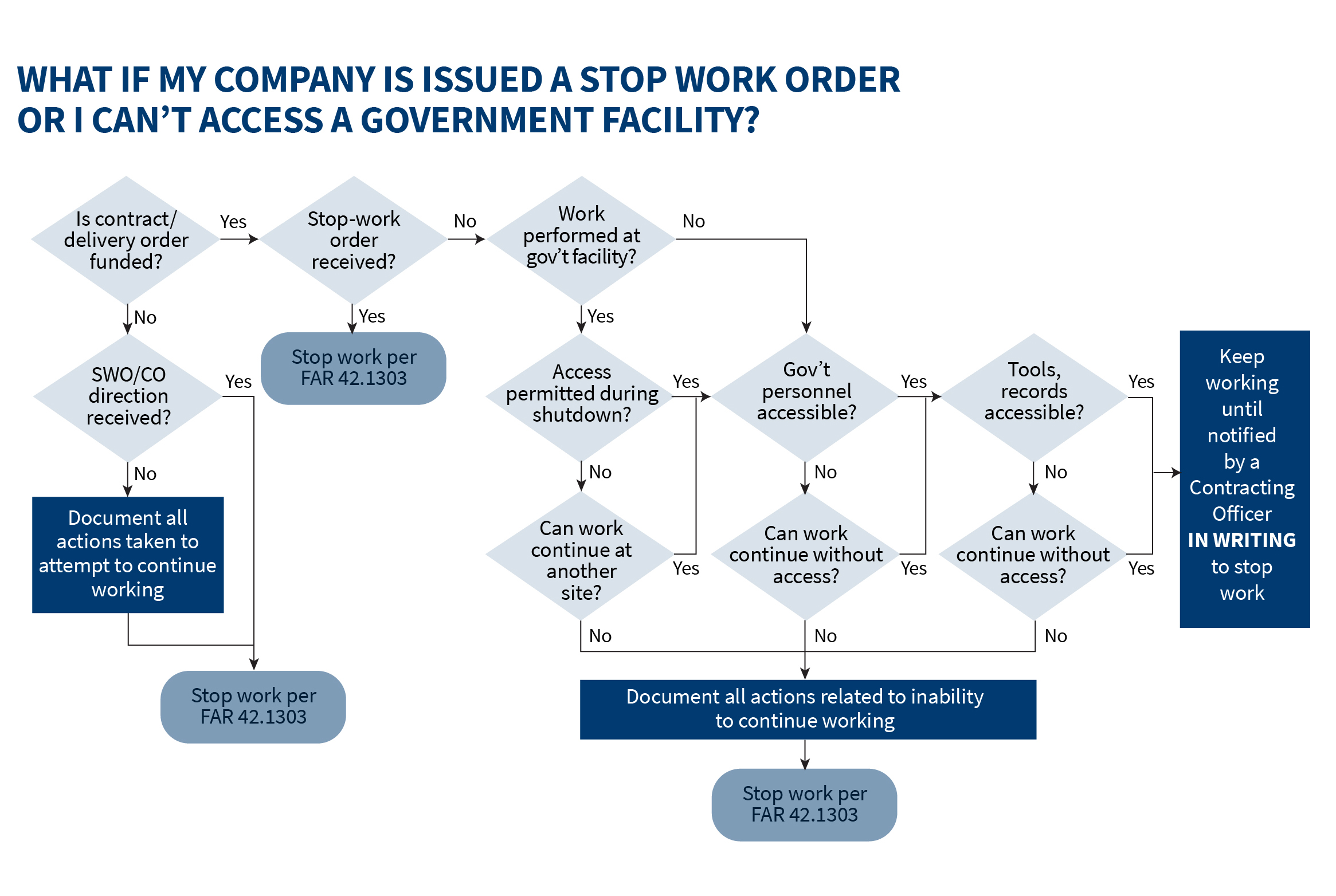 Understand your rights with regards to teleworking, and review the Office of Management and Budget (OMB) website for updates.  One of the most important survival tips in this section is to issue individual letters to be carried by your employees while in transit to work locations to prove to authorities of their essential nature to continue working. Contact us if you need help with these letters. 
Survival Guide Tip #2: Finance and tax concerns – stressing the system
Financial statements and tax returns could be impacted in 2020 and beyond due to the coronavirus.  While the tax filing and payment deadline has been extended to July 15, 2020, there is still a second-quarter payment for businesses due on June 15, 2020. (Continue to follow us on that.) Will you make your payments on April 15, or delay them until later?
For financial statements, we recommend stress-testing your financials through "what-if" scenarios based on the potential effects of the coronavirus. These "what-if" scenarios could explore issues such as: 
- Various quarantine duration periods
- Reduced productivity due to the "work from home" mandate and inability to travel 
- Inability to order/receive goods and services from quarantined countries or U.S. states
Additional steps that can be taken include:
- Requesting bank waivers of covenants with no fees for doing so
- Asking for the suspension of interest on debt over the next few months, with the interest added to the back of the note
- Refinancing of high-interest-rate loans
- Increasing your line of credit now or asking for a temporary release on holdbacks to get you through the next few months
- Temporarily reducing salaries, use of temporary workers, office amenities, etc.
- Reviewing tax deadlines and options for deferring tax payments 
- Reviewing Small Business Administration (SBA) loan provisions and credits for payments to sick employees
- Mitigating fixed real estate costs through:
o Lease restructuring 
o Subleasing 
o Free rent 
o Terminations
o Asset monetization
Survival Guide Tip #3: Employee well-being – How are your employees faring with the new normal?
Your employees are feeling just as stressed as you are during this pandemic. Potential job loss, reduced pay, insurance costs, and the long-term impact on the business are on everyone's minds. Your employees need to know what management is doing to reduce the impact of the coronavirus. Advising them is an important part of the process in protecting and keeping them. 
As an employer, consider the following action items:
- If not already provided, look into providing mental health care insurance to employees. 
- Allow remote work and reduced travel options, as well as the option to reschedule vacation leave.
- Encourage employees to take remote training classes during reduced work hours. 
- Create innovative remote-work policies such as sending food or goods to employees working from home.
- Provide a hotline that employees can call to speak with a health professional if they are feeling anxious or depressed.
Our team is available to assist you during these unprecedented times. We can offer guidance on speaking with Contracting Officers, help you sort through various new legislative requirements, provide support to teams strained amid the disruption, and more. Note that although most of us are working remotely because of the outbreak, we are ready to work with you via phone, emails, Zoom, WebEx, and other methods of communication.
Related Services
This has been prepared for information purposes and general guidance only and does not constitute legal or professional advice. You should not act upon the information contained in this publication without obtaining specific professional advice. No representation or warranty (express or implied) is made as to the accuracy or completeness of the information contained in this publication, and CohnReznick LLP, its members, employees and agents accept no liability, and disclaim all responsibility, for the consequences of you or anyone else acting, or refraining to act, in reliance on the information contained in this publication or for any decision based on it.