Breakthrough Strategies for Competing in Today's Digital Marketplace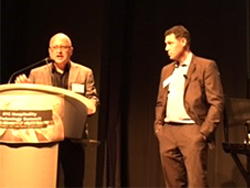 Restaurant owners and operators no longer face a choice between operating their business as a brick-and-mortar retailer or having a digital presence. Today, guests are demanding both options—creating unique challenges and opportunities for the already competitive restaurant industry.
CohnReznick and the New York Hospitality Alliance recently hosted a Hospitality Technology Summit that brought together some of the restaurant industry's top experts and premier operators to provide best practices and competitive strategies for utilizing technology to ensure success in today's digital marketplace.
Following are some of the key insights from this summit:

How is Technology Shaping the Future of Hospitality Companies?
Understand MVP: Be sure your technology platforms are made for Mobile, Visually social, and Personalized for your customers.
Hilton and IBM are collaborating to develop a robot concierge to inform guests on local tourist attractions, dining recommendations, and hotel features.
To be competitive, you need to reframe your business.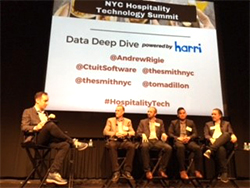 Deep Data Dive
Put the costs into three buckets: cost of the subscription, cost to implement, cost to train.
There's data everywhere. Narrow your scope to the key issues or problems you're facing and use technology to develop specific solutions.
Keep technology as simple as possible, and design it so your management team can see the data and use it immediately.
Use data to learn about customer behavior. When you know about the likes and dislikes of your customers, you can personalize engagement by inviting the right customers to the right events and sending them the most appropriate offers and information.
If you're part of the management team, spend plenty of time listening to your front line teams. You'll hear the problems and then you can train against that intelligence.
Benchmarking performance is a big deal for us.
Pay attention to what people are saying about you in public.
Attracting a customer for the first time is easier than attracting repeat business. Use technology to help drive repeat business.
Wouldn't it be cool to know that 80% of your guests dining on a particular evening usually order chicken? There is a huge opportunity in predictive analytics.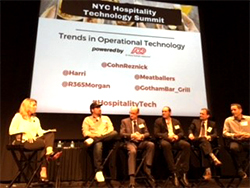 Trends in Operational Technology
The next major trend will involve software that speaks directly to the user.
Software needs to be designed from the bottom up with the users at the forefront.
Software should be both user and device friendly.
The industry needs fewer systems. But those systems need to
accommodate scaling operations.
One of the biggest challenges in implementing new platforms and reports is to get buy-in from those using them.
Zero percent of all our technology is being used at full capacity.
Need to show employees how new systems will benefit them and make their jobs easier. Additionally, you need a person or multiple people who will be a champion for new systems.
With the multiple screens, our take-out area looks like a stock trader's desk. Delivery is quite entertaining and challenging.
User adoption is more challenging with back of the house operations.
The biggest tool we have right now to service our guests is our reservation system.
I prefer assisted intelligence as opposed to artificial intelligence.
Panelist technology solutions wish list:
Why can't everyone just get along? Integrated technology platforms.
A tool to help forecast labor costs in the coming 12 month period.
Technology that extends consumer engagement.
Technology that gives my people a guideline and not the answer.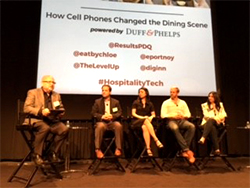 How Cell Phones Changed the Dining Scene
We considered Instagram when selecting furniture, dishware, and
determined how we plated and how we packaged food.
When we serve food in our restaurants, or it is delivered, it needs to be delicious and camera-ready.
We wanted to collect and own all our customer data so we designed our
own mobile app. We use it to communicate directly with our customers.
There is an expectation of consumers that all companies, hospitality
included, are technology companies.
I may forget my wallet or my keys, but I never forget my phone.
Final Thoughts
If the Millennials can't socialize it, they won't eat at your restaurant.
Hospitality companies can't implement a technology platform without thinking about a cyber strategy.
Make your website accessible to people with disabilities.
Subject matter expertise
Cindy McLoughlin

CPA, Managing Partner, Consumer, Hospitality, and Manufacturing Practice

Close

Contact

Let's start a conversation about your company's strategic goals and vision for the future.

Please fill all required fields*

Please verify your information and check to see if all require fields have been filled in.
This has been prepared for information purposes and general guidance only and does not constitute legal or professional advice. You should not act upon the information contained in this publication without obtaining specific professional advice. No representation or warranty (express or implied) is made as to the accuracy or completeness of the information contained in this publication, and CohnReznick LLP, its partners, employees and agents accept no liability, and disclaim all responsibility, for the consequences of you or anyone else acting, or refraining to act, in reliance on the information contained in this publication or for any decision based on it.
Receive CohnReznick insights and event invitations on topics relevant to your business and role.
Subscribe