Are you ready to be a prime contractor?
Overview
If you are a successful, growing Government subcontractor, and you are thinking about becoming a Government prime contractor, you have a lot to consider. You need to understand the regulations, responsibilities, and the increasingly competitive Government contracting marketplace before making the leap from subcontractor to prime contractor. While there are numerous opportunities for you if you do become a prime contractor, there are also potentially costly mistakes that can be damaging to any uninformed new prime contractor.
This article is intended to provide valuable insider knowledge for subcontractors pursuing prime contractor status. We address a number of questions and issues such as how to determine if your company is ready for prime contractor status; which steps to take to become a prime contractor; and what are the industry best practices for structuring your company and making strategic decisions necessary to ensure success.
Long-term lifestyle or short-term grow-and-sell?
Numerous motivations drive small business owners into business and to succeed. An innovative product or capability, a desire to 'try something different', an unexpected change in employment status – all of these can be motivating factors for a potential business entrepreneur. But once you've established your company, you need to ask yourself: Am I in it for the long haul to maintain a lifestyle? Or, do I want to grow-and-sell the business?
A lifestyle owner views his/her business as a means to maintain and, hopefully, improve their current way of life. Accordingly, a lifestyle owner will need to invest in establishing their company's business systems early on to help ensure viability. Conversely, a grow-and-sell owner views his/her businesses as a profit-making asset to be managed with an eye toward maximizing the short-term value. The key motivation is the ultimate sale of the company. The grow-and-sell owner should not be investing in internal business systems for the long haul.
Tasks that take you from subcontractor to experienced prime contractor
The progression from subcontractor to experienced prime contractor also requires the implementation of certain Government-required business systems. As shown in the table below, the Defense Federal Acquisition Regulation Supplement (DFARS) identifies six specific business systems the Government requires of most prime contractors and, more recently, subcontractors. (See Table 2)
The responsibilities associated with supporting the Government contracting/procurement lifecycle increase significantly as a company progresses from subcontractor to novice prime contractor to experience prime contractor, as illustrated in
Table 1
.
Two terms we are using in this table may not be familiar to you, so here are the definitions. A 'novice prime contractor' is a small-to medium-sized company that sells its services only to the Government (no subcontracting; minimal purchases of goods and materials), but is primarily responsible for preparing proposals in response to Government solicitations. An 'Experienced prime contractor' is a larger business that: 1) pursues larger Government opportunities; 2) provides technical solutions to relatively complex requirements; and 3) works with "teaming partners" (potential subcontractors) that typically require teaming agreements, non-disclosure agreements, formal subcontractor solicitations, and related documents.
In 2012, the Government implemented rules defining certain contractor business system requirements. These rules help to ensure that contractors have the infrastructure, process, and procedures needed to adequately conduct and manage Government prime contracts. The table above shows the differences in system requirements between novice and experienced prime contractors. These differences occur primarily because experienced prime contractors will have a higher level of project management responsibilities that will include implementing a larger number of DFARS business systems based on solicitation requirements and the type and complexity of the associated contract.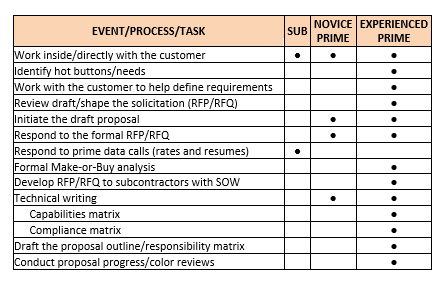 Developing a successful marketing strategy
Which marketing strategy should you use? An inch deep and a mile wide? Or an inch wide and a mile deep? The answer is both!
Your marketing activities should initially target 'low-hanging fruit' – non-stretch opportunities that provide you with a realistic chance of getting work. These opportunities, over time, will give you the experience, exposure, and funding you'll need to pursue the more technically-challenging (inch wide and mile deep) work that will really make an impact on your target customer base. The inch wide and mile deep work will begin to emerge after you forge a closer relationship with the customer; become more well-known; and develop a better understanding of the customer's wants, needs, style, and philosophy.
Part of your marketing strategy will be based on what you want to become and where you want to go. At least initially, niche market opportunities that focus on your core capabilities should provide you with the best chances of success. Highly developed and crowded markets typically provide challenges that a smaller subcontractor will find difficult when pursuing prime contracts.
Best practices for success
Prime contractors differ from subcontractors in some obvious, and maybe not so obvious, ways. Foremost, prime contractors pursue, lead, and win major Government service contracts that often include teams comprised of smaller subcontractors. They do this to: 1) broaden their technical offerings, capabilities, and competitiveness; 2) take advantage of significant subcontractor domain knowledge and experience; and 3) develop an extensive pool of qualified staff and subject matter expertise. Here are several best practices to consider as you make the move toward becoming a prime contractor.
Broaden your technical offerings, capabilities, and competitiveness
Successful prime contractors tend to display a number of common characteristics. These defining characteristics, gleaned from personal experience and significant, long-term involvement within the Government contracting community, provide valuable guidance to emerging subcontractors and novice prime contractors. In general, experienced prime contractors: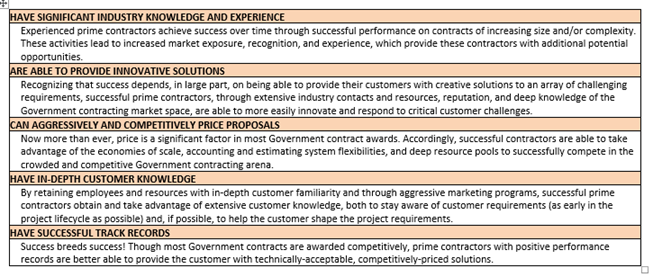 Take advantage of significant subcontractor domain knowledge and experience
There has never been a greater need for prime contractors with the ability to differentiate themselves through a combination of technical excellence and competitive pricing. Assembling a winning project team, however, requires significant experience and skill. There is also a major shift in focus from being a good subcontractor to finding good subcontractors.
Accordingly, prime contractors look for subcontractors that meet well-defined criteria that enable them to identify and provide the best possible solutions to the Government customer at competitive pricing. Experienced prime contractors have many industry contacts that include subcontractors, consultants, and other similar resources. Consequently, these contractors know how best how to identify and retain the wide variety of expertise they need to develop highly competitive, technically innovative proposals.
Develop an extensive pool of qualified staff and subject matter experts
Assess the gaps in personnel performance between what is required and what is currently in place. Then, you will need to fill those gaps by hiring or training (formal or on the job). Determine the level of support personnel you will need to ensure the success of the overall business. Your professionals will not be able to fulfill client needs and market company services forever. When client needs become a full-time effort, others will need to be hired to take on support activities.
Spend more time working on your business
Business challenges can often be attributed to owners working IN their business, instead of ON their business. The owner tries to do everything and, as the business grows, believes that he/she must work harder and longer to get everything done. Unfortunately, this can result in a decrease in the quality of services during a time when the company can least afford decreased quality. More work IN your business can inhibit its ability to succeed and grow.
Transitioning from spending all your time working IN your business to dedicating more time to working ON your business is not easy. Although it takes a fair amount of discipline and focus, a smaller business owner should aim to spend 20% of their time working ON their business. As you become a larger business owner or manager, you should plan on spending as much as 80% of your time working ON your business.
Have a business plan
A business plan is a formal statement of business goals, reasons they are attainable, and plans for reaching those goals. This living document generally projects 3-5 years ahead and outlines what your company intends to do to achieve its desired level of growth and success. Spend significant quality time developing a formal business plan. The time spent upfront on the business plan will pay dividends later by helping you and your team stay focused on your strategic business goals.
While there is no hard and fast business plan format, it should address certain key aspects of your company and strategy, including:
Vision and Mission: What will your business look like in three years? Five years? What is your company's mission? Its purpose?
Success: How do you define success? How will you measure it?
Strategy: What are you selling and who are you selling it to? What is your unique value proposition?
Finances: How much capital will you need to grow? How will your expenses change in three years? Five years? How will you meet those expenses (income)?
Plan of Action: Who will you hire and when? Who will you market to and when?
Develop policies and procedures around your business systems
You know how you want your business to operate. The best way to ensure that it continues to operate the way you want it to is to establish policies and procedures for your employees to follow. Employees in successful companies know what is expected of them because they have clearly defined policies and procedures to follow. For Federal prime contractors, as shown earlier, the Government has defined the business systems that require policies and procedures: Accounting; Purchasing; Property Management; Estimating; and, for manufacturers, Material Management and Accounting. Additionally, contractors subject to earned value requirements will need an Earned Value Management System.
How CohnReznick can help you as a prime contractor?
The CohnReznick Government Contracting Industry Practice provides a wide variety of services that help Government contractors comply with Federal regulations. We also provide a range of audit, tax, and business advisory services. We help numerous prime contractors, and others, employ best practices in many different areas of Government contracting as they seek to establish mutually beneficial relationships with the agencies they serve.
If you need more information, please contact Kristen Soles, Partner (kristen.soles@cohnreznick.com or 703.847.4411).
Subject matter expertise
Kristen Soles

CPA, Partner - Managing Partner, Advisory - Global Consulting Solutions and Government Contracting Industry Leader

Close

Contact

Let's start a conversation about your company's strategic goals and vision for the future.

Please fill all required fields*

Please verify your information and check to see if all require fields have been filled in.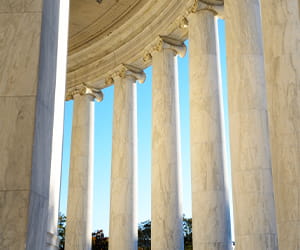 2019 GAUGE Report: Industry Roadmap of Benchmarks & Trends for GovCon
Receive CohnReznick insights and event invitations on topics relevant to your business and role.
Subscribe
This has been prepared for information purposes and general guidance only and does not constitute legal or professional advice. You should not act upon the information contained in this publication without obtaining specific professional advice. No representation or warranty (express or implied) is made as to the accuracy or completeness of the information contained in this publication, and CohnReznick LLP, its partners, employees and agents accept no liability, and disclaim all responsibility, for the consequences of you or anyone else acting, or refraining to act, in reliance on the information contained in this publication or for any decision based on it.