PUBLIC SECTOR: 8 strategies for maintaining focus in a remote project management office (PMO) amid COVID-19

In the wake of the coronavirus pandemic, many organizations are dealing with new disruptions, including a shift to remote work environments. 
Remote work policies can be beneficial for project management teams even under normal working conditions, offering benefits such as reduced overhead and travel expenses. An added benefit to utilizing a remote project management office (PMO) on an ongoing basis is experiencing minimal or no disruption to productivity during a period like this one when a traditional office environment is not accessible – it's business as usual for your team.
If you and your team are new to remote work, though, you may need assistance adjusting to this new way of life. Read on for eight strategies to help maintain focus within your remote project management office during times of disruption.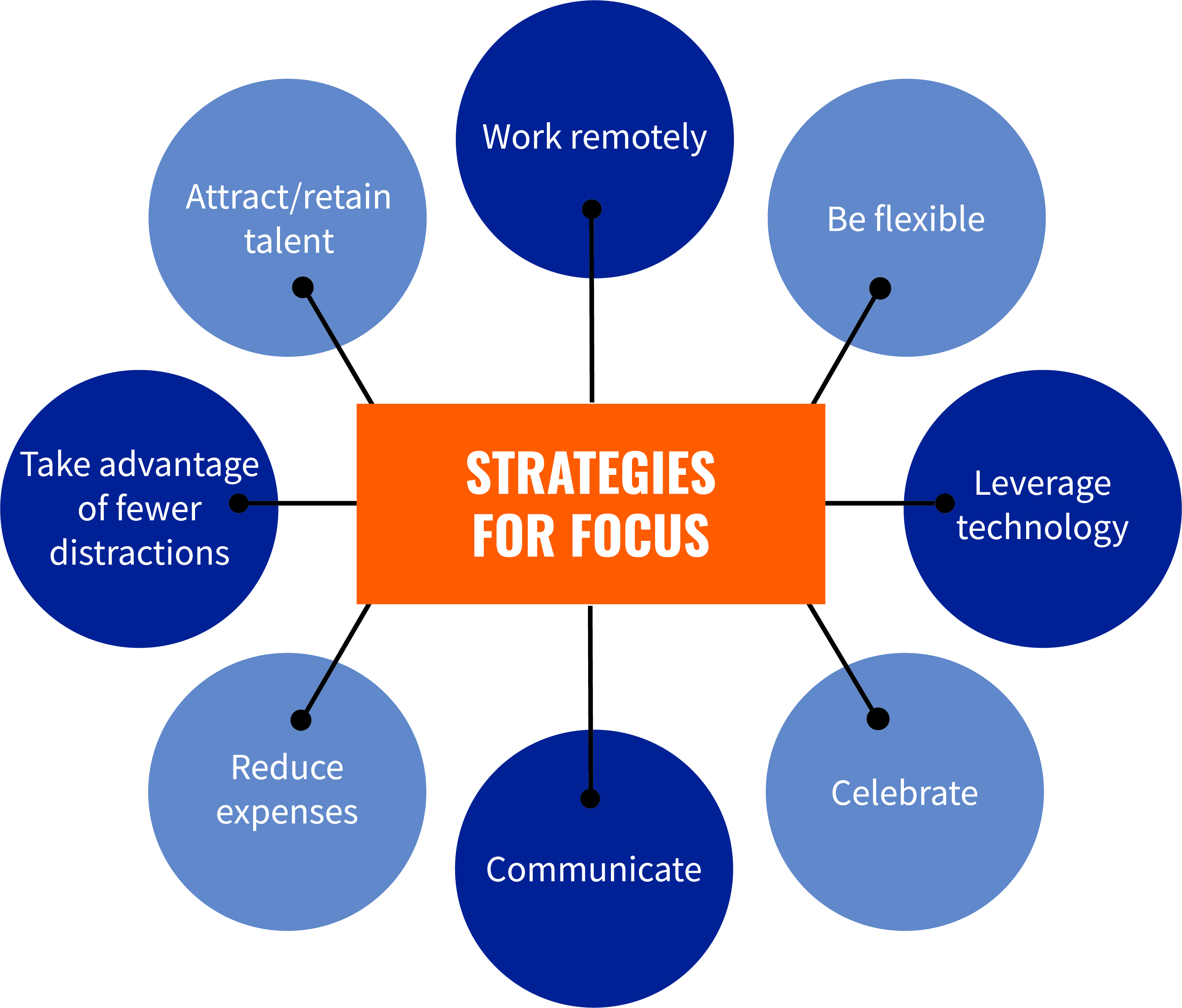 1. Remote is the new routine. In light of the coronavirus environment, establishing a routine as a team and as an individual – while working remotely – will assist in the transition from going into an actual office to staying home. These routines may include a casual walk around the block before you start work to switch from home mode to work mode, getting dressed, scheduling appointments before or after the workday, and establishing windows of working hours for the team. Give yourself and your teammates flexibility and time to develop what will work best for everyone together. It is essential to hear what is and is not working for different team members, obtain ongoing feedback, and be flexible to changing norms. 
2. Staying healthy by being flexible. When working remotely, teams have the ability to adjust working hours to accommodate everyone's different schedules. This does not mean the team foregoes the standard business hours, but the ability is there to modify when an emergency or life situation arises. Time zones may be a factor, and team members should not be expected to work at odd hours – identify a window of working hours that will remain consistent among the team and encourage meetings and interaction to occur during that window. Team members may get up early, before offices officially open. They can step offline in the evening to pick a child up from daycare, attend to a household pet, or make dinner, and then return online to work, if needed. If under the weather, team members are already at home and can continue working without worrying about the passage of germs to colleagues. The debate is no longer needed on whether one is sick enough to stay home and use leave time.
3. Leveraging technology. Keep the "face-to-face" office benefits going by finding time to "see" one another. Sometimes a videoconference is the best option for optimal employee collaboration, and while working remotely, sending a videoconference invite can be an easy way to maintain face-to-face benefits. Teams can consistently resolve problems by jumping on a phone call and sharing computer screens to walk through a process. If your team is new to remote work, this is an opportunity to look at calendars and determine what meetings can be transferred to an email chain or taken to a digital collaboration tool. As a result, employees can find more time for productive videoconferences and more productive work. Shared calendars can allow team members to quickly schedule meetings, minimize the back and forth emails, and limit confusion as to who is available.
4. Communication is key… and potentially unclear. With various forms of communication available, communicating with a coworker can be immediate (i.e., messaging apps), informative (i.e., emails), and personal (i.e., videoconferencing). Being physically apart should not stop communication. As a remote team, maintain open and continuous lines of communication to colleagues throughout the day. While it may seem straightforward to bring up a subject, make a quick call, or follow up when there is confusion, there is the potential to misinterpret the tone of an electronic message. By learning to be aware of non-verbal cues, the team can limit the amount of potential confusion or misinterpretation.
5. Greater focus and fewer distractions. A common misconception about remote employees is that they may become easily distracted by non-work-related matters; however, the opposite may be true. When working from home, there is little opportunity to be distracted by a co-worker's phone call or get swept into a side conversation. When the focus is needed for a deadline, one can merely change online availability status to "Busy" or "Do Not Disturb." Commute time can now become a productive time.
6. Attract and retain talent outside of the engagement locale. When looking to add additional resources, a remote team is not limited to considering people in the given geographic area of the engagement. Removing this constraint allows for a greater pool of candidates and increases the likelihood of identifying an individual with the skill set that makes them a perfect fit for the team. Additionally, allowing individuals to work remotely can help retain existing team members should they experience a life change requiring a move from the engagement area. Reducing turnover will enable teams to remain productive and profitable. 
7. Reduction of expenditures and cost savings. When employees are empowered to work remotely, firm overhead is often reduced as less commercial office space is required for business activities. A decrease may be seen in rent, utilities, parking and transportation, and support staff. There may also be a reduction in travel expenses that may or may not be reimbursable from a client. And, as mentioned earlier, teams that utilize a remote PMO on an ongoing basis experience minimal or no disruption to productivity during periods when a traditional office environment is not accessible. While others are ramping up to work remotely, it is business as usual for the team.
8. Celebrations. Support employees by finding different ways to celebrate. Outside of the traditional office setting, this may look different, but it does not mean that there aren't new and innovative ways to do it. Try a virtual team happy hour or lunch – be creative! 
By maintaining focus, your organization will be better equipped to efficiently handle the business disruptions that can arise during times of crisis.
Subject matter expertise
Frank Banda

CPA, CFE, PMP, Managing Partner – Government and Public Sector Advisory

Close

Contact

Let's start a conversation about your company's strategic goals and vision for the future.

Please fill all required fields*

Please verify your information and check to see if all require fields have been filled in.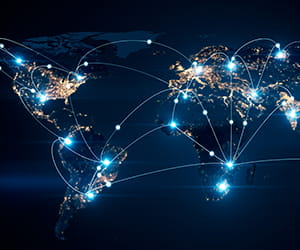 Coronavirus Resource Center
Receive CohnReznick insights and event invitations on topics relevant to your business and role.
Subscribe
This has been prepared for information purposes and general guidance only and does not constitute legal or professional advice. You should not act upon the information contained in this publication without obtaining specific professional advice. No representation or warranty (express or implied) is made as to the accuracy or completeness of the information contained in this publication, and CohnReznick LLP, its partners, employees and agents accept no liability, and disclaim all responsibility, for the consequences of you or anyone else acting, or refraining to act, in reliance on the information contained in this publication or for any decision based on it.