TECHNOLOGY: 6 questions your company should be able to answer in the wake of a pandemic

This content originally appeared on TechCrunch.com. It was sponsored by CohnReznick and created by TechCrunch Brand Studio. 
Professionals from CohnReznick talked to TechCrunch about ways technology company leaders can start evaluating the impact of the COVID-19 pandemic on their businesses.
We're well over three months into a new normal. For many companies, the coronavirus has destabilized business in unforeseen and irreparable ways. For those in tech, unprecedented shifts in consumer behavior have yielded equal disruption, even though most of their services were already being delivered… well… "contactlessly."
If you're a tech leader, a single fiscal quarter is certainly not enough time to fully judge the overall impact of the pandemic on your business. However, professionals at CohnReznick believe now is the time that tech companies should challenge themselves to confidently answer the following questions.
1. How are we acquiring and retaining customers? Has our value proposition adapted with shifting consumer behaviors?
Months ago, triage was the name of the game – how could you immediately adapt your product or service to accommodate changing buying habits and new lifestyle changes in customers? The obvious initial answer for many was to better facilitate payment and improve the user experience with the goal of retaining and attracting customers. Now is the time to revisit how those strategies are panning out, and whether they need refining.
Take any app with a shopping cart, for example. In the past four months, did you add or reduce friction to the customer experience? Have you changed the language of messaging across your service, and if so, has the messaging led to better retention rates? As important as it is to adapt to the times, it is equally important to track those changes.
Were the strategies you put forth a placeholder, or did they effectively acquire a new consumer group? Have you analyzed your customer behaviors using data and analytics to forecast cash flows? "Having a solid understanding of your company's data would enable effective strategies, educated tactics for growth and enhance overall performance accountability," explains Asael Meir, CohnReznick Partner and Technology Practice Leader.
2. Is remote working helping or deterring us from keeping a great team on board?
With news that big tech is likely going remote permanently, the real value of the workplace is in a tizzy. Regardless of your remote program – are you retaining and attracting the right talent? Committing to remote, or, at minimum, allowing a remote work option for part of the workweek, could attract top candidates. For example, after Twitter and Square announced intentions of remaining remote, Google searches for "jobs at Twitter" spiked.
Then there's the question we don't often like to talk about – should your compensation structure change if you change the rules of the work-from-home road? And along the lines of retaining key employees, have you reviewed your current equity compensation plan to ensure that it is competitive and incentivizes employees to stay? If not, now is the time to review whether stock option grants or restricted stock plans are up to date and incentivizing key employees.
There are also a number of tax implications to issuing equity to your employees, which, if structured properly, could provide an extra benefit for both your employees and your company. "Taxes are a key consideration when structuring and modifying stock options, grants, restricted stock or stock units, and other forms of equity-based compensation," says Jarrett Bluth, CohnReznick Tax Partner. "Tax planning can enhance the desirability and value of equity compensation, while a lack of attention to the tax implications can create nasty surprises."
For more information, check out CohnReznick's webinar on strategies for executive compensation and minimizing state taxes for a displaced workforce.
3. What are the financing options or needs for the next rolling 12 months?
Things went haywire there for a bit, but a new status quo is starting to set in. Evaluate your cash reserves and access to debt and capital. Can you draw on existing credit facilities, or do you have investors who are ready and willing to invest additional capital into the company? With long-term business goals in mind and the track you're currently on, how much additional financial backing will you need?
These questions are paramount, and, of course, at the heart of your business. But just as you likely evaluated your books at the beginning of the pandemic, now is a good time to revisit the numbers. "You should update your projections and look for possible cash shortfalls," explains Alex Castelli, CohnReznick's Emerging Markets Managing Partner. "Does the company have sufficient access to cash and working capital to continue to grow and take advantage of new opportunities?"
If you have not done so already, contact your banker and update them on your company's financial results. Be transparent with your investors and share your cash flow projections so that they will be ready and prepared to make additional investments if or when the time comes.
4. Have we utilized the tax benefits at our disposal effectively?
This one's tough. Even if you feel that you have navigated relief benefits correctly, you might be missing an opportunity. The Coronavirus Aid, Relief, and Economic Security (CARES) Act provides a number of tax deferral provisions and other tax incentives. Taxes vary state to state and can be complicated when it comes to employee versus employer benefits. Amending prior-year income tax returns may provide immediate additional funds to your company. Learning more from a tax advisory team can help ensure that you're not missing anything, and, more importantly, that you're poised to take on the next quarter.
5. Is our cybersecurity mindset sufficient?
If you haven't ramped up your digital security in the last four months, you might be leaving your company in a dangerous position. People are on their phones more than ever, app downloads are at an all-time high – and with great popularity comes great risks of being hacked! When was the last time you did a security assessment of your remote workforce? Given the amount of confidential data accessed by your employees, are you confident that your network security is up to date and effective?
Adding security doesn't always need to beleaguer your product or service, however. There are ways to streamline your product or service experience while also upping the stakes of your security. Protecting customer data as well as your own has become even more important as more consumers rely on technology in their daily lives.
6. Have we identified potential acquisition or partnership opportunities to enhance our product or service?
After assessing your customer demands and expectations, now is the time to look at your competitors and consider a strategic partnership or acquisition of new technologies to enhance your customers' experience. While acquisitions may appear costly, getting to market faster with a better product or service may pay dividends in the long run and keep your technology relevant.
For companies looking to expand, there are a few things to know before making an acquisition. Consider the impact of COVID-19 on the acquisition target's customer base. How likely are customers to revert back to pre-COVID-19 levels? How do your projections impact the company's forecasts for 2020 and beyond?
Financing and tax structuring strategies need to be considered if you are looking to acquire. In addition, transaction timelines for acquisitions may be extended as buyers become more comfortable with the impact of COVID-19 on targets. "In terms of deal structuring, we could see more emphasis on earnouts or the deferral of purchase price valuation until 2021 or later," according to Jeffrey Michelson, Managing Director of Transaction Advisory Services at CohnReznick.
The bottom line is that strong, agile companies will continue to look for opportunities to grow, retain talent, and attract new customers. Take a deep breath, assess where you stand, revise your strategy as needed, and act now. 
Contact
Alex Castelli, CPA, Managing Partner, Emerging Markets
703.744.6708
Asael Meir, CPA, Partner, Technology Practice Leader
516.336.5515
Jarrett Bluth, CPA, MST, CGMA, Partner, Tax
973.364.7708
Jeffrey Michelson, CPA, Managing Director, Transactional Advisory Services
862.245.5092
Subject matter expertise
Alex Castelli

CPA, Managing Partner, Emerging Industries

Asael Meir

CPA, Partner - Technology Industry Leader

Close

Contact

Let's start a conversation about your company's strategic goals and vision for the future.

Please fill all required fields*

Please verify your information and check to see if all require fields have been filled in.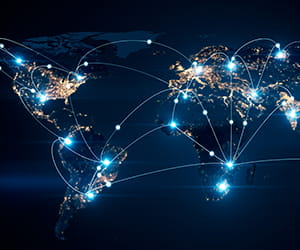 Coronavirus Resource Center
Receive CohnReznick insights and event invitations on topics relevant to your business and role.
Subscribe
This has been prepared for information purposes and general guidance only and does not constitute legal or professional advice. You should not act upon the information contained in this publication without obtaining specific professional advice. No representation or warranty (express or implied) is made as to the accuracy or completeness of the information contained in this publication, and CohnReznick LLP, its partners, employees and agents accept no liability, and disclaim all responsibility, for the consequences of you or anyone else acting, or refraining to act, in reliance on the information contained in this publication or for any decision based on it.