5 Questions for: Dean Edwards, Communications Specialist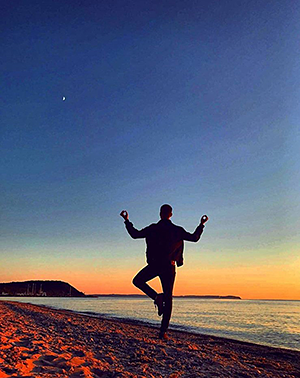 Carly Zurla, Diversity & Inclusion intern based in Roseland, talks to Dean Edwards, Communications Specialist in our NYC office, about his diverse career (he's been a newspaper journalist, lawyer, and freelance writer in Australia and the U.S.), his thoughts on the importance of Pride Month, and the daily habit he highly recommends.
Q: You have a diverse professional background. How'd you get to where you are today?
Curiosity has played a large role, and the ambition to better understand the world. I studied history at college, and I began my professional career as a journalist because I love to tell stories. I also like to learn about the personalities and the deeper context that shape a story. I shifted into technical writing on government contracts, before finally biting the bullet and returning to Australia for law school. I worked as a lawyer in civil litigation after graduating. Talk about a rich source for stories! And for understanding how the world works. Eventually, I wanted to focus on my writing and return to the U.S., which I did last year. So here I am.
Q: What's your proudest moment—career or otherwise?
Being admitted as a lawyer in Australia. Aussies are mostly laid back—I think that's fairly well known. But they're also sticklers for tradition. Admission Day is full of black silk robes and horsehair wigs. There's a lot of pomp and circumstance. We swear an oath to uphold and serve the law. It's actually quite moving.
Q: June is Pride Month. Why is Pride important to you?
Pride Month is a celebration of progress and openness. As a gay man, for me it's a reminder of the importance of having empathy and compassion for others. It's also a reminder of the ongoing struggles fought by and for thousands of trans people, LGBTQ+ people of color, youth facing domestic violence and homelessness. Every day is another chance to improve the lives of thousands alive today and yet to be born. That's what Pride means to me.
Q: In your opinion, where do we still need improvement in terms of LGBTQ+ equality?
Where do I start? Well, to make a very complex situation simple, we have a long way to go. Our first step should be building awareness of the issues. Awareness means more than paying lip service to "equality." It means giving people a fighting chance for a decent life. There are very serious health crises, as well as issues surrounding workplace discrimination, domestic violence and homelessness. That's why efforts like our Atlanta and Los Angeles offices are undertaking this CohnReznick CARES Month are so important—taking donations and volunteering for organizations like Lost 'n' Found in Atlanta, improving the lives of LGBTQ+ youth. Everyone needs to learn about efforts like these and join in.
Q: What's the best advice you've received?
Life is a series of consequences from past choices. That's from a Buddhist text. You can't get caught up with the present moment. Good things happen, bad things happen. Some things we have no control over. But you can become more conscious of the choices you're making now and try to change the course of your future. The second-best advice I've ever received was from my dad: don't live with any regrets. Enjoy this one life we have. I suppose those two pieces of advice work hand in hand.
Q: Bonus: What is something that most people don't know about you?
I keep a daily diary. It's a habit I've had on and off since childhood. I took most of last year off, a kind of personal "sabbatical." I traveled across the States, caught up with so many old friends. I lived right off Lake Michigan for four months to write (the picture here is of me at sunset). Taking note of what happened, who you saw, what you ate, a funny anecdote or something you overheard or saw—it's a valuable memento, and a way to reflect on how I've grown over time and where I'm headed. I highly recommend the habit.
Receive CohnReznick insights and event invitations on topics relevant to your business and role.
Subscribe