3 takeaways for companies that plan to bid on airport (and other) infrastructure P3 projects

While the unfolding U.S. infrastructure plans appear poised to unleash federal dollars for airport projects across the country – the Bipartisan Infrastructure Deal, for example, includes $25 billion in funding for airports – it is expected that private capital will also play a key role in building the airports of tomorrow. The sector has been among the leaders in utilizing public-private partnerships (P3s) to fund and construct some of the nation's largest airport expansions. Thus, there will likely be significant opportunities for private companies in many sectors – construction, clean energy, technology, manufacturing, business services, and others – to bid on P3-funded airport infrastructure initiatives.
Amid this backdrop, over 400 participants from the airport and investor communities gathered for the 2021 P3 Airport Summit earlier this month in San Diego. Following are my top takeaways from Summit sessions and conversations regarding how private-sector firms can best position themselves to work with airport P3s as they plan for a very different world.
1. Better position your services by tuning into the latest "airport of the future" trends.
Much has changed in the wake of the COVID-19 pandemic. Recently, consumers returned to travel, bringing with them higher expectations for a safe, secure, and seamless environment from "couch to beach." In addition to the standard needs of aging gates, taxiways, and other infrastructure, airports must also accommodate new needs like extra spacing in the baggage claim. Further, the dynamics of airport revenue sources are changing every day – moving beyond passenger fares into increasingly upscale restaurants, shops, spa services, and more – and that trend will likely not abate amid customer demands for more top-of-the-line services and convenience. Future airports will be built and managed with clean power from renewable energy microgrids, among other sources, and will increasingly leverage smart technologies that provide data to create "trusted facilities" that operate more efficiently.
A common theme of the Summit's sessions was, "If you've seen a P3, you've seen one P3. If you've seen one airport, you've seen one airport." Each one is unique, with special needs and opportunities. So identify and assess each airport P3's needs separately, and align your offerings to meet them. Understand the operating principles of the P3 and what risks and responsibilities fall to the airport entity versus the private sector. Gain an understanding of the strategic plan, and build the relationships necessary to explain your skills and how those attributes can help the entity meet its needs, goals, objectives, and obligations. Securing work with a P3 involves not only promoting your company's core offerings, but also demonstrating your vision and perhaps that you recognize the important role of all parties involved in airport operations, including the airport entity, local communities, the appropriate regulators, and the airlines.
2. Commit to Diversity, Equity, Inclusion, and Belonging (DEIB).
When it comes to environmental, social, and corporate governance, the airport world is changing. The focus has historically been all about the "E" in "ESG," with aims like "going green" and decreasing the carbon footprints of airplanes and travelers alike. While that remains critically important, it was very clear to Summit attendees that the "S" is becoming much more of a front-and-center issue for investors and airport leadership. I have been involved in DEIB panels for several years, and this year, just the positioning of the panel I hosted made a real statement: as a plenary session, on the main stage in the main ballroom, right after a prominent speaker. An airport P3 is by its very nature a 30- to 40-year commitment, and thus represents an opportunity for airport entities to create positive long-term impact on DEIB issues by educating and training diverse employees, including people of color, those from diverse backgrounds, and those with disabilities. Airport entities are increasingly recognizing their role in creating well-paying, lifetime jobs and careers.
Many companies across sectors have already been re-examining and escalating their efforts toward DEIB over the past year. But when submitting bids to airport P3s, it's important to recognize that, if awarded a contract, you also share the responsibility to support the P3's DEIB principles, in addition to your own. Expect DEIB hiring and sourcing requirements, and contracts that include DEIB transparency clauses. Commit to the preparation now: Conduct a self-audit of your ESG program and fill gaps. This may include creating any corporate social responsibility policies you're lacking, and evaluating the diversity of your workforce and revising hiring plans. Beyond your own walls, assess your supply chain partners on ESG criteria and develop monitoring and reporting processes. Be prepared to speak to all of this in your bid.
3. Cybersecurity, safety, and privacy are of paramount concern.
It remains to be seen whether cybersecurity funding will be included in national infrastructure funding – potentially as part of an investment in broadband – but the need and concern regarding cyber issues among the infrastructure community is high. The Summit highlighted airports' concerns surrounding the security of personal information involved in the use of technologies such as facial recognition; there is a need for clear delineation in terms of responsibility between operators and private companies involved.
In addition to meeting high levels of cybersecurity clearance and certifications, private-sector firms seeking to work with airport entities on technology solutions need to keep in mind that technology solutions must address the airport entity's needs based on its key performance indicators (KPIs) and what it considers most important from a risk control standpoint. You will be expected to provide technology that is safe, secure, and not threatened by cyber threats – in addition to the standard mandate of meeting the interests of both passengers and the agencies or operating companies that manage and control the costs, safety, and security of airport operations.
With heightened risk comes heightened rewards. For these reasons, airport P3s present excellent opportunities for private-sector firms that are willing to consider and meet the responsibilities that come with them.
Subject matter expertise
Jack Callahan

CPA, Partner - Construction Industry Leader

Close

Contact

Let's start a conversation about your company's strategic goals and vision for the future.

Please fill all required fields*

Please verify your information and check to see if all require fields have been filled in.
Inside Infrastructure: U.S. Infrastructure Plan Resource Center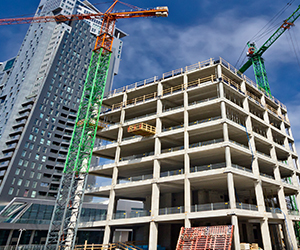 Infrastructure Video Series: Pricing, Managing Risk, and More For Contractors
Receive CohnReznick insights and event invitations on topics relevant to your business and role.
Subscribe
This has been prepared for information purposes and general guidance only and does not constitute legal or professional advice. You should not act upon the information contained in this publication without obtaining specific professional advice. No representation or warranty (express or implied) is made as to the accuracy or completeness of the information contained in this publication, and CohnReznick LLP, its partners, employees and agents accept no liability, and disclaim all responsibility, for the consequences of you or anyone else acting, or refraining to act, in reliance on the information contained in this publication or for any decision based on it.