2019 Trends in Utility Renewable Energy Financing
Interest among utilities in owning wind and solar assets is steadily growing, and the mechanisms for building and acquiring renewables are quickly evolving. Utility companies like Colorado's Xcel Energy are stepping up their efforts to meet clean energy standards. Corporate contracts accounted for 22 percent of renewable power-purchase agreements in 2018, and that percentage is poised to grow.
New methods like the build-transfer agreement (BTA) have allowed utilities to more actively explore utility-owned renewables. The structure of these BTAs will change, however, when the federal Production Tax Credit (PTC) expires in 2020 and as the Investment Tax Credit (ITC) steps down to 10 percent.
Some of the trends we'll discuss in this mini-brief, presented by CohnReznick and CohnReznick Capital, include:
A proactive approach to clean energy
The impact and structure of build-transfer agreements
The role of third-party tax equity
The opportunity with large energy users
These and other factors highlight the importance of keeping up with trends in utility renewable energy financing. Stakeholder demands, sustainability targets, energy cost certainty, and the increasing cost-competitiveness of renewables will only increase the demand for clean energy in the corporate and municipal sectors moving forward.
Download our mini-brief with insight from GTM to learn more about these top trends in detail.
Access full report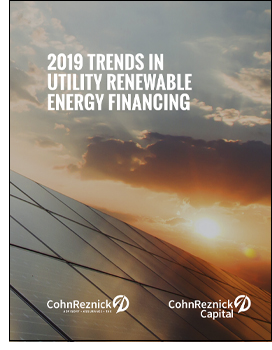 Related Services
Any advice contained in this communication, including attachments and enclosures, is not intended as a thorough, in-depth analysis of specific issues. Nor is it sufficient to avoid tax-related penalties. This has been prepared for information purposes and general guidance only and does not constitute legal or professional advice. You should not act upon the information contained in this publication without obtaining specific professional advice specific to, among other things, your individual facts, circumstances and jurisdiction. No representation or warranty (express or implied) is made as to the accuracy or completeness of the information contained in this publication, and CohnReznick LLP, its partners, employees and agents accept no liability, and disclaim all responsibility, for the consequences of you or anyone else acting, or refraining to act, in reliance on the information contained in this publication or for any decision based on it.