Transactional Insights: Quality of Earnings and Beyond
Today's heightened level of transaction activity coupled with a complex set of market conditions requires a comprehensive and expanded approach to preparing a Quality of Earnings Report. Lenders, investors, and companies should expand their scope outside of the traditional quality of earnings report to fully assess the financial, operational, risk management, and security profile of a transaction.
Transactional Insights-Quality of Earnings and Beyond is series of articles written by CohnReznick professionals from several different disciplines.  The authors share prescient insights and observations to consider when moving through the transaction process.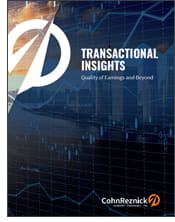 Read More