Beyond Tariffs: U.S. Renewable Projects M&A Update
Despite some recent headwinds for the solar PV market, the outlook for renewables in the U.S. is bullish – and that optimism is bringing in new market entrants.
CohnReznick LLP and Wood Mackenzie Power & Renewables (formerly GTM Research) hosted a roundtable October 25th in New York City to discuss the current outlook for renewable project M&A. Colin Smith, a senior solar analyst with Wood Mackenzie, presented a market outlook and discussed how utility-scale solar economics are beginning to beat out new-build natural gas.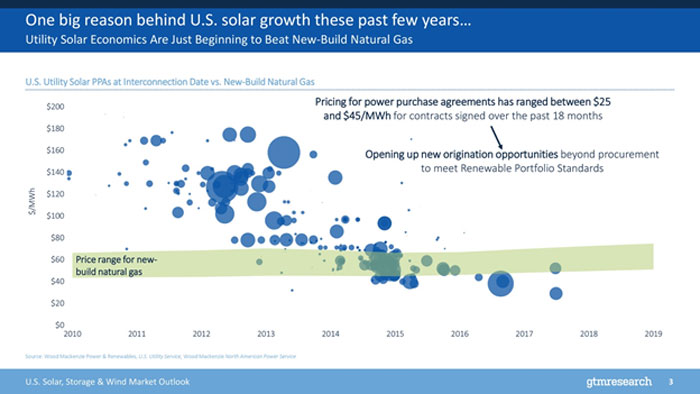 Solar is just part of the story. New market entrants, especially C&I off-takers, are also increasingly interested in wind, which is starting to rival combined cycle gas turbines in more regions of the U.S. The demand for wind is expected to peak in 2020 to capture the full value of the expiring production tax credit (PTC), which is a dominant theme in the industry and was during the panel discussion.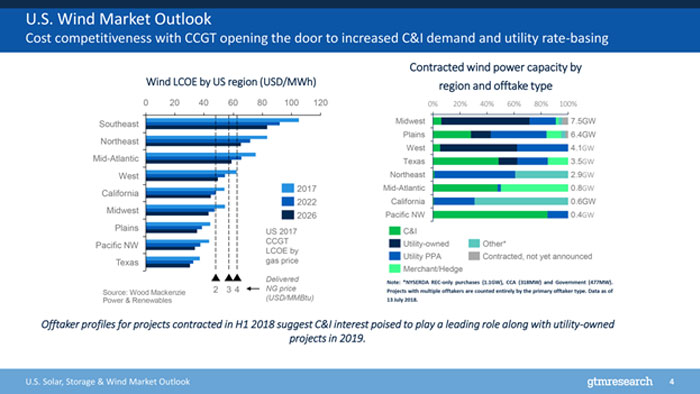 "Anyone not paying attention to the [investment tax credit] or PTC must not be in renewables," said Frank Palladino, managing director with CohnReznick Capital.
As wind power development dips and then levels off in the 2020s, energy storage will skyrocket, as lithium-ion becomes cost competitive with peaking natural gas turbines.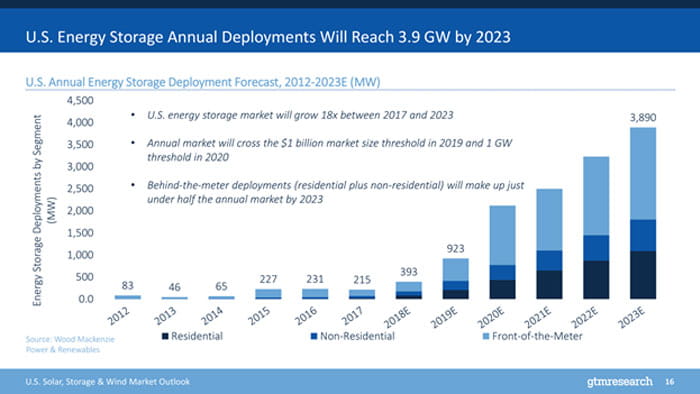 It's not just energy storage that will emerge in the 2020s. Offshore wind has also become a reality, with multiple states prioritizing offshore wind development.
"Being able to cite a project and get it right to the heart of Boston or New York? What other resource can you do that with?" Barrett Stambler, vice president of renewable origination at Avangrid, said of the promise off offshore wind.
"Whether it's solar, storage or wind, the entrance of more corporate off-takers has meant that more project developers are taking on more of the risk compared to a utility off-taker," said David Zwillinger, managing director at D. E. Shaw. Additionally, more utilities are offering green tariffs to reach their Fortune 1000 customers. When it comes to renewable M&A, the story of corporate off-takers is truly just emerging, especially as the market moves beyond the PTC and ITC (investment tax credit) in years to come.
 "With so many companies trying to secure renewable energy assets at different stages of development, it is very important for buyers to distinguish themselves in the bidding process," said Anton Cohen, partner and renewable energy industry leader at CohnReznick LLP. "Differentiating yourself by having a low cost of capital, taking on more risk earlier in the development cycle, and having a strong position on merchant/power curves after the end of the PPA terms should be considered. It is critical to not lose sight of other elements such as the buyer's ability to execute, having a strong management team and establishing that real relationship with the seller."
This has been prepared for information purposes and general guidance only and does not constitute professional advice. You should not act upon the information contained in this publication without obtaining specific professional advice. No representation or warranty (express or implied) is made as to the accuracy or completeness of the information contained in this publication, and CohnReznick LLP, its members, employees and agents accept no liability, and disclaim all responsibility, for the consequences of you or anyone else acting, or refraining to act, in reliance on the information contained in this publication or for any decision based on it.